November 1. SOLEMNITY OF ALL SAINTS REFLECTION HOMILY.
November 1
SOLEMNITY OF ALL SAINTS REFLECTION HOMILY.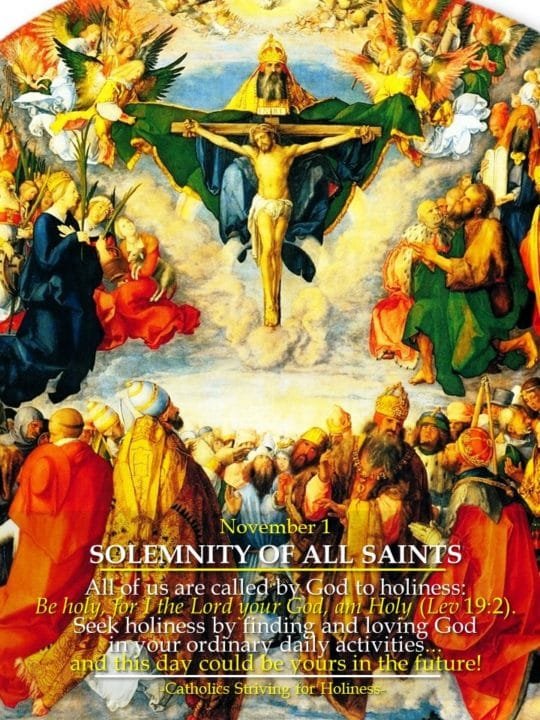 In a talk I gave to Grade 5 Spanish boys some years back, I asked them: "What does the Church celebrate on November 1? Many of them eagerly raised their hands so I called one who confidently said: "Halloween".
This time, I was expecting the answer 😀 since here in Spain, the practice was becoming widespread so I said: "Well, not quite….although the word 'Halloween' comes from "Hallow's" – archaic word for 'Holy'- and "Eve", i.e., the night before All Saints' day)…Not quite since this commercialized practice has spoiled the feast its real meaning.
What does SOLEMNITY OF ALL SAINTS' DAY suggest then?
Today we celebrate the feast of all the unknown saints who are now in heaven. The Church reminds us that sanctity or holiness is within everyone's reach. Through the communion of saints we help one another achieve sanctity. Gregory III (731-741) consecrated a chapel in the Basilica of St. Peter to all the saints and fixed the anniversary on 1 November.
It is a day when the entire Church REJOICES for THE VICTORY OF THE COUNTLESS MULTITUDE OF HOLY MEN AND WOMEN, most of whom are unknown to us, from all walks of life, of any age, from all nations, WHO HAVE FOLLOWED AND LOVED GOD HERE ON EARTH IN THEIR ORDINARY LIFE TILL THE END and ARE NOW ENJOYING THE ETERNAL HAPPINESS IN HEAVEN: They are the SAINTS not officially proclaimed by the Church but nevertheless are such in God's eyes.
It is the day when the Church joyfully reminds us that ALL OF US ARE CALLED TO HOLINESS. Be holy, because I, the Lord your God, am Holy (Lev 19:2; cf also Mt 5:48; also 1 Thes 4:3)
But who are these glorious saints? They were the holy men and women:
who had struggles, temptations, difficulties, problems, (perhaps similar to what we have) in this life and they had fought as often as necessary and conquered for love of Christ;
ordinary people who had to struggle against their own disordered passions and tendencies ; who had fallen so many times but stood up, counting on God's mercy;
who had committed errors, sins of pride, laziness, lust…even grave sins perhaps…but they repented, sought God's forgiveness in the Sacrament of confession., and fought daily against themselves without discouragement and with humility and commitment, beginning over and over again as long as it took for love of God;
who knew how to love because they knew how to forget themselves and sacrifice themselves for love of Christ and of the people around them;
who , like us, were called by God to be holy, without considering themselves as such, perfect and holy. Rather, they have always thought of themselves the contrary: sinners in need of God's mercy;
were people who sought, found and loved God above anything else in the midst of their ordinary daily activities, carrying out the little things with great love for God.
In today's Gospel (Mt 5, 1-12a), Our Lord Jesus Christ taught the multitude the attitudes and virtues which enable one to reach Heaven, the so-called "Beatitudes".
"Blessed are the poor in spirit, for theirs is the kingdom of heaven.
Blessed are those who mourn, for they shall be comforted.
Blessed are the meek, for they shall inherit the earth.
Blessed are those who hunger and thirst for righteousness, for they shall be satisfied.
Blessed are the merciful, for they shall obtain mercy.
Blessed are the pure in heart, for they shall see God.
Blessed are the peacemakers, for they shall be called sons of God.
Blessed are those who are persecuted for righteousness' sake, for theirs is the kingdom of heaven.
Blessed are you when men revile you and persecute you and utter all kinds of evil against you falsely on my account.
Rejoice and be glad,
for your reward is great in heaven."
"The Beatitudes DEPICT THE COUNTENANCE OF JESUS CHRIST AND PORTRAY HIS CHARITY. They EXPRESS THE VOCATION OF THE FAITHFUL associated with the glory of his Passion and Resurrection; they SHED LIGHT ON THE ACTIONS AND ATTITUDES CHARACTERISTIC OF THE CHRISTIAN LIFE; they are THE PARADOXICAL PROMISES THAT SUSTAIN HOPE IN the midst of tribulations; PROCLAIM THE BLESSINGS AND REWARDS already secured, however dimly, for Christ's disciples; they have begun in the lives of the Virgin Mary and all the saints (Catechism n. 1717)."
Dear friends, HOLINESS IS POSSIBLE, WITH GOD'S GRACE, the help of the saints, especially OUR LADY and ST. JOSEPH, and WITH OUR CORRESPONDENCE, WE, TOO, CAN BECOME SAINTS AND NOVEMBER 1 CAN BE OUR OWN FEAST DAY TOO! 😀 May we all respond generously and strive daily to God's call to holiness in our everyday life, for the honor and glory, and out of love for the Most Blessed Trinity.
"Let us all rejoice in the Lord, as we celebrate the feast day in honor of all the Saints, at whose festival the Angels rejoice and praise the Son of God ."

(Entrance Antiphon)
-Fr. Rolly Arjonillo, priest of Opus Dei, CATHOLICS STRIVING FOR HOLINESS. We are also in Facebook: www.facebook.com/CatholicsstrivingforHoliness. Hope you like our page and invite your friends as well to do so in order to help more people.
SEE AS WELL (click on the links):