TOP 12 QUOTES FROM OUR LADY OF FATIMA.
OUR LADY OF FATIMA: TOP 12 QUOTES FROM OUR LADY OF FATIMA.
Our Lady of Fátima – at times Our Lady of the Rosary, by the name the three children called her – is a title given to the Blessed Virgin Mary as She appeared in apparitions reported by three shepherd children at Fátima in Portugal. These occurred on the 13th day of six consecutive months in 1917, starting on May 13. The three children were Lúcia Santos and her cousins Jacinta and Francisco Marto. Her message was one of hope, repentance, and conversion for the whole world.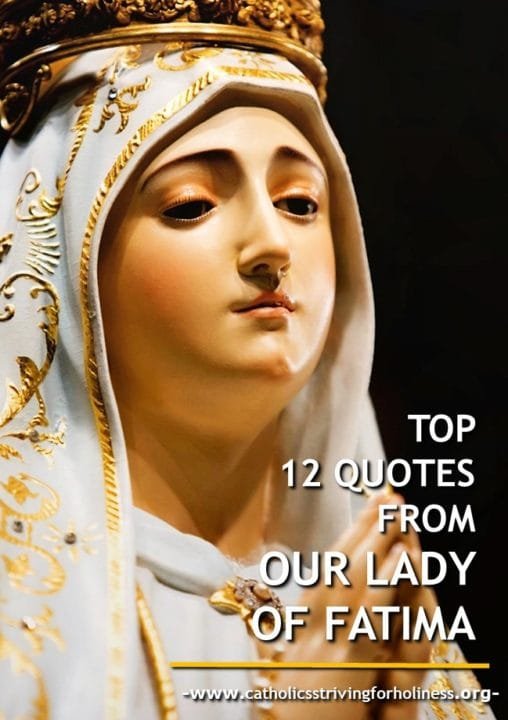 MOTHERS ALWAYS WANT THEIR CHILDREN TO BE HAPPY.
This evident fact stems from their TRUE LOVE towards them. So when their children go a bit astray from the right path, they do not hesitate to tenderly call their attention with an authentic maternal concern.
This is, to my opinion, the reason behind all the apparitions of Our Mother Mary throughout these centuries: FOR LOVE OF US, OUR MOTHER MARY WISHES TO BRING US BACK TO THE FOLD OF HER SON, OUR LORD JESUS CHRIST, SO THAT WE MAY OBTAIN THE GRACE OF SALVATION AND THUS, ETERNAL HAPPINESS, which is the best thing a man can long for and attain.
The message of Fatima, which is essentially that of the Gospel, can be summarized into 4 points:
PERMANENT CONVERSION, knowing that "The greatest obstacle to man's journey towards God is sin, perseverance in sin, and, finally, denial of God (St. John Paul II, Homily in Fatima, May 13, 1982)."
Life of PRAYER, including that of the HOLY ROSARY;
REPARATION not only FOR OUR SINS BUT FOR THOSE OF OTHERS AS WELL through SACRIFICES, thereby living the communion of saints.
Through the CONSECRATION TO THE IMMACULATE HEART OF MARY, "She not only calls us to be converted: SHE CALLS US TO ACCEPT HER MOTHERLY HELP TO RETURN TO THE SOURCE OF REDEMPTION (ibidem)," her Son, Our Lord Jesus Christ.
Dear friends, let us THANK Our Lady for her maternal love and solicitude for our well-being and let us TAKE HEED of our Heavenly Mother's message, asking her help with filial love and devotion to put into practice what She asked from us.
TOP 12 QUOTES FROM OUR LADY OF FATIMA'S MESSAGE TO THE WORLD
1.PUNISHMENT OF THE WORLD: Our Blessed Mother can no longer restrain the hand of her Divine Son from striking the world with a just punishment for its many crimes.
2.AMENDMENT OF LIFE: "I have come to warn the faithful to amend their lives and ask pardon for their sins. They must not continue to offend Our Lord, Who is already too much offended."
3. FIVE WARNINGS: "If my requests are not granted, Russia will spread her errors throughout the world, provoking wars and persecutions against the Church. Many good people will be martyred, there will come another great war, and various nations will be destroyed."
4. WAR: "Wars are a punishment for the sins of mankind."
5. SINS OF THE FLESH: "More souls go to Hell because of the sins of the flesh than for any other reason."
6. IMMODEST FASHIONS: "Certain fashions are being introduced that offend Our Lord very much."
7. SINFUL MARRIAGES: "Many marriages are not good; they do not please Our Lord and are not of God."
8. DAILY ROSARY: "Say the Rosary every day to obtain peace for the world. And after each decade say the following prayer: 'O my Jesus, forgive us our sins, save us from the fires of Hell, and lead all souls to Heaven, especially those who have most need of Thy mercy.'"
9. PRAYER AND SACRIFICE: "Pray, pray a great deal, and make sacrifices for sinners, for many souls go to Hell because they have no-one to make sacrifices and pray for them."
10. DEVOTION TO THE IMMACULATE HEART OF MARY: "God wishes to establish in the world devotion to my Immaculate Heart. If people do what I tell you, many souls will be saved and there will be peace."
11. FIRST SATURDAY DEVOTION: "I promise to help at the hour of death with the graces needed for salvation those who, on the first Saturday of five consecutive months, go to confession, receive Holy Communion, say five decades of the Rosary and keep me company for fifteen minutes while meditating on the mysteries, with the intention of making reparation to my Immaculate Heart."
12. WORLD PEACE: "Tell everybody that God gives His graces through the Immaculate Heart of Mary. Tell them to ask graces from her, and that the Heart of Jesus wishes to be venerated together with the Immaculate Heart of Mary, for the Lord has confided the peace of the world to her… In the end my Immaculate Heart will triumph, Russia will be converted and there will be peace."
He whom the whole world cannot contain,
Mary alone embraces
From a sermon by Saint Ephraem, deacon
Mary was made heaven on our behalf by bearing the divinity which Christ, without leaving the glory of the Father, enclosed in the narrow confines of her womb so as to lead men to greater dignity. He chose her alone from the whole assembly of virgins to be an instrument of our salvation.
In her the oracles of all just men and prophets found their fulfilment. From her was born that brilliant star under whose guidance the people who walked in darkness saw a great light.
Mary can be called very appropriately by different names. She is the temple of the Son of God, who came forth from her in a different way from which he had entered; for he had entered her womb without a body, and came forth clothed in one.
She is the mystical new heaven, in which the King of kings dwelt as in his abode, and from which he came down to earth in an earthly form and likeness.
She is the fruitful vine of gentle fragrance. Her fruit, though absolutely differing in nature from the stock, was necessarily changed by the stock to be like it.
She is the fountain springing from the house of the Lord, from which flowed living waters to the thirsty who, even just tasting them with the lips, would never thirst.
Is it wrong, beloved, to think that the day of Mary's reparation can be compared with another day of creation? In the beginning the earth was created; through her it is renewed. In the beginning its activity was cursed by the deed of Adam; through her peace and security is restored. In the beginning, death entered all through the sin of their first parents, but now we have been transferred from death to life. In the beginning, the serpent through the attention of Eve's ears, spread poison to the whole body; now Mary receives through her ears the author of perpetual happiness. What was an instrument of death, now stands as an instrument of life.
He who sits above the Cherubim is now held in a woman's arms. He whom the whole world cannot contain, Mary alone embraces. He whom Thrones and Dominations fear, a young girl protects. He whose dwelling is eternal, sits on the lap of a virgin. He who has the earth for a footstool, steps on it with the feet of a child.
Let us pray. O God, who chose the Mother of your Son to be our Mother also, grant us that, persevering in penance and prayer for the salvation of the world, we may further more effectively each day the reign of Christ. Who lives and reigns with you.
SEE AS WELL:
SHORT NOVENA TO OUR LADY OF FATIMA in
https://catholicsstrivingforholiness.org/short-novena-to-our-lady-of-fatima/
SEE AS WELL: NEW HOLY ROSARY GUIDE IN https://catholicsstrivingforholiness.org/new-guide-to-holy-rosary-with-sub-tuum-praesidium-and-st-michael-prayers/
CSFH VIDEO RECORDING
SOURCE OF 12 TOP QUOTES : http://www.salvemariaregina.info/Message.html
PHOTO SOURCE: Taken by Luis de Oliveira, downloaded from www.santuario-fatima.pt
SUGGESTED READING:
St. John Paul II, Homily at Mass in Fatima, May 13, 1982 in https://www.ewtn.com/library/PAPALDOC/JP820513.HTM