IN SPITE OF OUR DEFECTS, GOD WANTS US TO BE HOLY.
IN SPITE OF OUR DEFECTS, GOD WANTS US TO BE HOLY.
Dear brethren in Christ, below you have a quote from St. Josemaria which would help all of us in our struggle to respond to God's call to holiness.
God himself desires that we be saints. In spite of our defects and frequent falls, God continues to love, help and encourage us, desiring that we may grow in humility from our failures, and giving us the grace and strength to persevere in our struggle.
"What does it matter that we stumble on the way, if we find in the pain of our fall the energy to pick ourselves up and go on with renewed vigour? Don't forget that the saint is not the person who never falls, but rather the one who never fails to get up again, humbly and with holy stubbornness. If the Book of Proverbs says that the just man falls seven times a day, who are we poor creatures, you and I, to be surprised or discouraged by our own weaknesses and falls? We will be able to keep going ahead, if only we seek our fortitude in him who says: Come to me, all who labour and are burdened and I will give you rest. Thank you, Lord, quia tu es, Deus, fortitudo mea, because you, and you alone, my God, have always been my strength, my refuge and my support."
Our hope of becoming saints rests on God's desire to share his holiness with us. St. Josemaria teaches:
"If you really want to progress in the interior life, be humble. Turn constantly and confidently to the help of Our Lord and of his Blessed Mother, who is your mother too. No matter how much the still open wound of your latest fall may hurt, embrace the cross once more and, calmly, without getting upset, say: 'With your help, Lord, I'll fight, so as not to be held back. I'll respond faithfully to your invitations. I won't be afraid of steep climbs, nor of the apparent monotony of my daily work, nor of the thistles and loose stones on the way. I know that I am aided by your mercy and that, at the end of the road, I will find eternal happiness, full of joy and love for ever and ever.'
Therefore, when with our heart enkindled we tell God 'Yes', that we want to be faithful and are ready for any sacrifice, we should add: Jesus, with your grace; Mother of mine, with your help. I'm so weak and prone to error, to small mistakes, that I see myself capable of committing big ones if you leave me."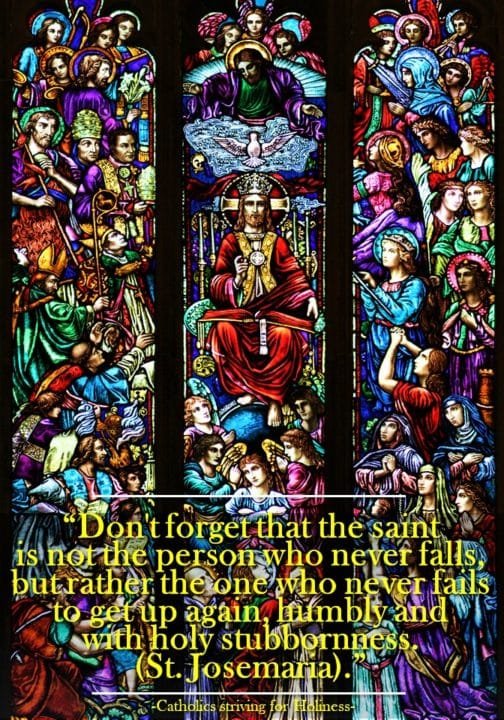 SEE AS WELL:
HOLINESS AND PERFECTIONISM ARE NOT ONE AND THE SAME THING HERE.