DAILY GOSPEL REFLECTION: "MY HOUSE SHALL BE A HOUSE OF PRAYER" (Lk 19:45–48).
DAILY GOSPEL REFLECTION: "MY HOUSE SHALL BE A HOUSE OF PRAYER" (Lk 19:45–48).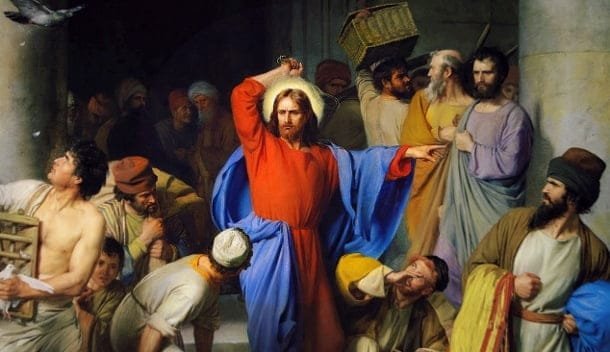 Gospel of Friday, 33rd week in Ordinary Time
Lk 19:45–48
Jesus entered the temple area and proceeded to drive out those who were selling things, saying to them, "It is written, My house shall be a house of prayer, but you have made it a den of thieves." And every day he was teaching in the temple area. The chief priests, the scribes, and the leaders of the people, meanwhile, were seeking to put him to death, but they could find no way to accomplish their purpose because all the people were hanging on his words.
---
45-48 Jesus' indignation shows his zeal for the glory of his Father, to be recognized at this time in the Temple itself.

He inveighs against the traders for engaging in business which has nothing to do with divine worship (cf. Mt 21:12; Mk 11-15).
Even the priests allowed some of these abuses to go on — perhaps because they benefitted from them in the form of taxes. The traders did perform services necessary for divine worship but this was vitiated by their excessive desire for gain, turning the Temple into a market-place.
"My house shall be a house of prayer":
---
Dear brethren in Christ, may we put the necessary means so that when we are in the House of God (=church, chapel, oratory) we conduct ourselves accordingly, with respect and reverence. May we observe the small details which manifest our deep faith and love in the Real Presence of God: genuflection in front of the Tabernacle, the proper Church and Mass etiquette, etc.
Moreover, let us not forget that our soul is a temple of God. May we avoid actions and attitudes which drive God away from our soul thus converting it into a den of thieves.
A great day ahead. Stay safe and God bless. Fr. Rolly Arjonillo
VIDEO COMMENTARY
Topic: IS IT OKAY TO GET ANGRY?
In today's gospel (Luke 19:45-48), when Jesus saw the temple of Jerusalem jampacked with money changers and traders selling their wares, he was filled with righteous anger. The temple was supposed to be a house of prayer (Isaiah 56:7) and yet became a den of thieves (Jeremiah 7:11). The chief priests, scribes and pharisees, in turn, were filled with unrighteous anger and this further fueled their hatred towards Jesus that led to His death.
Stay updated: subscribe by email for free TO OUR NEW WEBSITE www.catholicsstrivingforholiness.org (PUT YOUR EMAIL IN THE SUBSCRIBE WIDGET).
We are also in www.fb.com/Catholicsstrivingforholiness. Kindly help more people in their Christian life by liking our page and inviting your family, friends and relatives to do so as well. Thanks in advance and God bless you and your loved ones! Fr. Rolly Arjonillo