POPE FRANCIS ON THE FATHER. WHAT DOES IT TAKE TO BE A HOLY CHRISTIAN FATHER? HAPPY FATHER'S DAY!
POPE FRANCIS ON THE FATHER.
WHAT DOES IT TAKE TO BE A HOLY CHRISTIAN FATHER?
HAPPY FATHER'S DAY!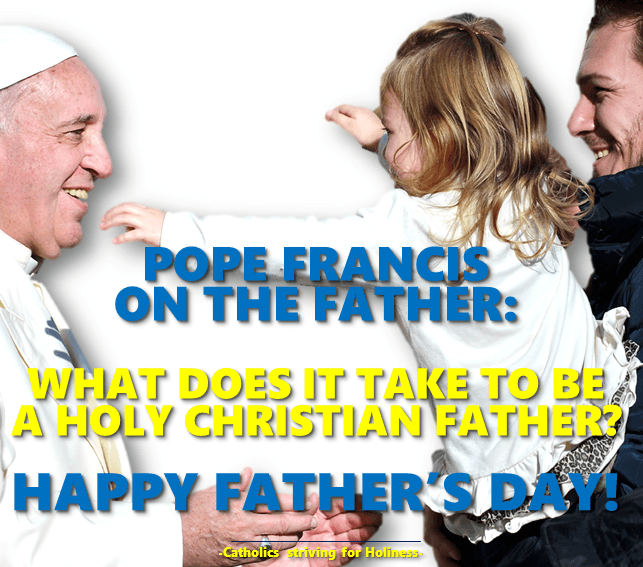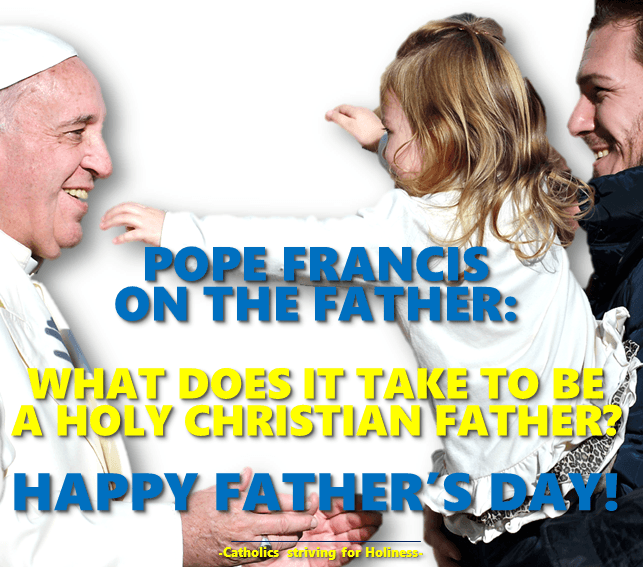 On June 20, 2021 in many countries, Father's day will be celebrated in honor of a beloved person in our life: our father. Hence, I have thought of making a post regarding fatherhood or paternity in honor of the countless silent, kindhearted and loving fathers in all places living their lives for the sake of their wife and their children…or for their flock, many times, in a hidden and heroic manner.
WHAT DOES IT TAKE TO BE A GOOD CHRISTIAN FATHER?…
A lot! To answer this question, we must bear in mind that ALL FATHERHOOD HERE ON EARTH IS A PARTICIPATION IN GOD'S PATERNITY (cf Eph 3:15). Jesus revealed the Trinitarian mystery, calling God his Father, and He and the Father are one (cf. Jn 10:30). And He also taught us to direct ourselves, to call and to pray to Him as such, Our Father! (cf.Lk 11:2), because this is what we are: not just his mere creatures but rather, children of God through Our Lord Jesus Christ (cf. 1Jn 3:2; Rm 8:17; Eph 1:5)!
In my opinion, TO BE A GOOD CHRISTIAN FATHER IS TO IMITATE GOD THE FATHER'S PATERNITY…and this is such a gargantuan task!
But since FATHERHOOD ─AND MOTHERHOOD as well─ IS A VOCATION, THEN FATHERS CAN BE ASSURED THAT WHEN GOD CALLS, HE ALSO PROVIDES THEM NECESSARY GRACES IN ORDER TO FULFILL THE MISSION ENTRUSTED TO THEM TILL THE END, IF THEY CORRESPOND ON THEIR PART.
HOW CAN FATHERS IMITATE GOD'S PATERNITY?
God exercised His Paternity with and for love, with patience, justice and mercy, always present and awaiting for His children, maintaining, sustaining, educating, correcting and providing for them, wanting the best and true good and happiness for us, His children.
All Christian fathers in the world should meditate upon this, not only once, but rather many times during their lifetime, to educe and draw out the virtues of God's Fatherhood and thus learn how to love like Him and imitate Him in His Fatherhood. However, this this a LIFETIME TASK and presupposes knowledge and intimate personal dealing with God the Father, God the son and God the Holy Spirit.
Let us not forget that the Christian father is an instrument of God the Father. He has the task of educating, sustaining, correcting, accompanying and providing for his children so that they would grow into mature Christian men and women who know how to live by themselves in wisdom and Christian criteria.
However, his most important task is to teach his children how to love God. This is the divine wisdom of a Christian father: to provide all the necessary means in order for his children to attain not only earthly but above all, everlasting ─not fleeting─ happiness!
In the book of Deuteronomy it says: "You must love Yahweh your God with all your heart and with all your soul and with all your strength. Let the words I enjoin on you today stay in your heart. You shall tell them to your children, and keep on telling them, when you are sitting at home, when you are out and about, when you are lying down and when you are standing up; (Dt 6:5-7)." "And hence, if, throughout your lives, you fear Yahweh your God and keep all his laws and commandments, which I am laying down for you today, you will live long, you and your child and your grandchild (Dt 6:2)."
The above-mentioned ideas can be gleaned in the General Audience of February 4, 2015 of Pope Francis where he spoke about the beauty of fatherhood and its characteristics. What follows is a list of ideas which are helpful for all fathers to meditate upon. The titles, capitals and formatting are mine to facilitate the reading and meditation.
EVERY CHRISTIAN FATHER KNOWS AND WANTS WHAT'S BEST FOR HIS CHILDREN:
"My son, if your heart is wise, my heart too will be glad. My soul will rejoice when your lips speak what is right" (Pr 23:15-16). Nothing could better express the pride and emotion a father feels when he understands that he has handed down to his child what really matters in life, that is, a wise heart."
"I will be happy every time I see you act with wisdom, and I will be moved every time that I hear you speak with rectitude. This is what I wanted to leave to you, that this one thing become yours: THE ATTITUDE TO FEEL AND ACT, TO SPEAK AND JUDGE WITH WISDOM AND RECTITUDE.
And that you might be like this, I TAUGHT YOU THE THINGS YOU DIDN'T KNOW, I CORRECTED THE ERRORS YOU DIDN'T SEE. I MADE YOU FEEL A PROFOUND AND AT THE SAME TIME DISCRETE AFFECTION, which maybe you did not fully recognize when you were young and unsure.
I gave you a TESTIMONY OF RIGOUR AND STEADFASTNESS that perhaps you didn't understand, when you would have liked only complicity and protection.
I had first to test myself in the wisdom of my heart, be vigilant of my excesses of sentiment and resentment, in order to carry the weight of the inevitable misunderstandings, to find the right words to make myself understood."
Now, continues the father, "I see that you strive to be this way with your own children, and with everyone, and it moves me. I am happy to be your father". This is what a wise father, a mature father, says."
2. A FATHER HAS TO BE ALWAYS PRESENT FOR HIS WIFE AND CHILDREN:
There is an urgent need "that a father be present in the family.
That he be close to his wife, to share everything, joy and sorrow, hope and hardship.
And that he be close to his children as they grow: when they play and when they strive, when they are carefree and when they are distressed, when they are talkative and when they are silent, when they are daring and when they are afraid, when they take a wrong step and when they find their path again; a father who is always present.."
3. A CHRISTIAN FATHER IS PATIENT & MERCIFUL:
"Fathers must be patient. Often there is nothing else to do but wait; pray and wait with patience, gentleness, magnanimity and mercy. A good father knows how to wait and knows how to forgive from the depths of his heart."
4. HE KNOWS HOW TO CORRECT WITHOUT HUMILIATING:
"Certainly, he also knows how to correct with firmness: he is not a weak father, submissive and sentimental. The father whoknows how to correct without humiliating is the one who knows how to protect without sparing himself."
Dear friends, dear Christian fathers: We sincerely thank you for the gift of life, for your love, gentle and firm strength, patience and serenity; all the sweat and silent suffering you bore for love of us. Everything you have done in order to make life pleasant for us!
God has entrusted you with such an enormous task and responsibility. But trust in God! Do not fear, for you possess the sacramental grace of marriage and all the other supernatural means: prayer, sacraments and interior struggle, to carry out your divine vocation to holiness through your fatherhood.
We entrust all of you to St. Joseph, the man chosen by God to be the foster father of Our Lord Jesus Christ, so that all of you may be HOLY CHRISTIAN FATHERS by exercising your paternity according to the divine paternity of God the Father towards his children. "Many great things depend — don't forget it — on whether you and I live our lives as God wants (St. Josemaria, The Way, n. 755)."
TO ALL FATHERS IN THE WORLD, A SINCERE AND HEARTFELT
HAPPY FATHER'S DAY!
May God bless you all especially during this day when the world celebrates the heroic, indispensable vocation to fatherhood! Fr. Rolly Arjonillo
SEE AS WELL:
GOD IS OUR FATHER! HAPPY FATHER'S DAY DEAREST GOD! HERE
PRAYER FOR FATHER'S DAY HERE.
ORIGINAL PHOTO SOURCE: https://thenypost.files.wordpress.com/2013/12/pope.jpg
SUGGESTED MATERIAL FOR READING AND MEDITATION:
https://w2.vatican.va/content/francesco/en/audiences/2015/documents/papa-francesco_20150128_udienza-generale.html
https://w2.vatican.va/content/francesco/en/audiences/2015/documents/papa-francesco_20150204_udienza-generale.html
Stay updated: subscribe by email for free TO OUR NEW WEBSITE www.catholicsstrivingforholiness.org (PUT YOUR EMAIL IN THE SUBSCRIBE WIDGET).
We are also in www.fb.com/Catholicsstrivingforholiness. Kindly help more people in their Christian life by liking our page and inviting your family, friends and relatives to do so as well. Thanks in advance and God bless you and your loved ones! Fr. Rolly Arjonillo