HAPPY FATHER'S DAY! PRAYER FOR FATHERS.
HAPPY FATHER'S DAY! PRAYER FOR FATHERS.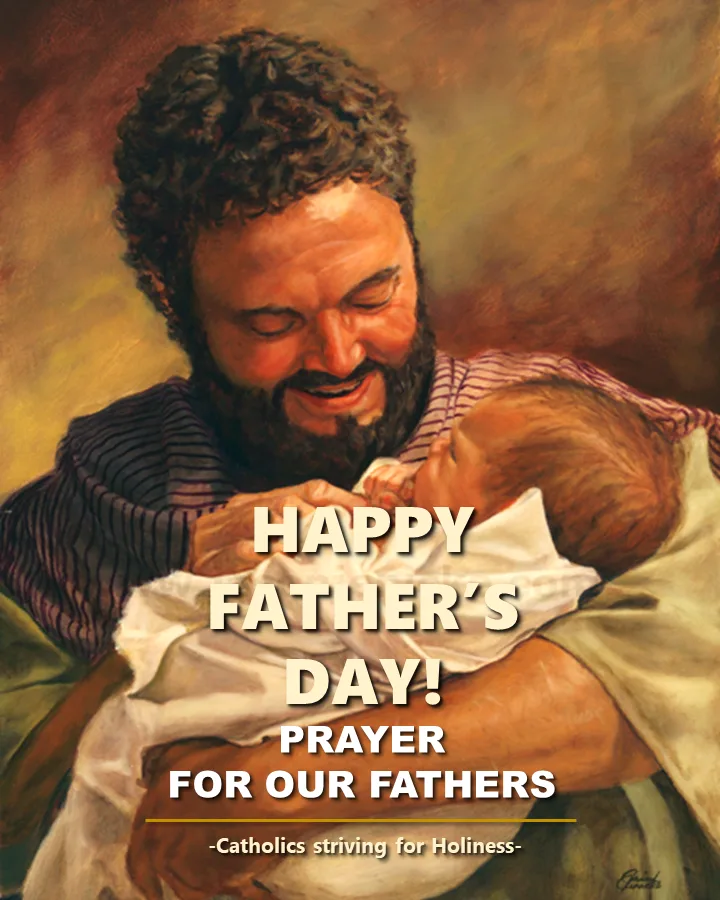 Dear friends in Christ, Father's day is celebrated on the 3rd Sunday of June in most countries. In countries like Spain, Italy, Belgium, Andorra, Portugal, Switzerland, Lichenstein, Angola, Bolivia and Croatia, however, Father's day is usually celebrated on March 19, following a Catholic celebration on the solemnity of St. Joseph since the Middle Ages, and hence, the prayer to St. Joseph for Fathers composed by Pope St. John XXIII which you have below.
Anyway, TO ALL THE FATHERS IN THE WORLD, THANK YOU FOR ALL THE LOVE, DEDICATION AND SACRIFICE YOU HAVE GIVEN TO NURTURE AND PROVIDE FOR US WITH THE BEST LIFE. WE PRAY FOR ALL OF YOU, spiritual fathers as well, so that YOU MAY BE ABLE TO CARRY OUT THEIR DIVINE VOCATION OF PATERNITY ACCORDING TO GOD'S WILL, IMITATING THUS THE EXAMPLE OF ST. JOSEPH.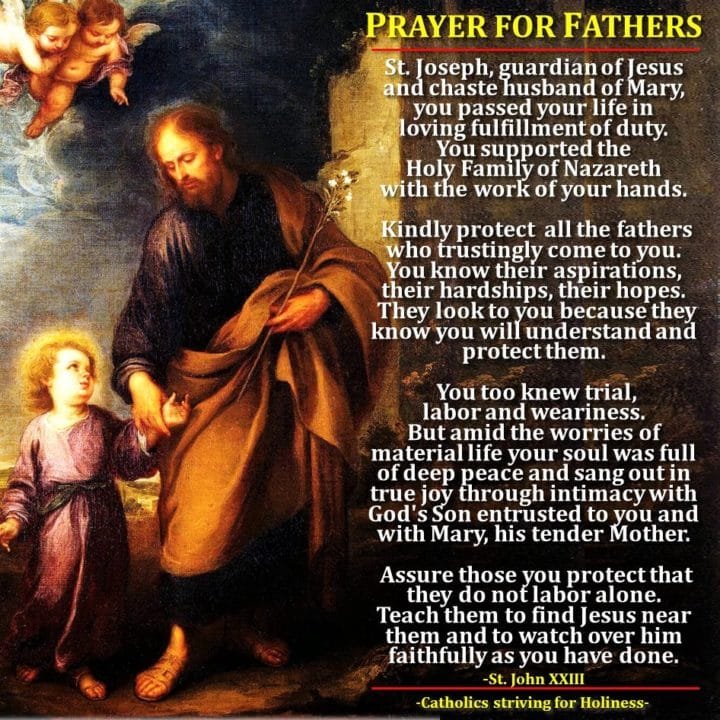 PRAYER OF ST. JOHN XXIII TO ST. JOSEPH FOR FATHERS
St. Joseph, guardian of Jesus and chaste husband of Mary,
you passed your life in loving fulfillment of duty.
You supported the holy family of Nazareth with the work of your hands.
Kindly protect all the fathers who trustingly come to you.
You know their aspirations, their hardships, their hopes.
They look to you because they know you will understand and protect them. You too knew trial, labor and weariness.
But amid the worries of material life your soul was full of deep peace and sang out in true joy through intimacy with God's Son entrusted to you and with Mary, his tender Mother. Assure those you protect that they do not labor alone. Teach them to find Jesus near them and to watch over him faithfully as you have done.
---
PRAYER FOR FATHERS
God our Father, through the intercession of St. Joseph, foster father of Your Son,
Our Lord Jesus Christ, we give you thanks and praise for all fathers in the world.
We pray for them so that they may they find courage and perseverance to balance work, family and faith in joy and sacrifice.
We ask you for an ever-increasing faithful and generous love of fathers to their respective wives and children. We ask you not only for their physical and material well-being, but also that they be authentic Christian fathers seeking holiness in the middle of the world so as to attain happiness here on earth and in heaven.
We pray for those whose children are lost, sick or are suffering; may they know that the God of compassion walks with them in their sorrow.
We pray for men, especially the priests and monks, who exercise their paternity in a spiritual way and guide others with fatherly concern and advice.
We remember fathers, grandfathers, and great grandfathers who are no longer with us but who live forever in our memory and nourish us with their love.
Bless them and may they rest in peace. Amen.
---
To all the fathers in the world: we sincerely greet and salute you on this very special day! We could never thank you enough for the gift of life, the silent and hidden sacrifices and the gentle but firm affection and love you have for us! On this day, we would like to entrust you to the intercession of St. Joseph, the foster father of Our Lord.
May you all strive to be holy Christian fathers, always present beside your wife and your children, to faithfully love, protect, sustain, strengthen, educate, correct and provide for them, with an authentic Christian wisdom, strong arms, resolute will and firm but gentle heart,
wanting always the best, and the true earthly and heavenly happiness for your wife and children.
This we ask God the Father, model of all fathers in the world,
from whom all fatherhood on earth comes.

Stay safe and God bless! Fr. Rolly Arjonillo
A GREAT VIDEO ON FATHER'S DAY
Happy Father's Day to all the fathers out there. I am inspired to write this short poem about my father:
Fear vanishes, when my father takes my hand
Leading me in my skirmishes, with his magician's wand
Teaching me honesty, integrity, hard work in his own brand
He is my superhero – I am, too – when beside him I stand
This is the feeling of Jeremiah in today's reading, when he is attacked on all sides, even by his friends. But Jeremiah has confidence in his Father God, for he knows truth and justice will prevail as Hi father stands
For those of whose fathers have passed on, we can only have fond memories of how they tried their best to be the best fathers the way they know how. A FATHER is a bedrock of confidence and assurance for many of us that all will be well when difficulties seem to cripple us. He is our immovable force to protect us from all those who try to hurt us. Our fears vanish when he is with us.
An article I saw says this about fathers:
He is a mender of toys, a leader of boys.
He is a changer of fuses, a healer of bruises.
He's a mover of couches, a healer of ouches.
He's a hanger of screens, a counselor of teens.
He's a pounder of nails, a teller of tales.
He's a dryer of dishes, a fulfiller of wishes.
Bless Him, O Lord.
Some of us have regrets that we have not established closer ties with our fathers. Perhaps, it is a regret for rebelling when we were younger and not having heeded his constant and sometimes forceful advice which, most often, was right. Perhaps, it is a regret for not having had the chance to reconcile with him when he was still alive. Perhaps, when your father was still alive, you detested his meddling, he was a nuisance, he was of no use to the family. He may not have been the ideal father you see in others.
But now that he has passed on, perhaps, there is a light inside you that tries to seek a path towards your father. You are who you are today because he was a part of it. You have become a better person now in large part because of your father.
For those of us who still have our fathers with us, savor every moment you have with them. Pick their brains and ask them to tell you stories. Talk to them and ask for their advice and counsel. Never ignore them but spare time to be with them. Make up for lost time to be their friend.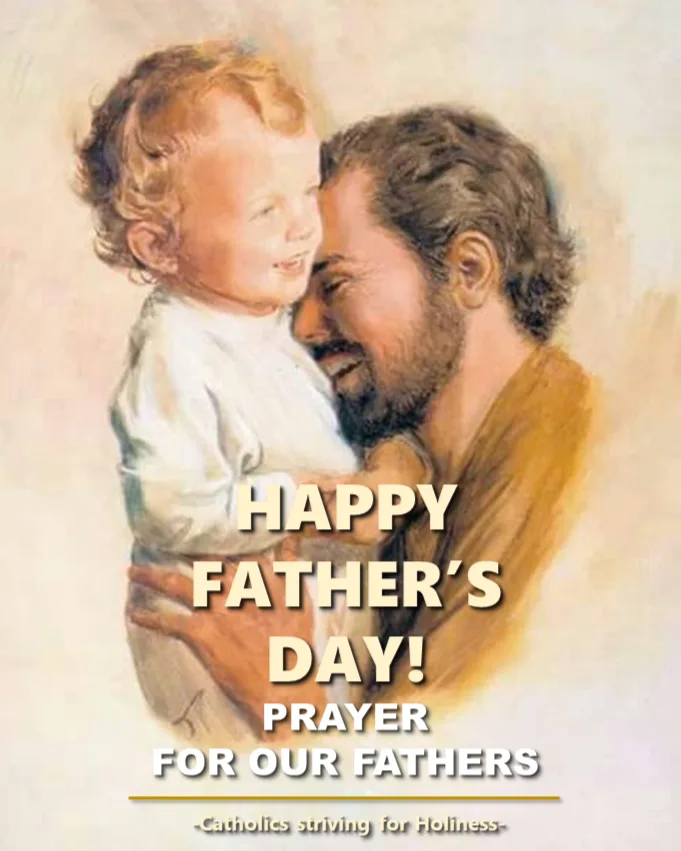 ---
SEE AS WELL: HAPPY FATHER'S DAY, DEAREST GOD THE FATHER AV! FULL TEXT HERE.
Stay updated: subscribe by email for free TO OUR NEW WEBSITE www.catholicsstrivingforholiness.org (PUT YOUR EMAIL IN THE SUBSCRIBE WIDGET).
We are also in www.fb.com/Catholicsstrivingforholiness. Kindly help more people in their Christian life by liking our page and inviting your family, friends and relatives to do so as well. Thanks in advance and God bless you and your loved ones! Fr. Rolly Arjonillo