DON'T FORGET THE SPIRITUAL WORKS OF MERCY!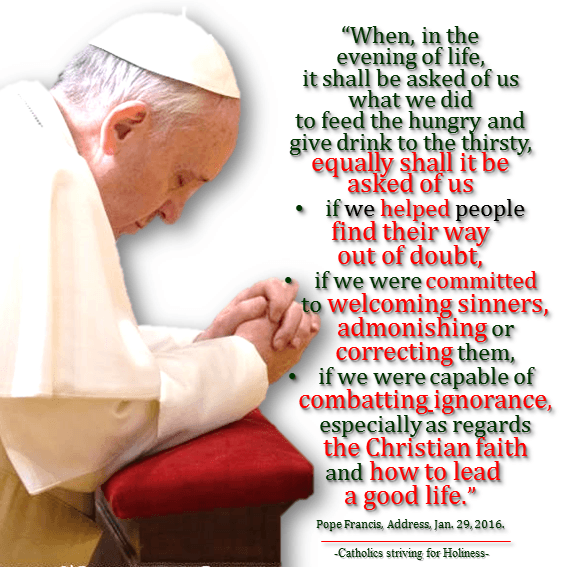 DON'T FORGET THE SPIRITUAL WORKS OF MERCY!
Dear brethren in Christ, during this Extraordinary Jubilee Year of Mercy, Pope Francis reminded us on many occasions of the necessity to live the corporal and spiritual works of mercy.
Perhaps we may be doing already some corporal works of mercy. It would also be a great occasion for us to examine ourselves if we are living the SPIRITUAL WORKS OF MERCY as well, all of which are carried out for LOVE OF GOD AND OUR NEIGHBOUR for at the end of our earthly journey, we will be judge on all these (Cf. Mt 25)
As a brief review, the 7 SPIRITUAL WORKS OF MERCY are:
1. Counsel the doubtful.
2. Instruct the ignorant.
3. Admonish sinners.
4. Comfort the afflicted.
5. Forgive offenses.
6. Bear wrongs patiently.
7. Pray for the living and the dead.
As followers of Christ, we want what Christ wants. And what does He desire for? THE SALVATION OF SOULS! Let us then put into practice the means within our reach to GAIN SOULS FOR CHRIST through CONSTANT PRAYER FOR OTHERS, SINCERE FRIENDSHIP WHICH FACILITATES GIVING GOOD COUNSEL, FRATERNAL CORRECTION AND IMPARTING DOCTRINAL AND SPIRITUAL INSTRUCTION.
Let us ask God's grace through the intercession of Our Lady so that we may be generous with our time and resources to HELPING OTHERS not only in their bodily but also in their SPIRITUAL NEEDS as well.
God bless you and your family! Fr. Rolly A.
SEE AS WELL:
TOP 12 IDEAS OF MISERICORDIAE VULTUS (FACE OF MERCY), POPE FRANCIS' BULL OF INDICTION FOR THE EXTRAORDINARY JUBILEE OF MERCY in https://catholicsstrivingforholiness.com/2015/12/04/top-12-ideas-of-misericordiae-vultus-face-of-mercy-pope-francis-bull-of-indiction-for-the-extraordinary-jubilee-of-mercy/
ORIGINAL PHOTO CREDIT: L'OSSERVATORE ROMANO