July 25: ST. JAMES THE GREATER, APOSTLE AND MARTYR.
July 25: ST. JAMES THE GREATER,
1ST APOSTLE TO SUFFER MARTYRDOM,
EVANGELIZED SPAIN. Prayer vid + full text.
St. James, from Bethsaida, is called "the Greater" because his vocation to serve Christ preceded that of the other apostle of the same name. He was the son of Zebedee and the brother of John. He was one of the three disciples to witness the Transfiguration (Mt 17:1) and the agony in the Garden (Mt 26:37), aside from other important events of our Saviour's public life. He and his brother's impetuous zeal caused the Lord to name them the Sons of Thunder.
James developed his apostolate in Judaea and Samaria. According to tradition he preached the Gospel in Spain. On his return to Palestine about the year 44, he became the first Apostle to suffer martyrdom, at the order of Herod Agrippa. His mortal remains were later brought to Santiago de Compostela, in Spain, which became a popular medieval pilgrimage site and a sanctuary of the Faith for all of Europe (F. Fernández-Carvajal. "In Conversation with God, vol. 7, n. 5)."
In the Gospel of today's Mass, their mother, Salome, thinking that the earthly reign of the Messiah is about to be established, asks that her sons be given the two foremost positions in it.
"Command that these two sons of mine may sit, one at your right hand and one at your left, in your Kingdom (mt 20:21)."
Our Lord Christ reprimands them for not having understood the true — spiritual — nature of His Kingdom and not realizing that FOLLOWING HIM FAITHFULLY DEMANDS SERVICE, SACRIFICE, SELF-GIVING EVEN UP TO MARTYRDOM. So he told them:
"You do not know what you are asking. Are you able to drink the cup that I am to drink?" They said to him, "We are able (MT 20:22)."
Jesus asked them if they were prepared to drink the cup of the Lord, to which they said, Possumus! (Yes, we can!):
The expression "to drink from the same cup" indicates to share the same fate as that of the friend. Jesus asks them to share his own fate by offering them his cup, which in the antiquity is considered as a great sign of union and friendship.
The response of the brothers expresses docility and generosity: attitudes which are necessary for all Christians if we are to live up to our faith, follow Jesus till the end and be faithful instruments of spreading Christ's Good News.
Jesus tells them: "Yes, you will drink from my cup (Mt 20:23)," James and John will participate in his sufferings, and will complete His Passion in their own bodies. James was to die by decapitation on 44. A.D and John was to suffer innumerable trials and persecutions during his life.
TO FOLLOW CHRIST, BE ONE LIKE HIM, SHARE HIS LIFE, FATE AND DESTINY IS WHAT OUR CHRISTIAN VOCATION IS ALL ABOUT: TO FOLLOW CHRIST NOT ONLY TO TABOR BUT TO CALVARY AS WELL, CO-REDEEMING WITH HIM BY OFFERING UP ALL THE SACRIFICES, INCONVENIENCE AND PAIN WE ENCOUNTER IN OUR DAILY LIFE TO OUR LORD AND BY DOING SO, UNITED WITH HIM, PAIN, SUFFERING AND EVEN FAILURE ARE CONVERTED INTO PRAYER, JOY AND PEACE.
The great Christian revolution has been to convert pain into fruitful suffering and to turn a bad thing into something good. We have deprived the devil of this weapon; and with it we can conquer eternity.
St. Josemaria, Furrow, 887.
Dear friends: Let us ask Our Lord through the intercession of the Blessed Virgin Mary and of St. James, that we may have the same dispositions of generosity and docility telling our Lord: "Possumus!", yes, Lord, we can and want to drink from your cup, we want to follow you faithfully and share your fate and destiny by being faithful Christians willing to carry our daily cross, without being afraid of the pain, suffering, persecution and even martyrdom as St. James did during his life.
SEE AS WELL:
JULY 25: ST. JAMES MASS, GOSPEL AND COMMENTARY:
"THE SON OF MAN DID NOT COME TO BE SERVED BUT TO SERVE"
(Mt 20:20–28). HERE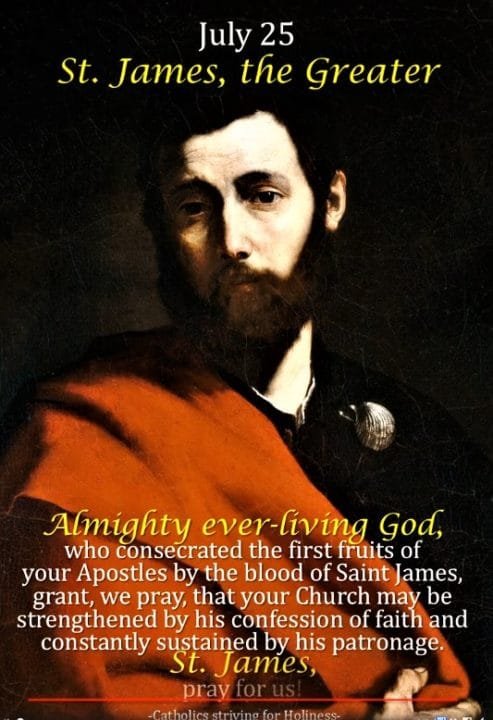 Almighty ever-living God, who consecrated the first fruits of your Apostles by the blood of Saint James, grant, we pray, that your Church may be strengthened by his confession of faith and constantly sustained by his patronage. Through our Lord. Opening prayer, Mass proper.
PHOTO SOURCE: https://upload.wikimedia.org/wikipedia/commons/c/ce/Santiago_Mayor_Ribera_%28Museo_Prado%29.jpg
Stay updated: subscribe by email for free TO OUR NEW WEBSITE www.catholicsstrivingforholiness.org (PUT YOUR EMAIL IN THE SUBSCRIBE WIDGET).
We are also in www.fb.com/Catholicsstrivingforholiness. Kindly help more people in their Christian life by liking our page and inviting your family, friends and relatives to do so as well. Thanks in advance and God bless you and your loved ones! Fr. Rolly Arjonillo