GOD IS OUR FATHER! HAPPY FATHER'S DAY DEAREST GOD!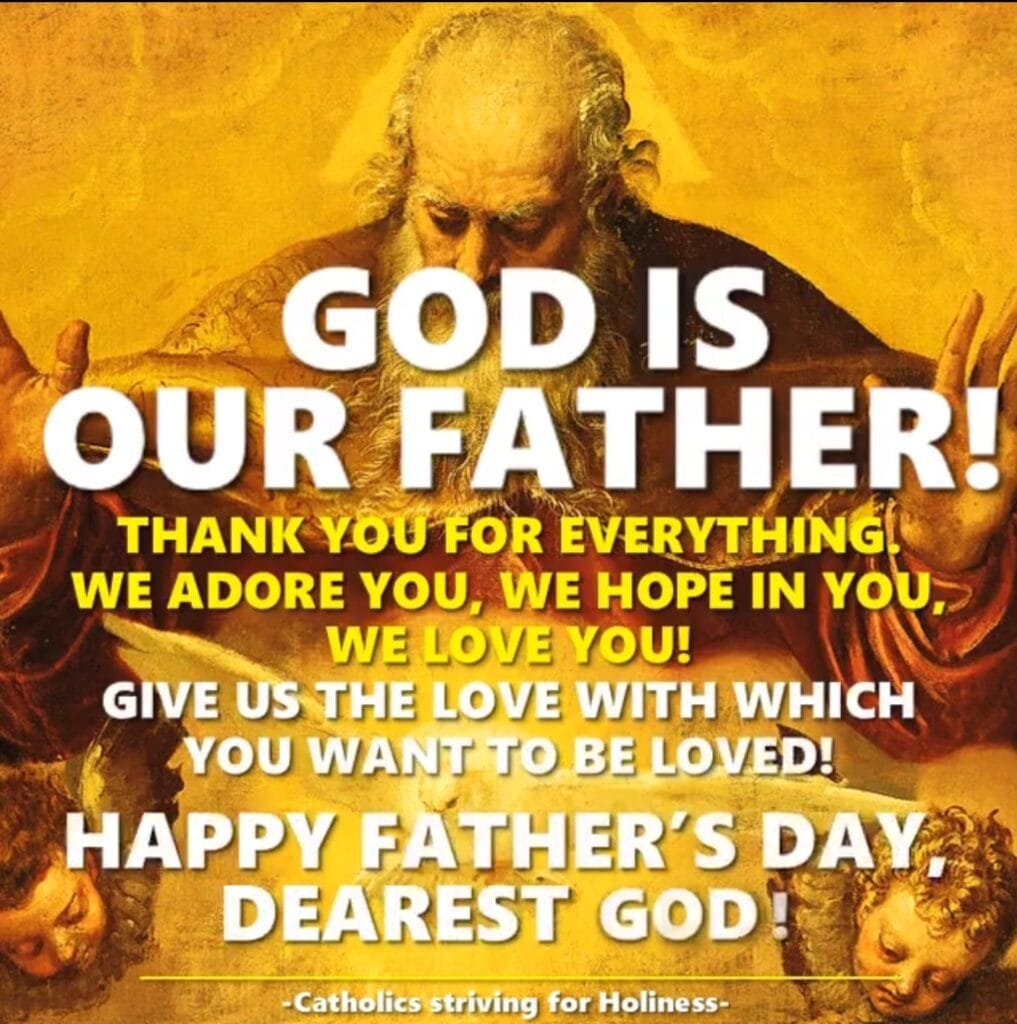 GOD IS OUR FATHER!
HAPPY FATHER'S DAY
DEAREST GOD!
Dear brethren in Christ, GOD IS OUR FATHER! This marvellous REALITY SHOULD FILL OUR ENTIRE EXISTENCE WITH PROFOUND JOY, OPTIMISM AND THANKSGIVING FOR GOD IS NOT AN INDIFFERENT GOD BUT IS A FATHER TO ALL!
Isn't it true that kids sometimes boast of the achievements of their dads, boasting with pride that "My father is a… owns a…has a…" and the list goes on! Well, OUR FATHER is nonetheless THE CREATOR OF THE UNIVERSE, ORIGIN OF ALL THINGS, WHO LOVES US TILL THE END, INFINITELY MUCH MORE THAN THE LOVE OF ALL FATHERS IN THE WORLD COMBINED!
As we celebrate Father's Day, let us consider in our personal prayer the Paternity of God the Father. Our Lord Jesus Christ revealed to us on many occasions in the Gospel that God is His Father and our Father as well and pray to Him as such (Cf. Mt 12:50; 6:9ff). God the Father, on his part well, revealed that Jesus is "His Beloved Son in whom" He "is pleased" (Mt 3:17; Mt 17:15).
HOW DID GOD EXERCISE HIS PATERNITY?
The answer to this question is a much more than a doctoral thesis, but rather, an infinite number of books that could never fit in all the libraries in the world combined!
However, a brief recall of events in the Bible shows us that GOD THE FATHER, EXERCISED HIS PATERNITY WITH AND FOR LOVE. OUT OF LOVE FOR US, GOD WANTS THE BEST FOR EACH ONE OF US. HE WANTS OUR TRUE HAPPINESS. Out of love:
• He created the UNIVERSE and all that is in it and ENTRUSTED THEM TO MAN to take care of and make use of them responsibly;
• He created the human being as the CROWNING OF HIS CREATION. He made man and woman according to His "IMAGE AND LIKENESS", i.e., as RATIONAL BEINGS, endowed with reason, will and heart, gifted with freedom and thus CAPABLE OF LOVING, because HE WANTED THE EXISTENCE OF BEINGS CAPABLE OF ENTERING IN COMMUNION WITH HIM, AND THUS SHARE WITH US HIS INTRATRINITARIAN LIFE, which is the reason why He created us;
• In spite of man's pride and disobedience, He immediately PROMISED A SAVIOR after the fall of our first parents (Gen 3:15), and throughout various centuries of the History of our Salvation,God the Father sent His PROPHETS to bring us back to His fold; educating his people, correcting them whenever necessary, with a lot of patience, justice and mercy;
• As if all the above deeds weren't enough, out of His immense love, He sent His ONLY-BEGOTTEN SON, to die for us in order to save us from our sins and open the gates of heaven;
• HE WANTS OUR TRUE HAPPINESS, and that is why He gave us the most important first and foremost commandment to love Him "with all our heart, with all our soul, with all our mind, with all our strength" and to "love our neighbor as our self", by the manner by which His Son has loved us: "Love one another as I have loved you."
• Moreover, He continues to MAINTAIN us in life and PROVIDE for us: He is a God who lives not far away, distant and unmindful of men, but rather so close and is ALWAYS PRESENT in our midst through different manners: in His Church, in the Sacraments, in our soul in grace.
• Furthermore, HE IS A LOVING AND MERCIFUL GOD, FULL OF COMPASSION AND KINDNESS WHO NEVER TIRES HIMSELF IN AWAITING FOR US, IN FORGIVING US AND GIVE US A STRONG HUG in the SACRAMENT OF CONFESSION.
Let us thank, adore, praise and love God for being a Father to all of us. Let us call, deal and treat Him as such and live as children of God by imitating the Only-Begotten Son, Our Lord Jesus Christ.
Abba! Father! We love you above all things with all our heart, mind, soul and strength! Help us love you more through your Son Our Lord Jesus Christ and the Holy Sprit!
Mary, Daughter of God the Father, pray for all of us, children of God!
God bless you and your families!
Stay updated: subscribe by email for free TO OUR NEW WEBSITE www.catholicsstrivingforholiness.org (PUT YOUR EMAIL IN THE SUBSCRIBE WIDGET).
We are also in www.fb.com/Catholicsstrivingforholiness. Kindly help more people in their Christian life by liking our page and inviting your family, friends and relatives to do so as well. Thanks in advance and God bless you and your loved ones! Fr. Rolly Arjonillo