Dec. 8: MARY, QUEEN OF ANGELS. DAY 9 OF THE NOVENA TO THE IMMACULATE CONCEPTION.
Dec. 8:
MARY, QUEEN OF ANGELS
DAY 9 OF THE NOVENA TO THE IMMACULATE CONCEPTION.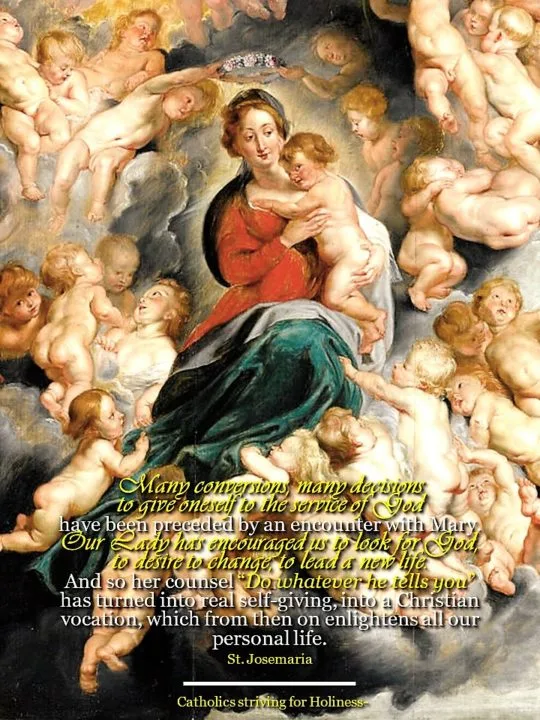 SPIRITUAL CONSIDERATION
If we have this filial contact with Mary, we won't be able to think just about ourselves and our problems. Selfish personal problems will find no place in our mind. Mary brings us to Jesus, and Jesus is "the firstborn among many brothers." And so, if we know Jesus, we realize that we can live only by giving ourselves to the service of others. Christians can't be caught up in personal problems; they must be concerned about the universal Church and the salvation of all souls.
If we are imbued with this spirit, our conversations with God eventually aid other people, even though they may begin on an apparently personal level. And if we take our Lady's hand, she will make us realize more fully that all men and women are our brothers and sisters – because we are all children of that God whose daughter, spouse and mother she is.
Be daring. Count on the help of Mary, Queen of Apostles. Without ceasing to be a mother, our Lady is able to get each of her children to face their own responsibilities. Mary always does the immense favour of bringing to the Cross, of placing face to face with the example of the Son of God, those who come close to her and contemplate her life. It is in this confrontation that Christian life is decided. And here Mary intercedes for us so that our behaviour may lead to a reconciliation of the younger brother – you and me – with the firstborn Son of the Father.
Many conversions, many decisions to give oneself to the service of God have been preceded by an encounter with Mary. Our Lady has encouraged us to look for God, to desire to change, to lead a new life. And so her counsel "Do whatever he tells you" has turned into real self-giving, into a Christian vocation, which from then on enlightens all our personal life.
St. Josemaria, Christ is Passing By, 145, 149
PRAYER
Mary, who brought Jesus up and accompanied him through his life and is now beside him in heaven, will help us recognize Jesus as he crosses our path and makes himself present to us in the needs of our fellow men.
Sancta Maria, spes nostra, ancilla Domini, sedes sapientiæ, ora por nobis!, Holy Mary, our hope, handmaid of the Lord, seat of wisdom, pray for us!
St. Josemaria, Christ is Passing By, 145, 149
For the succeeding days, click on the corresponding links:
DAY 3,
DAY 4,
DAY 5,
DAY 6,
DAY 7,
DAY 8,
DAY 9,