THE SECRET TO HOLINESS? LOVE!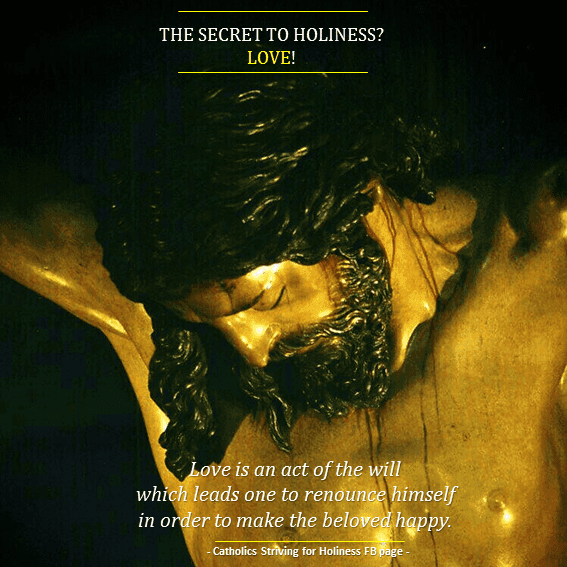 Yes, LOVE! But don't get it wrong. We are not talking here about love as a mere feeling, nor an attraction….but rather of LOVE WHICH IS AN ACT OF THE WILL.
Yes…LOVE can be shown and be present ─ even without experiencing any feeling─ because as an ACT OF THE WILL, a person who loves WANTS TO MAKE HIS BELOVED HAPPY, even though he doesn't feel anything, and EVEN IF IT MEANS RENOUNCING ONE'S SELF TO MAKE THE BELOVED HAPPY.
Yes…LOVE and SELF-RENUNCIATION are INSEPARABLE because love tends towards SELF-GIVING for if one is enclosed to himself and only seeks his happiness or for his own benefit, he would be incapable of giving himself and it would be love but egoism.
LOVE leads one to WANT WHAT THE BELOVED WANTS AND TO REJECT WHAT THE BELOVED REJECTS. This characteristic of an authentic love is summarized by a Latin adage which Pope Benedict XVI wrote in his 1st encyclical, "Deus caritas est, N. 17" and is the Roman definition of friendship. The Latin adage states: "IDEM VELLE, IDEM NOLLE" (WANTING THE SAME THINGS, REJECTING THE SAME THINGS). A COMMON DESIRE, PROJECT AND GOAL, HENCE, ARISES BETWEEN THE PERSONS IN LOVE RESULTING INTO IDENTIFICATION.
HOLINESS CONSISTS IN MAKING INTO A DAILY REALITY THIS LOVE FOR JESUS: WANTING WHAT JESUS WANTS AND REJECTING WHAT JESUS REJECTS IN ORDER TO MAKE HIM HAPPY. If we strive each day to do this, then we are on the path towards identifying ourselves with Him…towards holiness, because then, WE WILL HAVE THE SAME THOUGHTS, THE SAME DESIRES, THE SAME FEELINGS, AND THE SAME ACTIONS AS THOSE OF JESUS.
If we persevere till the end in our struggle, ─and with the indispensable help of God's grace─, then we can exclaim with St. Paul, "it is no long I that live, but Christ who lives in me (Gal2:20)!" "We will be other Christs, Christ Himself, 'ipse Christus' (St. Josemaria, "The Way of the Cross," Station 6)."
Fr. Rolly Arjonillo, priest of Opus Dei. Catholics striving for Holiness.
We are also in Facebook in https://www.facebook.com/CatholicsstrivingforHoliness
Hope you'll like us and invite as well your Catholic friends to our page to help them in their Christian life. Feel free to share our posts.
PHOTO SOURCE: Juan de Mesa, "Cristo de la Buena Muerte" (1602) scanned from "Pasión en Sevilla", n. 75, March 2015, Venta exclusiva con ABC de Sevilla, p. 52.
Stay updated: subscribe by email for free TO OUR NEW WEBSITE www.catholicsstrivingforholiness.org (PUT YOUR EMAIL IN THE SUBSCRIBE WIDGET).
We are also in www.fb.com/Catholicsstrivingforholiness. Kindly help more people in their Christian life by liking our page and inviting your family, friends and relatives to do so as well. Thanks in advance and God bless you and your loved ones! Fr. Rolly Arjonillo