CHRIST'S WAY? THE WAY OF LOVE!
CHRIST'S WAY? THE WAY OF LOVE!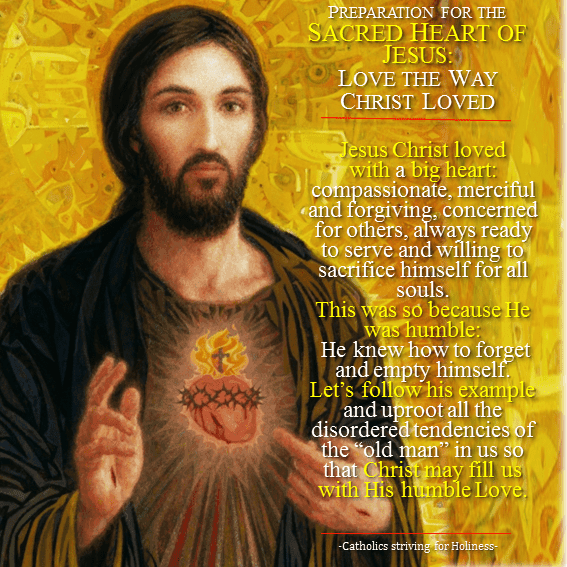 JESUS' SACRED HEART is the CHIEF SIGN and SYMBOL of HIS IMMENSE and NEVER-ENDING LOVE FOR HUMANITY, pierced for our sins and for our salvation and that this preparation can be summed up by two ideas: LOVE and REPARATION.
BUT WHAT ARE THE CHARACTERISTICS OF CHRIST'S LOVE FOR US? We can have a glimpse of these with St. Josemaria's words:
"CHRIST'S WAY CAN BE SUMMED UP IN ONE WORD: LOVE. If we are to love, we must have a BIG HEART and SHARE THE CONCERNS OF THOSE AROUND US. We must be able to FORGIVE and UNDERSTAND; we must SACRIFICE OURSELVES, with Jesus Christ, FOR ALL SOULS. If we love Christ's heart, we shall learn to SERVE OTHERS and we shall DEFEND THE TRUTH CLEARLY, lovingly. If we are to love in this way, we need to ROOT OUT OF OUR INDIVIDUAL LIVES EVERYTHING WHICH IS AN OBSTACLE TO CHRIST'S LIFE IN US: attachment to our own COMFORT, the temptation to SELFISHNESS, the tendency to be the CENTRE of everything. ONLY BY REPRODUCING IN OURSELVES THE WORD OF CHRIST CAN WE TRANSMIT IT TO OTHERS. Only by experiencing the death of the grain of wheat can we work in the heart of the world, transforming it from within, making it fruitful (St. Josemaria, 'Christ is Passing By', n. 158)."
Christ loved with a BIG HEART, CONCERNED WITH OTHERS, COMPASSIONATE, TRUTHFUL, MERCIFUL AND FORGIVING, WILLING TO SACRIFICE HIMSELF FOR ALL SOULS, ALWAYS READY TO SERVE. For this, as we have said in a previous post, humility is indispensable (see previous post on The Humility Of Christ). It consists in forgetting and emptying ourselves, and uprooting all the disordered tendencies of the "old man" in us so that Christ may have room in our heart and fill us with His Love.
Dear friends, HOLINESS IS THE FULLNESS OF CHRIST'S LOVE IN US. IF WE ARE TO FOLLOW CHRIST FAITHFULLY AND IDENTIFY OURSELVES WITH HIM, WE MUST LEARN AND STRUGGLE DAILY TO LOVE THE WAY CHRIST LOVED, WITH THE HELP OF THE HOLY SPIRIT, THE DIVINE LOVE POURED IN OUR SOUL IN GRACE. IMMACULATE HEART OF MARY, HELP US GROW IN LOVE WITH YOUR SON AND LOVE THE WAY HE DID.
Fr. Rolly Arjonillo, priest of Opus Dei. Catholics striving for Holiness.
PHOTO SOURCE: https://hughosb.files.wordpress.com/2012/06/sacred-heart-of-jesus-smith-catholic-art.jpg
Stay updated: subscribe by email for free TO OUR NEW WEBSITE www.catholicsstrivingforholiness.org (PUT YOUR EMAIL IN THE SUBSCRIBE WIDGET).
We are also in www.fb.com/Catholicsstrivingforholiness. Kindly help more people in their Christian life by liking our page and inviting your family, friends and relatives to do so as well. Thanks in advance and God bless you and your loved ones! Fr. Rolly Arjonillo