REFLECTION HOMILY ON THE 3RD SUNDAY OF ADVENT YEAR B (Gaudete Sunday) .
REFLECTION HOMILY ON THE 3RD SUNDAY OF ADVENT YEAR B (Gaudete Sunday).
1. SUMMARY OF IDEAS OF TODAY'S READINGS
Joy before the nearness of Christmas is characteristic of this Sunday's liturgy:
«Rejoice always in the Lord; I repeat: be happy. The Lord is near »(Entrance Antiphon and 2nd reading).
The 1st reading presents us the prophet Isaiah's joy upon being anointed by the Spirit of the Lord to announce the Good News of salvation, which will reach its fullness in Jesus Christ.
Like John the Baptist, let us be witnesses of Jesus' presence among us by going out to meet Him in his Word and in the sacraments, and in our brethren (cf. Gidpel.).
The Responsorial Psalm helps us to unite today to the joy of the Mother of Jesus, who awaits her birth.
Our Mother Church reminds us once more that the joy of Christianity is rooted in the fact that God has never abandoned us: He is present with us, here and now. We could examine ourselves: is He also present in our life, in our soul in grace? This is of utmost importance because true joy is not equivalent to just having a good time. Rather, it is something much more profound.
2. CHRISTIAN JOY IS ROOTED IN HAVING GOD WITHIN ONE'S SOUL, ONE'S LIFE.
Pope Benedict XVI said that "True joy is linked to our relationship with God.
Those who have encountered Christ in their own lives feel a serenity and joy in their hearts that no one and no situation can take from them. St Augustine understood this very well; in his quest for truth, peace and joy, after seeking them in vain in many things he concluded with his famous words: 'and our heart is restless until it rests in God' (cf. Confessions, I, 1, 1)."

ANGELUS ADDRESS, 11 December 2011
In this regard, St. Paul reminds us to rejoice always by praying without ceasing, thanksgiving, being docile to the Holy Spirit, doing what is good, refraining from every kind of evil, and preserving our body and soul blameless for the coming of Our Lord. But above all,
Brothers and sisters: Rejoice always. Pray without ceasing. In all circumstances give thanks, for this is the will of God for you in Christ Jesus. Do not quench the Spirit. Do not despise prophetic utterances. Test everything; retain what is good. Refrain from every kind of evil.

1 Thes 5:16–22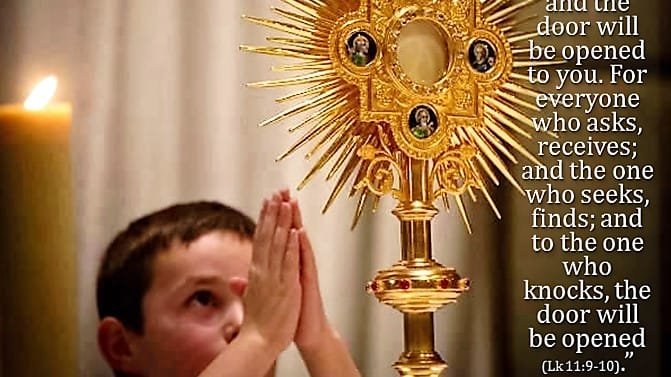 But above all, "it is a gift, born from the encounter with the living Person of Jesus and, making room within ourselves, from welcoming the Holy Spirit who guides our lives." It is the invitation of the Apostle Paul who says:
May the God of peace make you perfectly holy and may you entirely, spirit, soul, and body, be preserved blameless for the coming of our Lord Jesus Christ. The one who calls you is faithful, and he will also accomplish it.

1 Thes 5:23–24
Dear brethren in Christ, let us then put our part by making sure that "God-is-with-us" and "in-us", by living what St. Paul advised us to do, and at the same time, by allowing God to lead us by the hand, to work in our soul, polish, uproot, and chisel what needs to be done, being like "clay in the hands of the potter", God Almighty.
Let us entrust ourselves to the loving intercession of our Mother Mary, the "Cause of our joy", for she brought Jesus to us, and brings us back to Jesus when we stray along our path towards heaven.
FOR THE
3RD SUNDAY MASS PRAYERS AND READINGS YEAR B, CLICK HERE
3RD SUNDAY OF ADVENT YEAR B REFLECTION HOMILY, GAUDETE OR REJOICE SUNDAY, CLICK HERE, HERE, AND HERE.
SEE AS WELL: "ADVENT 3: GOD WANTS US TO BE HAPPY"