POPE BENEDICT XVI REFLECTION ON THE 5TH SUNDAY IN ORDINARY TIME YEAR B
POPE BENEDICT XVI REFLECTION ON THE 5TH SUNDAY IN ORDINARY TIME YEAR B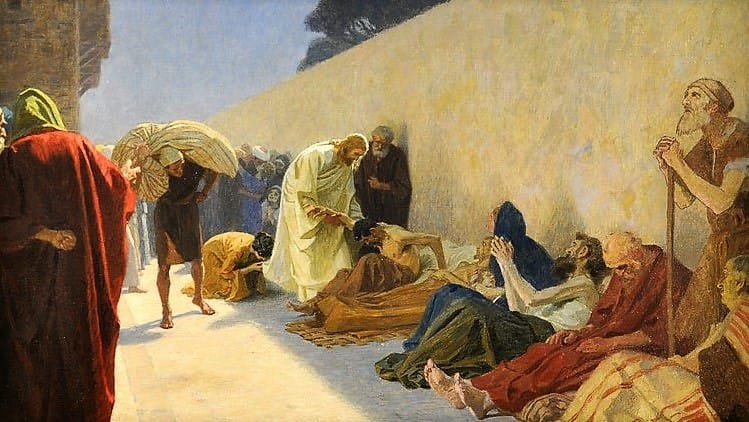 Angelus, 8 February 2009
Dear Brothers and Sisters,
The Gospel today (cf. Mk 1: 29-39) [5th Sunday in Ordinary Time year B] in close continuity with last Sunday's presents to us Jesus who, after preaching on the Sabbath in the synagogue of Capernaum, heals many sick people, beginning with Simon's mother-in-law. Upon entering Simon's house, he finds her lying in bed with a fever and, by taking her hand, immediately heals her and has her get up. After sunset, he heals a multitude of people afflicted with ailments of every kind. The experience of healing the sick occupied a large part of Christ's public mission and invites us once again to reflect on the meaning and value of illness, in every human situation. This opportunity is also offered to us by the World Day of the Sick which we shall be celebrating next Wednesday, 11 February, the liturgical Memorial of Our Lady of Lourdes.
Despite the fact that illness is part of human experience, we do not succeed in becoming accustomed to it, not only because it is sometimes truly burdensome and grave, but also essentially because we are made for life, for a full life. Our "internal instinct" rightly makes us think of God as fullness of life indeed, as eternal and perfect Life. When we are tried by evil and our prayers seem to be in vain, then doubt besets us and we ask ourselves in anguish: what is God's will? We find the answer to this very question in the Gospel. For example, in today's passage we read that Jesus "healed many who were sick with various diseases, and cast out many demons" (Mk 1: 34); in another passage from St Matthew it says that Jesus "went about all Galilee, teaching in their synagogues and preaching the Gospel of the Kingdom and healing every disease and every infirmity among the people" (Mt 4: 23). Jesus leaves no room for doubt: God whose Face he himself revealed is the God of life, who frees us from every evil. The signs of his power of love are the healings he performed. He thus shows that the Kingdom of God is close at hand by restoring men and women to their full spiritual and physical integrity. I maintain that these cures are signs: they are not complete in themselves but guide us towards Christ's message, they guide us towards God and make us understand that man's truest and deepest illness is the absence of God, who is the source of truth and love. Only reconciliation with God can give us true healing, true life, because a life without love and without truth would not be life. The Kingdom of God is precisely the presence of truth and love and thus is healing in the depths of our being. One therefore understands why his preaching and the cures he works always go together: in fact, they form one message of hope and salvation.
Thanks to the action of the Holy Spirit, Jesus' work is extended in the Church's mission. Through the sacraments it is Christ who communicates his life to multitudes of brothers and sisters, while he heals and comforts innumerable sick people through the many activities of health-care assistance that Christian communities promote with fraternal charity. Thus they reveal the true Face of God, his love. It is true: very many Christians around the world priests, religious and lay people – have lent and continue to lend their hands, eyes and hearts to Christ, true physician of bodies and souls! Let us pray for all sick people, especially those who are most seriously ill, who can in no way provide for themselves but depend entirely on the care of others. May each one of them experience, in the solicitude of those who are beside them, the power and love of God and the richness of his saving grace. Mary, health of the sick, pray for us!
© Copyright 2009 – Libreria Editrice Vaticana
http://www.vatican.va/content/benedict-xvi/en/angelus/2009/documents/hf_ben-xvi_ang_20090208.html
Emphasis mine
---
Angelus, 5 February 2012
Dear Brothers and Sisters,
This Sunday's Gospel presents to us Jesus who heals the sick: first Simon Peter's mother-in-law who was in bed with a fever and Jesus, taking her by the hand, healed her and helped her to her feet; then all the sick in Capernaum, tried in body, mind and spirit, and he "healed many… and cast out many demons" (Mk 1:34). The four Evangelists agree in testifying that this liberation from illness and infirmity of every kind was — together with preaching — Jesus' main activity in his public ministry.
Illness is in fact a sign of the action of Evil in the world and in people, whereas healing shows that the Kingdom of God, God himself, is at hand. Jesus Christ came to defeat Evil at the root and instances of healing are an anticipation of his triumph, obtained with his death and Resurrection.
Jesus said one day: "those who are well have no need of a physician, but those who are sick" (Mk 2:17). On that occasion he was referring to sinners, whom he came to call and to save. It is nonetheless true that illness is a typically human condition in which we feel strongly that we are not self-sufficient but need others. In this regard we might say paradoxically that illness can be a salutary moment in which to experience the attention of others and to pay attention to others!
However illness is also always a trial that can even become long and difficult. When healing does not happen and suffering is prolonged, we can be as it were overwhelmed, isolated, and then our life is depressed and dehumanized. How should we react to this attack of Evil? With the appropriate treatment, certainly — medicine in these decades has taken giant strides and we are grateful for it — but the Word of God teaches us that there is a crucial basic attitude with which to face illness and it is that of faith in God, in his goodness. Jesus always repeats this to the people he heals: your faith has made you well (cf. Mk 5:34, 36).
Even in the face of death, faith can make possible what is humanly impossible. But faith in what? In the love of God. This is the real answer which radically defeats Evil. Just as Jesus confronted the Evil One with the power of the love that came to him from the Father, so we too can confront and live through the trial of illness, keeping our heart immersed in God's love.
We all know people who were able to bear terrible suffering because God gave them profound serenity. I am thinking of the recent example of Bl. Chiara Badano, cut off in the flower of her youth by a disease from which there was no escape: all those who went to visit her received light and confidence from her! Nonetheless, in sickness we all need human warmth: to comfort a sick person what counts more than words is serene and sincere closeness.
Dear friends, next Saturday, 11 February, the Memorial of Our Lady of Lourdes, is the World Day of the Sick. Let us too do as people did in Jesus' day: let us present to him spiritually all the sick, confident that he wants to and can heal them. And let us invoke the intercession of Our Lady, especially for the situations of greater suffering and neglect. Mary, Health of the Sick, pray for us!
© Copyright 2012 – Libreria Editrice Vaticana
http://www.vatican.va/content/benedict-xvi/en/angelus/2012/documents/hf_ben-xvi_ang_20120205.html
EMPHASIS MINE.
---
FOR THE REFLECTION HOMILY ON THE 5TH SUNDAY IN ORDINARY TIME YEAR B, CLICK HERE, HERE, HERE, AND HERE.
FOR THE 5TH SUNDAY IN ORDINARY TIME YEAR B 2021 MASS PRAYERS AND READINGS, CLICK HERE.
Stay updated: subscribe by email for free TO OUR NEW WEBSITE www.catholicsstrivingforholiness.org (PUT YOUR EMAIL IN THE SUBSCRIBE WIDGET).
We are also in www.fb.com/Catholicsstrivingforholiness. Kindly help more people in their Christian life by liking our page and inviting your family, friends and relatives to do so as well. Thanks in advance and God bless you and your loved ones! Fr. Rolly Arjonillo