REFLECTION HOMILY 5th SUNDAY IN ORDINARY TIME YEAR B: SEEK, PURSUE, LOOK FOR OUR LORD. BRING HIM SOULS.
REFLECTION HOMILY 5th SUNDAY IN ORDINARY TIME YEAR B: SEEK, PURSUE, LOOK FOR OUR LORD. BRING HIM SOULS.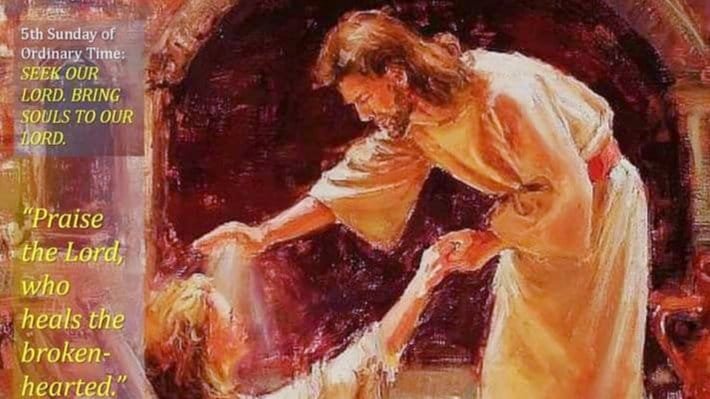 "PRAISE THE LORD, WHO HEALS THE BROKENHEARTED (Ps 147: 1.3)" we repeat in the Responsorial Psalm of today's Mass after Job recounts in the first reading the difficulties all of us encounter in our daily life (Jb 7:1-4): trials and tribulations which no one on earth is exempt for they are part of life.
WHAT TO DO THEN WHEN WE SUFFER IN OUR OWN FLESH OR WHEN WE SEE OTHERS DISTRESSED DUE TO THE BURDENS BROUGHT ABOUT BY ORDINARY AND EXTRAORDINARY DIFFICULTIES WHICH EVERY PERSON HAS IN HIS EVERYDAY LIFE?
Let us learn to "PRAISE THE LORD, WHO HEALS THE BROKENHEARTED" BY OFFERING ALL OUR SUFFERINGS AND SACRIFICES TO OUR LORD, knowing that they have a REDEMPTIVE VALUE if we unite them with the Passion of Christ.
Let us APPROACH THE LORD AS WELL WITH CONFIDENCE for "He took our sicknesses away, and carried our diseases for us. (Gospel Acclamation)" and is willing to console us with His Merciful Heart.
Let us HELP OTHERS as well TO APPROACH JESUS, the Divine Healer and Consoler, for all Christians are called to be instruments —apostles! — of Christ.
In the

Gospel of today's mass

, we see how the sick, the distraught and those possessed with evil spirits were brought by their relatives and friends to Jesus to be healed and Jesus actually freed them from their infirmities (see Mk 1: 32-34), underlining the fact that JESUS NEEDS INSTRUMENTS TO BRING HIM SOULS —the sick, broken-hearted, the sinners— in order to be healed by Him, the Divine Doctor and our Savior.
Let us NEVER CEASE IN PRAYING NOT ONLY FOR OUR PETITIONS BUT FOR OTHERS AS WELL. SEEK, PURSUE, LOOK FOR OUR LORD FOR THE GOOD OF ALL SOULS.
"Very early before dawn", Jesus "left and went off to a deserted place, where he prayed" (Mk 1: 35) giving us an example that THE WORK OF REDEMPTION —AND OUR CO-REDEMPTION with Christ to which all of us are called by virtue of our Baptism — CAN ONLY BE EFFECTIVE IF COUPLED WITH PRAYER AND SACRIFICE.
"Simon and those who were with him pursued him and on finding him said, 'EVERYONE IS LOOKING FOR YOU'(Mk 1:36-37)." With these words, we see how the Apostles "pursued" and "looked" for Jesus. They interceded for those who needed Jesus' help and Jesus complied to their request going to the next towns to preach, cure and cast out devils: hence, the importance OF SEEKING, PURSUING, LOOKING FOR AND FINDING JESUS TO INTERCEDE AND ASK FOR THOSE WHO ARE SUFFERING, TO HEAL US OF OUR MISERIES AND TO CONSOLE US IN OUR PROBLEMS.
Dear friends, let us LEARN HOW TO SUFFER FOR LOVE, FOR CHRIST, OFFERING HIM all our difficulties and ASKING HIM FOR HIS HELP AND MERCY.
Let us not forget ALL CHRISTIANS ARE CALLED TO BE APOSTLES OF CHRIST, HIS CO-REDEEMERS. "Woe to me if I do not preach the Gospel (1 Cor 9:16, 2nd reading)!" We are His INSTRUMENTS and we have an APOSTOLIC MISSION TO BRING SOULS TO CHRIST which can only be effective if it is based on PRAYER and SACRIFICE.
Let us then SEEK, FIND AND LOVE JESUS, INTERCEDING FOR SOULS WITH OUR PRAYER, SACRIFICE, SINCERE FRIENDSHIP, disposed to be his docile instruments and channels of His grace for the good of all souls which He has placed beside us. "If you love the Lord, you will necessarily become aware of the blessed burden of souls that need to be brought to God (St. Josemaria, 'Forge', n. 63)."
Let us then SEEK, PURSUE, LOOK FOR OUR LORD TO BRING HIM SOULS, for He heals the brokenhearted and is the fountain of true happiness.
---
FOR THE 5TH SUNDAY IN ORDINARY TIME YEAR B 2021 MASS PRAYERS AND READINGS, CLICK HERE.
FOR THE REFLECTION HOMILY ON THE 5TH SUNDAY IN ORDINARY TIME YEAR B, CLICK HERE, HERE, HERE, AND HERE.
Stay updated: subscribe by email for free TO OUR NEW WEBSITE www.catholicsstrivingforholiness.org (PUT YOUR EMAIL IN THE SUBSCRIBE WIDGET).
We are also in www.fb.com/Catholicsstrivingforholiness. Kindly help more people in their Christian life by liking our page and inviting your family, friends and relatives to do so as well. Thanks in advance and God bless you and your loved ones! Fr. Rolly Arjonillo