MAKE YOUR THANKSGIVING DAY PLEASANT.
MAKE YOUR THANKSGIVING DAY PLEASANT.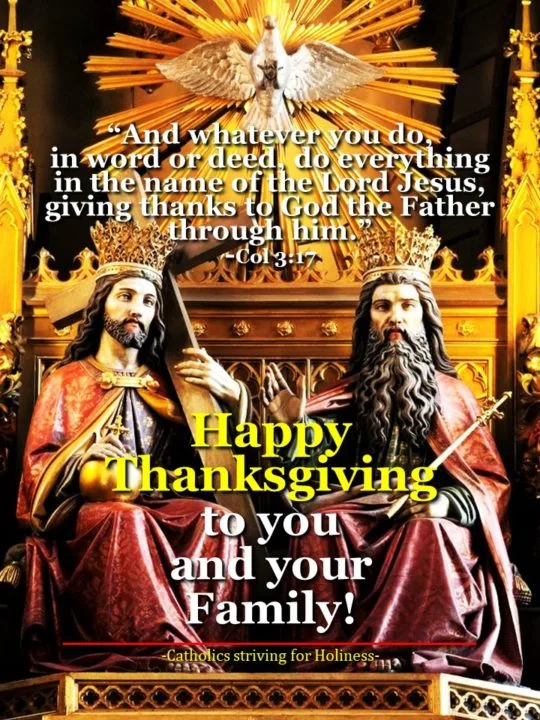 All that we are and all that we have are gifts which come from God. It is just reasonable, truly right, and just to give thanks to God for showering us His bountiful blessings, and this is what this day is all about.
Perhaps one may think: "With all the upheavals, the pandemic, all the suffering in the world… is there any motive for gratitude at all?"
Granted that life has become more difficult these days of the pandemic, we could still find many motives to be grateful to God… If we interiorly pause for while to reflect, and if we are humble enough to discern, we shall find many reasons to tell Our Lord: "Thank you."
Thank you, Lord for:
the gift of life,
the gift of love and of friendship,
for the new day, the sunrise, the sunset,
for all the beauty in the creation,
for this or that act of kindness, of service, of compassion,
for all the people who are doing what is just, honest, good, and true,
for all the strangers who are risking their lives to help and save others,
and so on…
A lot of people will travel back to their hometown in order to celebrate this day in family…whereas some, due to diverse circumstances, could impossibly reunite with their loved ones. For all of you we pray.
For those who would find themselves far from their families and friends, we ask God for strength, fidelity, hope, and equanimity.
2. For all the families who will celebrate the Thanksgiving Day together, we pray that peace, forbearance, and harmony would reign in them:
For this to materialise, may each and every member strive to AVOID -out of love for God and others- any word, comment or topic which might provoke incivility and division among those present.
What if someone present fails to do so?… Just keep silent, pray, and whenever possible, say something nice and positive, drowning evil with an abundance of good, again for love of God.
3. Resolution: make life pleasant for others for love of God.
To end, let us quote St. Josemaria with the following words in the video.
WISHING YOU ALL A TRULY HAPPY THANKSGIVING! GOD BLESS YOU ALL!
Fr. Rolly Arjonillo
Stay updated: subscribe by email for free TO OUR NEW WEBSITE www.catholicsstrivingforholiness.org (PUT YOUR EMAIL IN THE SUBSCRIBE WIDGET).
We are also in www.fb.com/Catholicsstrivingforholiness. Kindly help more people in their Christian life by liking our page and inviting your family, friends and relatives to do so as well. Thanks in advance and God bless you and your loved ones! Fr. Rolly Arjonillo