HOMILY FOR THE 13TH SUNDAY IN ORDINARY TIME YEAR A
HOMILY FOR THE 13TH SUNDAY IN ORDINARY TIME YEAR A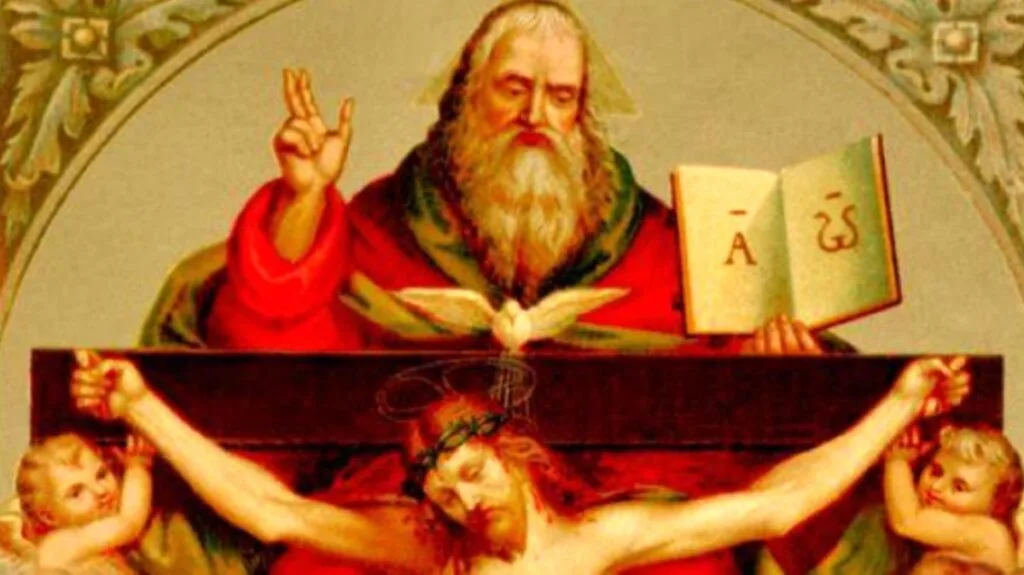 1) JESUS' INSTRUCTIONS TO THE APOSTLES.
Today's 13th Sunday in Ordinary Time Year A Gospel tells us 5 important points If we are to live our life as Christians:
Love for God should come before the love for father, mother and children (Mt 10, 37);
Carrying our cross forms part of the following Jesus (Mt 10:38);
It is necessary to lose our life to be able to possess it (Mt 10, 39):
Jesus identifies himself with the missionary and the disciple (Mt 10, 40-41). To welcome his disciples is to welcome Jesus and will receive their reward as we have seen in the 1st reading when Shunem welcomed the prophet Elisha in her home.
the smallest gesture (for example, offering a glass of water) done for the littlest of the little ones gets the greatest reward: Christ himself. These last 4 points are but a consequence of the 1st.
2) LOVE FOR GOD SHOULD COME BEFORE EVERYTING ELSE.
To put it briefly: Christ tells to prefer God over what God gives us.
The primacy required by the Lord is the GUARANTEE of every relationship freed from any idolatrous attachment.
Usually there is no reason why these two loves (love for God and family) should clash, but if that should ever happen, we should be quite clear in our mind and in our heart about what Jesus says here.
He has in fact given us an example to follow on this point: "How is it that you sought me? Did you not know that I must be in my Father's house?" (Lk 2:49) — his reply when, as a youth, Mary and Joseph found him in the Temple of Jerusalem after a long search.

This event in our Lord's life is a guideline for every Christian — parent or child. Children should learn from it that their affection for their parents should never come before their love for God, particularly when our Creator asks us to follow him in a way which implies special self-giving on our part;
Parents should bear in mind that their children belong to God in the first place, and therefore He has the right to do with them what He wishes, even if this involves sacrifice, even heroic sacrifice on the part of the parents.

This teaching of our Lord asks us to be generous and to let God have his way. In fact, however, God never lets himself be outdone in generosity. Jesus has promised a hundredfold gain, even in this life, and later on eternal life (cf. Mt 19:29), to those who readily respond to his holy will.
I remember my Dad's generous example when I was about to go to the Center of Studies in Manila, and years after, to Rome.

In the first case, I was already 21 years old and currently doing my 2nd year in Medicine at the University of the Philippines. I asked his permission to leave our home and start living in the Center of Opus Dei to simultaneously undergo 2 years of Philosophy studies as part of our formation as numeraries. My father's reply was: "Son, you are old enough to pursue what you want in your life." And he gave me his blessing. As simple as that.
The 2nd time came around in 1990 when I was already in my 5th year of Medicine doing my internship. Fr. Joe C., the Regional Vicar of Opus Dei in the Philippines, on behalf of the Prelate of Opus Dei, asked me if I was willing to go to Rome to further my ecclesiastical studies, with the possibility of being ordained as a priest. I told my dad about it and together, we went to talk with the Regional Vicar. My father did not put any obstacle against my leaving for Rome. Five years had transpired and I was ordained as a priest on 1995, grateful to God for my parents who have given up their dream of having a doctor among their children. May God reward them for their faith and generosity.
3) IN ORDER TO FOLLOW CHRIST: NECESSITY OF LOSING ONE'S LIFE, OF DAILY SELF-DENIAL:
Our Lord told us that it is necessary to lose one's life for his sake in order to gain it.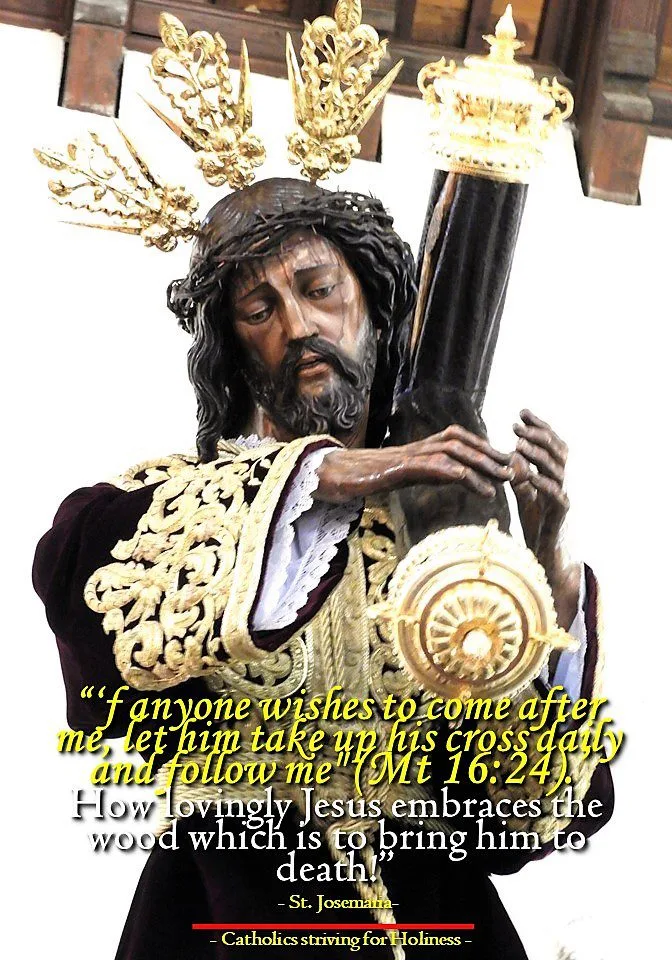 Following Christ, doing what he asks, means gambling this present life to gain eternal life.
HOW DO WE PUT THIS INTO PRACTICE? If anyone wishes to come after me, let him deny himself, take up his cross and follow me. To deny one's self is to say NO to ourselves many times during the day FOR LOVE OF GOD AND OTHERS. Mortification, interior struggle and spirit of sacrifice are necessary in our life as Christians, followers of Our Lord Jesus Christ.
Say NO to ourselves FOR LOVE OF GOD AND OTHERS means: saying NO to our evil inclinations: our pride, lust, envy, laziness, greed, vanity.

IT MEANS DYING UNTO OURSELVES, losing our life, giving up our caprices to which all of us are inclined to, AND IT SIMULTANEOUSLY MEANS CARRYING OUR CROSS for Jesus because to say no to ourselves is a difficult thing.
ONLY THEN WOULD CHRIST WOULD LIVE IN US as we have seen in the 2nd reading Consequently, you too must think of yourselves as dead to sin and living for God in Christ Jesus.
FOR ONLY THEN, when we overcome our evil inclinations could we LOVE AND SERVE GOD and the people around us.
THE QUESTION IS: DO WE SAY 'NO' TO OURSELVES MANY TIMES FOR LOVE OF GOD AND OTHERS? THIS IS OUR DAILY TASK AS CHRISTIANS IF WE ARE TO FOLLOW OUR LORD.
Let us ask God through Our Lady that we may have:
the right order of priorities in our love: God above anything else;
that we may be able to follow him daily by taking up our cross, saying 'yes' to God and 'no' to ourselves and to our evil inclinations, for God's sake, and for God's love in service of Him and of others;
May we prefer God over what God gives us;
MAY WE LEARN TO LIVE OUR LIFE FOR GOD IN CHRIST JESUS.
A Blessed Sunday and week ahead!
Fr. Rolly Arjonillo
SEE AS WELL:
Stay updated: subscribe by email for free TO OUR NEW WEBSITE www.catholicsstrivingforholiness.org (PUT YOUR EMAIL IN THE SUBSCRIBE WIDGET).
We are also in www.fb.com/Catholicsstrivingforholiness. Kindly help more people in their Christian life by liking our page and inviting your family, friends and relatives to do so as well. Thanks in advance and God bless you and your loved ones! Fr. Rolly Arjonillo