INTERIOR STRUGGLE: WHAT IS IT? WHY IS IT NECESSARY TO FOLLOW CHRIST?
INTERIOR STRUGGLE:
WHAT IS IT? WHY IS IT NECESSARY TO FOLLOW CHRIST?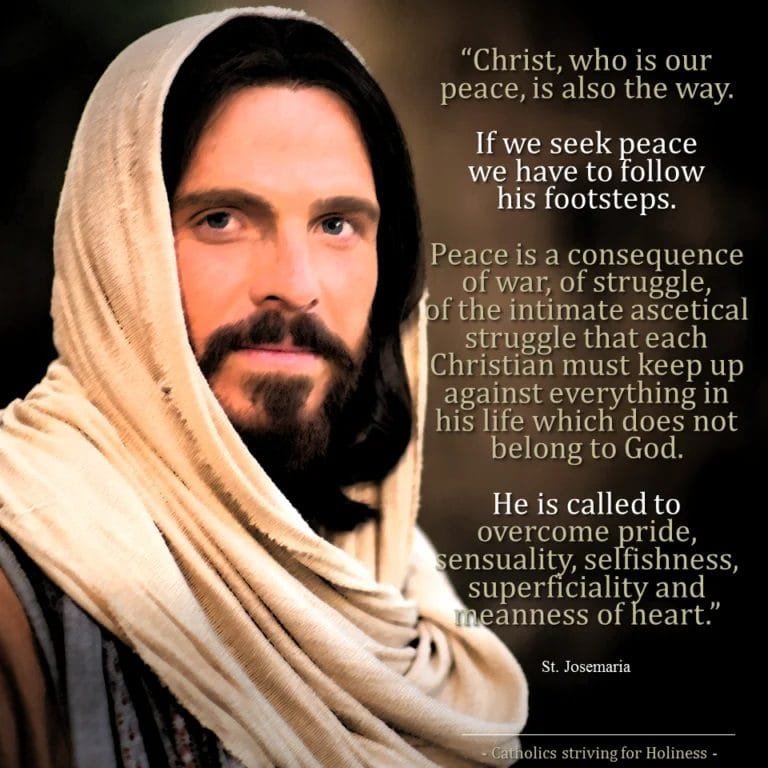 As I read today's Gospel, I thought it convenient to make a post on the following words of Our Lord Jesus Christ.
Jesus said to his disciples: "The Son of Man must suffer greatly and be rejected by the elders, the chief priests, and the scribes, and be killed and on the third day be raised."
Then he said to all, "If anyone wishes to come after me, he must deny himself and take up his cross daily and follow me. For whoever wishes to save his life will lose it, but whoever loses his life for my sake will save it. What profit is there for one to gain the whole world yet lose or forfeit himself?"
(Lk 9:22-25).'"
Perhaps we have read and heard these words a lot of times but the main idea, that of self-renunciation ("he must deny himself") as a requirement to follow Christ ("If anyone wishes to come after me"), still remains just that, an idea, without being carried out and materialized in our daily ordinary activities.
We need to struggle against ourselves, say 'no' to our interior evil inclinations in order to for it to be real, in order to follow Christ and fulfill God's will. That is INTERIOR STRUGGLE.
This is the inescapable reality of our life, not only as human beings, but also as Christians: to fight against ourselves — knowing that we all have evil inclinations as a consequence of our wounded nature and of original sin — and against the enemies of God's grace in us till the end, to deny ourselves, carry our daily Cross, and follow Christ for Love.
The question is:
"DO WE SAY 'NO' TO OURSELVES MANY TIMES DURING THE DAY FOR LOVE OF GOD AND AS AN AUTHENTIC MANIFESTATION OF OUR DESIRE TO DENY OURSELVES, CARRY OUR DAILY CROSS, FOLLOW CHRIST AND THUS, LIVE AS TRUE CHRISTIANS?"
Then you may ask: TO WHICH THINGS DO I HAVE TO SAY "NO" TO MYSELF?
As a GENERAL RULE, to EVERYTHING WHICH SEPARATES US FROM OUR LORD, to EVERYTHING WHICH MAKES HIM SAD, AND LEADS US TO LOSE HIS GRACE IN OUR SOUL: SIN!
CONCRETELY, we have to say "NO" many times during the day for love of God to the "OLD MAN" within ourself, to the "CARNAL life ( as opposed to the life of the Spirit)" and its multiple manifestations: PRIDE, ENVY, LAZINESS, LUST, GREED, VANITY, ANGER with all their specific expressions, whether internal or external.
Making it a habit to say "NO" to all aforementioned things for love of God is no other that what is called INTERIOR STRUGGLE, necessary to love God, to acquire human virtues and to progress in one's spiritual life and thus holiness.
Christian life consists in following Christ and carrying His Cross as He taught us. He does not ask us for an occasional self-giving or a short-lived, fleeting enthusiasm, but rather asks each and everyone to renounce ourselves, take up our cross and follow him. For this is what love is all about: love supposes sacrifice and self-renunciation for the sake and good of the beloved. Anyone who is not willing to renounce himself for the sake, happiness and good of the beloved does not know how to love others but only himself.
Hence, dear friends, let us make it a habit to say "no" to ourselves many times during the day for love of God, for this is the only way for us to follow Christ towards our eternal destiny. Let us not flee from the Christ's Cross (suffering, pain, illness, difficulties, problems of daily life…).
"There is a kind of fear around, a fear of the Cross, of our Lord's Cross. What has happened is that people have begun to regard as crosses all the unpleasant things that crop up in life, and they do not know how to take them as God's children should, with supernatural outlook. So much so, that they are even removing the roadside crosses set up by our forefathers …
"In the Passion, the Cross ceased to be a symbol of punishment and became instead a sign of victory. The Cross is the emblem of the Redeemer: in quo est salus, vita et resurrectio nostra: there lies our salvation, our life and our resurrection" (St. Josemaria, The Way of the Cross,II, 5).
If we are to follow Christ faithfully, we need to struggle against everything which separates us from the love of God no matter what it takes with the help of His grace.
God knows that sometimes, we will succeed, at times, we will suffer defeat. God has foreseen these all. But what is important and what He wants from us is to humbly and contritely get up and begin again in our interior struggle to come closer to Him until we finally arrive at the finish line.
As St. Josemaria once said: "This is our life on earth: to struggle till the last moment for love."
A great day ahead and God bless!
Fr. Rolly Arjonillo
MEME QUOTE SOURCE: St. Josemaria, "Interior Struggle" in Christ is Passing By, n. 73. Full text in: http://www.escrivaworks.org/book/christ_is_passing_by-chapter-8.htm
ORIGINAL PHOTO SOURCE: https://c7.staticflickr.com/2/1454/23628508734_1f9fbcc3d2.jpg
LISTEN TO THIS PODCAST FOR MORE INSPIRING SPIRITUAL CONSIDERATIONS:
PHOTO SOURCE: Titian, Christ carrying the Cross in https://upload.wikimedia.org/wikipedia/commons/f/fd/Titian_-_Christ_Carrying_the_Cross_-_WGA22830.jpg
Stay updated: subscribe by email for free TO OUR NEW WEBSITE www.catholicsstrivingforholiness.org (PUT YOUR EMAIL IN THE SUBSCRIBE WIDGET).
We are also in www.fb.com/Catholicsstrivingforholiness. Kindly help more people in their Christian life by liking our page and inviting your family, friends and relatives to do so as well. Thanks in advance and God bless you and your loved ones! Fr. Rolly Arjonillo