MORTIFICATION: WHAT IS IT, WHY IT IS NECESSARY IN CHRISTIAN LIFE, AND WHAT ARE ITS FRUITS.
MORTIFICATION: WHAT IS IT, WHY IT IS NECESSARY IN CHRISTIAN LIFE, AND WHAT ARE ITS FRUITS.
MORTIFICATION: WHAT IS IT, WHY IT IS NECESSARY IN CHRISTIAN LIFE, AND WHAT ARE ITS FRUITS.
OUTLINE
Mortification, a manifestation of self-denial, a necessary path to embark on if we want to be holy. Why?
Jesus taught us that "Whoever wishes to come after me must deny himself, take up his cross, and follow me. For whoever wishes to save his life will lose it, but whoever loses his life for my sake will find it. What profit would there be for one to gain the whole world and forfeit his life? Or what can one give in exchange for his life? For the Son of Man will come with his angels in his Father's glory, and then he will repay all according to his conduct (see Mt 16:21–27)."
The following questions arise:
How do we deny our self?
How and in what way could we renounce our self and carry Christ's Cross?
Denying one's self and carrying Christ's Cross are necessary conditions to follow Christ and to reach our ultimate goal: heaven. This spiritual combat is carried out through mortification. What is mortification and why is it important in our Christian life?
1.      Mortification, a manifestation of self-denial, a necessary path to embark on if we want to be holy. Why?
Mortification consists in putting to "death" all the disordered passions and tendencies which we carry within us as a consequence of original sin.
It is saying "no" to ourselves, to the evil tendencies rooted in our soul (pride, laziness, vanity, greed, envy, lust of the flesh …) in order to be fervent and faithful followers of Our Lord Jesus Christ. By saying "no" to ourselves with rectitude of intention, we are saying "Yes" to God.
St. Josemaria said:
We will not be saints, if we are not united to Christ on the Cross: there is no holiness without a Cross, without mortification (St. Josemaria).
There are several reasons for this:
One of them is the need to keep our body, our emotions in check within the dominion of right reason, without allowing the contrary to happen: for One has to give the body a little less than its due. Otherwise it turns traitor. (TW 196).

Mortification

strengthens our feeble human mind and will.

It

educates as well our emotions

to cling to what is just and good according to reason,

thus, making us masters of ourselves, enabling us to have dominion over the tyrannical power of emotions if left uncontrolled.
It frees us from the bondage of what is material, pleasurable and mundane: things which enslave us and prevents us from doing what is right and good. And therefore, it makes us more free. And with this, spiritual progress starts, be it ours or that of others
 
Meanwhile, lack of mortification makes us mundane, disorderly attached to what it material and makes it difficult for us to have intimacy with the Lord. The carnal man does not perceive the things of the spirit.
This very proven, "So much you will advance in so far as you do violence to yourself "
You will have as much sanctity, as you have mortification done for Love. (St. Josemaria, Forge 1025).
The desire for holiness will result in a continual mortification, like the beating of the heart, as our desire to unite ourselves to Jesus, to be saints: Semper mortificationem Iesu in corpore nostro circumferentes (2 Cor 4, 10)
Mortification ignites our effective and practical love for God and all souls. It capacitates us to tune in with the Lord, a source of union and love.
It is a means to atone for our sins and purify our soul from the temporal punishment left by our sins.
It is a preparation for the apostolate and its perfect execution, I complete in my flesh what is lacking in the sufferings of Christ for his body, which is the Church.
Mortification is the prayer not only of the senses, but also of our will and other potencies, is cause for joy, even if it involves sacrifice; it is a sign of love and gratitude. The Lord hears the petitions of mortified souls and penitent (Blessed Alvaro del Portillo)
Mortification is the only way to acquire and grow in human virtues, necessary not only for maturity but also for  holiness which consists in imitating the virtues Christ lived and taught on earth.
And above all, it allows us to make room for God and live in His Spirit, instead of sowing in our flesh which leads to corruption (Gal 6:8) 
2.      Examples of mortification in daily life.
In which things should we say NO to our self? There are a thousand ways during the day when we could offer a sacrifice to Our Lord:
Punctuality: Getting up on time, arriving punctually at work
Sobriety in food and drink
Moderation in the use of gadgets
Controlling our imagination, which tends to get us out of our place, to make comparisons, or want to be the best in every aspect and every level. And it is not possible, it leads to confusion and anxiety or even depression and boredom (Conversations, n. 88)
Mortify our memory so as not to store any grievances, slights, and so on. Far from our behavior, therefore, the memory of wrongs we received, the unjust, uncivil and rude humiliations we have suffered, because it is improper for a child of God have a record ready to present a list of grievances (Friends of God, n. 239)
Restraining our tongue: gossip is always inappropriate for a child of God: Acquire the habit of speaking about everyone and about everything they do in a friendly manner, especially when you are speaking of those who labour in God's service. Whenever that is not possible, keep quiet. Sharp or irritated comment may border on gossip or slander. (Furrow, 902)
Small mortifications that make life pleasant for others:

It consists of making our brothers happy. This should be our attitude. Therefore, an attitude to annoy others … if it becomes a key attitude in our dealings with the people around us,  should be corrected.
or render one's judgment, overcome moodiness, ill-humor, and so on.

Mortification of the senses: sight, curiosity… don't complain all the time.
Being cheerful, amiable and putting a smile even though we are tired or we do not feel like it.
Bearing sickness, difficulties, problems or obstacles with grace and joy, entrusting ourselves to God's Providence… and the list goes on.
These are some examples of carrying our Cross daily and following Lord. "He who says he abides in him ought to walk in the same way in which he walked (1Jn 2, 6)."
If we live like Jesus, we must realize that mortification, sacrifice, the Cross, are essential elements of our Christian life.
Stay safe and Gods bless! Fr. Rolly Arjonillo. 
---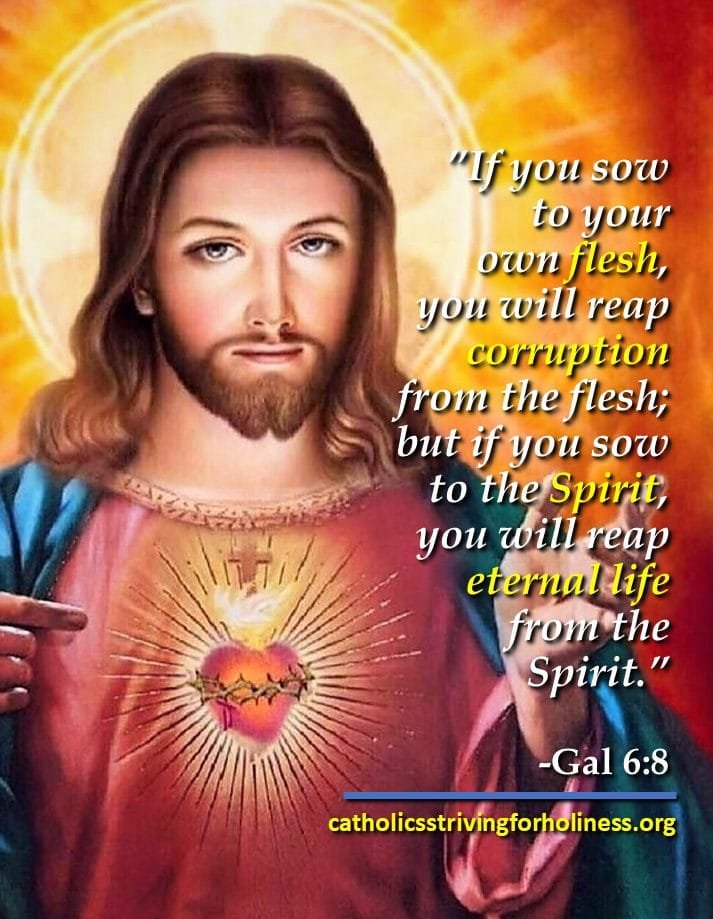 SEE AS WELL:
JESUS REMINDS US OF THE NECESSARY CONDITIONS TO REACH HEAVEN HERE
Stay updated: subscribe by email for free TO OUR NEW WEBSITE www.catholicsstrivingforholiness.org (PUT YOUR EMAIL IN THE SUBSCRIBE WIDGET).
We are also in www.fb.com/Catholicsstrivingforholiness. Kindly help more people in their Christian life by liking our page and inviting your family, friends and relatives to do so as well. Thanks in advance and God bless you and your loved ones! Fr. Rolly Arjonillo