Dec. 30 MASS READINGS, GOSPEL COMMENTARY AND CHRISTMAS READING.
Dec. 30 MASS READINGS, GOSPEL COMMENTARY AND READING. ANNA'S PROPHESY.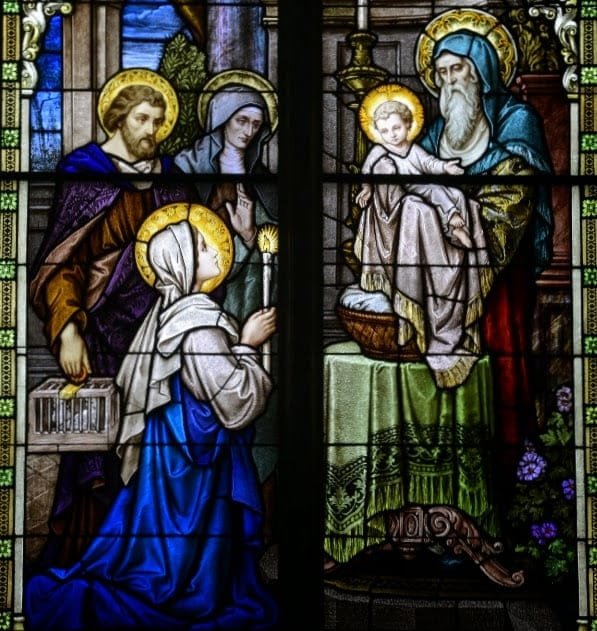 ---
DEC. 30 MASS READINGS
Sixth Day of the Octave
READING I
1 Jn 2:12–17
I am writing to you, children, because your sins have been forgiven for his name's sake.
I am writing to you, fathers, because you know him who is from the beginning.
I am writing to you, young men, because you have conquered the Evil One.
I write to you, children, because you know the Father.
I write to you, fathers, because you know him who is from the beginning.
I write to you, young men, because you are strong and the word of God remains in you, and you have conquered the Evil One.
Do not love the world or the things of the world. If anyone loves the world, the love of the Father is not in him. For all that is in the world, sensual lust, enticement for the eyes, and a pretentious life, is not from the Father but is from the world. Yet the world and its enticement are passing away. But whoever does the will of God remains forever.
RESPONSORIAL PSALM
R. Let the heavens be glad and the earth rejoice!
Give to the Lord, you families of nations,
give to the Lord glory and praise;
give to the Lord the glory due his name!
R. Let the heavens be glad and the earth rejoice!
Bring gifts, and enter his courts;
worship the Lord in holy attire.
Tremble before him, all the earth.
R. Let the heavens be glad and the earth rejoice!
Say among the nations: The Lord is king.
He has made the world firm, not to be moved;
he governs the peoples with equity.
R. Let the heavens be glad and the earth rejoice!

ALLELUIA
A holy day has dawned upon us. Come, you nations, and adore the Lord. today a great light has come upon the earth.
GOSPEL
Lk 2:36–40
There was a prophetess, Anna, the daughter of Phanuel, of the tribe of Asher. She was advanced in years, having lived seven years with her husband after her marriage, and then as a widow until she was eighty-four. She never left the temple, but worshiped night and day with fasting and prayer. And coming forward at that very time, she gave thanks to God and spoke about the child to all who were awaiting the redemption of Jerusalem.
When they had fulfilled all the prescriptions of the law of the Lord, they returned to Galilee, to their own town of Nazareth. The child grew and became strong, filled with wisdom; and the favor of God was upon him.
---
VIDEO COMMENTARY
TOPIC: DO YOU WAKE UP DAILY FEELING ILL AT EASE AND AS YOU GO THROUGH THE DAY, YOU FEEL UPTIGHT, TENSE AND LACKING IN CONFIDENCE?
Today's gospel reading (Luke 2:36-40), is about Anna, a prophetess, who is a widow and now 84 years old. She is unique in biblical history because she is one of the few women prophets given airtime. In the social ladder, widows were considered as inconsequential because they had no opportunity to reproduce anymore, much less, to remarry.But she was a very spiritual person who prayed and fasted every day. There are a couple of things that today's reading teaches us. [VIDEO – M&S 2016 Christmas Ad: Christmas with love from Mrs Claus]https://www.youtube.com/watch?v=V5QPXhStb5I
---
CHRISTMAS READING
The word made flesh makes us divine
by St. Hippolytus
Our faith is not founded upon empty words; nor are we carried away by mere caprice or beguiled by specious arguments. On the contrary, we put our faith in words spoken by the power of God, spoken by the Word himself at God's command. God wished to win men back from disobedience, not by using force to reduce him to slavery but by addressing to his free will a call to liberty.
The Word spoke first of all through the prophets, but because the message was couched in such obscure language that it could be only dimly apprehended, in the last days the Father sent the Word in person, commanding him to show himself openly so that the world could see him and be saved. We know that by taking a body from the Virgin he re-fashioned our fallen nature. We know that his manhood was of the same clay as our own; if this were not so, he would hardly have been a teacher who could expect to be imitated. If he were of a different substance from me, he would surely not have ordered me to do as he did, when by my very nature I am so weak. Such a demand could not be reconciled with his goodness and justice.
No. He wanted us to consider him as no different from ourselves, and so he worked, he was hungry and thirsty, he slept. Without protest he endured his passion, he submitted to death and revealed his resurrection. In all these ways he offered his own manhood as the first fruits of our race to keep us from losing heart when suffering comes our way, and to make us look forward to receiving the same reward as he did, since we know that we possess the same humanity.
When we have come to know the true God, both our bodies and our souls will be immortal and incorruptible. We shall enter the kingdom of heaven, because while we lived on earth we acknowledged heaven's King. Friends of God and co-heirs with Christ, we shall be subject to no evil desires or inclinations, or to any affliction of body or soul, for we shall have become divine.
Whatever evil you may have suffered, being man, it is God that sent it to you, precisely because you are man; but equally, when you have been deified, God has promised you a share in every one of his own attributes. The saying Know yourself means therefore that we should recognise and acknowledge in ourselves the God who made us in his own image, for if we do this, we in turn will be recognised and acknowledged by our Maker.
So let us not be at enmity with ourselves, but change our way of life without delay. For Christ who is God, exalted above all creation, has taken away man's sin and has re-fashioned our fallen nature. In the beginning God made man in his image and so gave proof of his love for us. If we obey his holy commands and learn to imitate his goodness, we shall be like him and he will honour us. God is not beggarly, and for the sake of his own glory he has given us a share in his divinity.
COLLECT
Grant, we pray, almighty God, that the newness of the Nativity in the flesh of your Only Begotten Son may set us free, for ancient servitude holds us bound beneath the yoke of sin. Through our Lord.
Stay updated: subscribe by email for free TO OUR NEW WEBSITE www.catholicsstrivingforholiness.org (PUT YOUR EMAIL IN THE SUBSCRIBE WIDGET).
We are also in www.fb.com/Catholicsstrivingforholiness. Kindly help more people in their Christian life by liking our page and inviting your family, friends and relatives to do so as well. Thanks in advance and God bless you and your loved ones! Fr. Rolly Arjonillo