December 29 Mass readings and commentary. SIMEON'S PROPHECY.
December 29 Mass readings and commentary.
SIMEON'S PROPHECY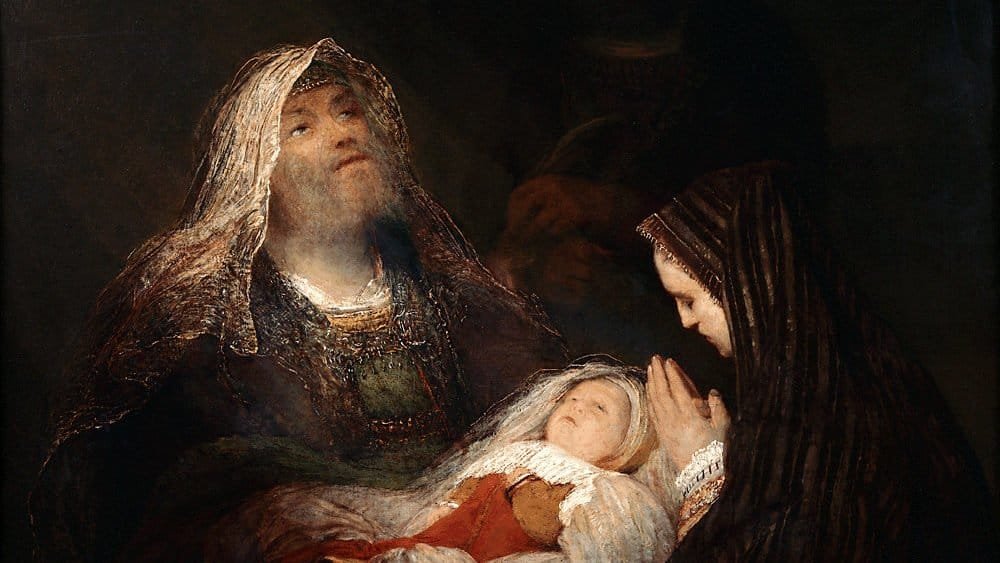 December 29 or Fifth Day of the Octave
READING I
1 Jn 2:3–11
Beloved: The way we may be sure that we know Jesus is to keep his commandments. Whoever says, "I know him," but does not keep his commandments is a liar, and the truth is not in him. But whoever keeps his word, the love of God is truly perfected in him. This is the way we may know that we are in union with him: whoever claims to abide in him ought to walk just as he walked.
Beloved, I am writing no new commandment to you but an old commandment that you had from the beginning. The old commandment is the word that you have heard. And yet I do write a new commandment to you, which holds true in him and among you, for the darkness is passing away, and the true light is already shining. Whoever says he is in the light, yet hates his brother, is still in the darkness. Whoever loves his brother remains in the light, and there is nothing in him to cause a fall. Whoever hates his brother is in darkness; he walks in darkness and does not know where he is going because the darkness has blinded his eyes.
RESPONSORIAL PSALM
R. Let the heavens be glad and the earth rejoice!
Sing to the Lord a new song;
sing to the Lord, all you lands.
Sing to the Lord; bless his name.
R. Let the heavens be glad and the earth rejoice!

Announce his salvation, day after day.
Tell his glory among the nations;
among all peoples, his wondrous deeds.
R. Let the heavens be glad and the earth rejoice!

The Lord made the heavens.
Splendor and majesty go before him;
praise and grandeur are in his sanctuary.
R. Let the heavens be glad and the earth rejoice!

ALLELUIA
This is the light of revelation to the nations, and the glory of your people, Israel.
GOSPEL
Lk 2:22–35
When the days were completed for their purification according to the law of Moses, the parents of Jesus took him up to Jerusalem to present him to the Lord, just as it is written in the law of the Lord, Every male that opens the womb shall be consecrated to the Lord, and to offer the sacrifice of a pair of turtledoves or two young pigeons, in accordance with the dictate in the law of the Lord.
Now there was a man in Jerusalem whose name was Simeon. This man was righteous and devout, awaiting the consolation of Israel, and the Holy Spirit was upon him. It had been revealed to him by the Holy Spirit that he should not see death before he had seen the Christ of the Lord. He came in the Spirit into the temple; and when the parents brought in the child Jesus to perform the custom of the law in regard to him, he took him into his arms and blessed God, saying:
"Lord, now let your servant go in peace; your word has been fulfilled: my own eyes have seen the salvation which you prepared in the sight of every people, a light to reveal you to the nations and the glory of your people Israel."
The child's father and mother were amazed at what was said about him; and Simeon blessed them and said to Mary his mother, "Behold, this child is destined for the fall and rise of many in Israel, and to be a sign that will be contradicted (and you yourself a sword will pierce) so that the thoughts of many hearts may be revealed."
NAVARRE BIBLE, ST. LUKE COMMENTARY (WITH PERMISSION)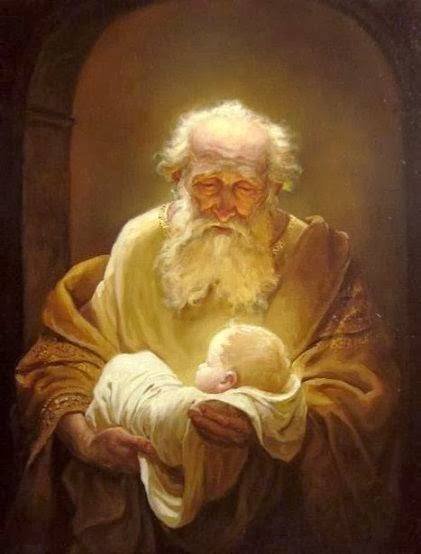 25-32 Simeon, who is described as a righteous and devout man, obedient to God's will, addresses himself to our Lord as a vassal or loyal servant who, having kept watch all his life in expectation of the coming of his Lord, sees that this moment has "now" come, the moment that explains his whole life. When he takes the Child in his arms, he learns, not through any reasoning process but through a special grace from God, that this Child is the promised Messiah, the Consolation of Israel, the Light of the nations.

Simeon's canticle (vv.29-32) is also a prophecy. It consists of two stanzas: the first (vv. 29-30) is an act of thanksgiving to God, filled with profound joy, for having seen the Messiah. The second (vv. 3 1-32) is more obviously prophetic and extols the divine blessings which the Messiah is bringing to Israel and to all men. The canticle highlights the fact that Christ brings redemption to all men without exception — something foretold in many Old Testament prophecies (cf. Gen 22:18; Is 2:6; 42:6; 60:3; Ps 28:2).
It is easy to realize how extremely happy Simeon was — given that many patriarchs, prophets and kings of Israel had yearned to see the Messiah, yet did not see him, whereas he now held him in his arms (cf. Lk 10:24; 1 Pet 1:10).

33 The Blessed Virgin and St Joseph marvelled not because they did not know who Christ was: they were in awe of the way God was revealing him. Once again they teach us to contemplate the mysteries involved in the birth of Christ.
34-35 After Simeon blesses them, the Holy Spirit moves him to further prophecy about the Child's future and his Mother's. His words become clearer in the light of our Lord's life and death.

Jesus came to bring salvation to all men, yet he will be a sign of contradiction because some people will obstinately reject him and for this reason he will be their ruin. But for those who accept him with faith Jesus will be their salvation, freeing them from sin in this life and raising them up to eternal life.

The words Simeon addressed to Mary announce that she will be intimately linked with her Son's redemptive work. The sword indicates that Mary will have a share in her Son's sufferings; hers will be an unspeakable pain which pierces through her soul. Our Lord suffered on the Cross for our sins; and it is those sins which forge the sword of Mary's pain. Therefore, we have a duty to atone not only to God but also to his Mother, who is our Mother too.
The last words of the prophecy, "that out of many hearts thoughts may be revealed", link up with v. 34: uprightness or perversity will be demonstrated by whether one accepts or rejects Christ.
December 29 2nd reading Liturgy of the Hours
In the fullness of time there came also the fullness of God
From a sermon of St Bernard of Clairvaux
The kindness and love of God our saviour for mankind were revealed. Thanks be to God, through whom we receive such abundant consolation in this pilgrimage, this exile, this distress.
Before his humanity appeared, his kindness lay concealed. Of course it was already in existence, because the mercy of the Lord is from eternity, but how could men know it was so great? It was promised but not yet experienced: hence many did not believe in it. At various times and in various different ways, God spoke through the prophets, saying I know the plans I have in mind for you: plans for peace, not disaster.
What reply did man make, man who felt the affliction, and knew nothing of peace? 'How long will you keep saying "Peace, peace" when there is no peace?' And so the angels of peace weep bitterly saying Lord, who has believed our report? But now at last let men believe their own eyes, because all God's promises are to be trusted. So that it cannot escape the notice of even troubled eyes, He has set up his tabernacle in the sun. Behold, peace is no longer promised, but conferred; no longer delayed, but given; no longer predicted, but bestowed. Behold, God has sent down to earth a bag bulging with his mercy, a bag that, at the passion, is torn open so that our ransom pours out of it onto us. A small bag, perhaps, but a full one: for it was a small child that was given to us, but in him dwells all the fullness of the Godhead.
After the fullness of time had come, there came too the fullness of the Godhead. He came in the flesh, so that at least he might make himself manifest to our earthly minds, so that when this humanity of his appeared, his kindness might also be acknowledged. Where the humanity of God appears, his kindness can no longer be hidden. In what way, indeed, could he have better commended his kindness than by assuming my flesh? My flesh, that is, not Adam's, as it was before the fall. What greater proof could he have given of his mercy than by taking upon himself that very thing which needed mercy? Where is there such perfect loving-kindness as in the fact that for our sake the Word of God became perishable like the grass? Lord, what is man, that you make much of him or pay him any heed?
Let man infer from this how much God cares for him. Let him know from this what God thinks of him, what he feels about him. Man, do not ask about your own sufferings; but about what God suffered. Learn from what he was made for you, how much he makes of you, so that his kindness may show itself to you from his humanity.
The lesser he has made himself in his humanity, the greater has he shown himself in kindness. The more he humbles himself on my account, the more powerfully he engages my love. The kindness and humanity of God our Saviour appeared says St Paul. The humanity of God shows the greatness of his kindness, and he who added humanity to the name of God gave great proof of this kindness.
VIDEO COMMENTARY
TOPIC: DO YOU PASS DOWN YOUR FAITH TO YOUR CHILDREN?
If we desire the best for our children, then we should pass on to them our faith. More than any material inheritance which can easily disappear, their faith will accompany them in the most trying times of their life, will help them not just survive but flourish in their tough times. It will help them relate with goodness and kindness to all. It will keep them from engaging in harmful and sinful activities that may lead to depression or anxiety and, eventually, self-destruction. It will give them enormous perspective and wisdom to life that no object or ideology will be able to provide. It will keep them ever-reliant on the Lord.
Stay updated: subscribe by email for free TO OUR NEW WEBSITE www.catholicsstrivingforholiness.org (PUT YOUR EMAIL IN THE SUBSCRIBE WIDGET).
We are also in www.fb.com/Catholicsstrivingforholiness. Kindly help more people in their Christian life by liking our page and inviting your family, friends and relatives to do so as well. Thanks in advance and God bless you and your loved ones! Fr. Rolly Arjonillo