Dec. 10: OUR LADY OF LORETO. Brief history and prayer.
December 10:
OUR LADY OF LORETO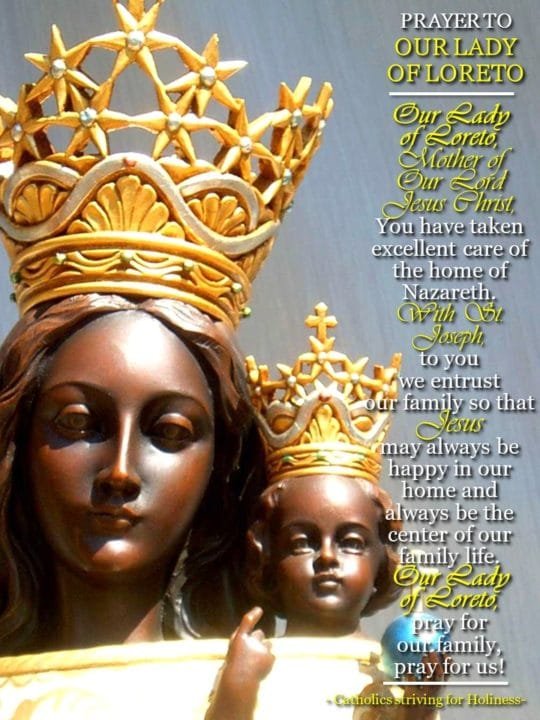 Since the fifteenth century, and possibly even earlier, the Holy House of Loreto, a town south of Ancona, has been numbered among the most famous shrines of Italy. The basilica preserves the veritable cottage of Nazareth where our Lady received the message from the Angel Gabriel and the Word of God became incarnate. The belief in the miraculous transfer of the house of Nazareth to Loreto has been approved by Popes and acknowledged by saints. Loreto has been for centuries the scene of numerous miraculous cures and studies on the mortar and stone show that they came from Nazareth. The Santa Casa does not rest and has never rested upon foundations sunk into the earth where it now stands.
PRAYER TO OUR LADY OF LORETO
Our Lady of Loreto, Mother of Our Lord Jesus Christ, You have taken excellent care of the home of Nazareth. With St. Joseph, we entrust to you our family so that Jesus may always be happy in our home and always be the center of our family life. Our Lady of Loreto, pray for our family, pray for us!
A Blessed Advent to you and your family! Fr. Rolly Arjonillo
CSFH PRAYER
PRAYER OF POPE BENEDICT XVI
Mary, Mother of the "Yes", you listened to Jesus,
and know the tone of his voice and the beating of his heart.
Morning Star, speak to us of him,
and tell us about your journey of following him on the path of faith.
Mary, who dwelt with Jesus in Nazareth,
impress on our lives your sentiments,
your docility, your attentive silence,
and make the Word flourish in genuinely free choices.
Mary, speak to us of Jesus, so that the freshness of our faith
shines in our eyes and warms the heart of those we meet,
as you did when visiting Elizabeth,
who in her old age rejoiced with you for the gift of life.
Mary, Virgin of the Magnificat
help us to bring joy to the world and, as at Cana,
lead every young person involved in service of others
to do only what Jesus will tell them.
Mary, look upon the…youth,
so that the soil of the… Church will be fertile.
Pray that Jesus, dead and Risen, is reborn in us,
and transforms us into a night full of light, full of him.
Mary, Our Lady of Loreto, Gate of Heaven,
help us to lift our eyes on high.
We want to see Jesus, to speak with him,
to proclaim his love to all.
BENEDICTUS PP. XVI
SOURCE: http://www.vatican.va/content/benedict-xvi/en/prayers/documents/hf_ben-xvi_20070901_prayer-loreto.html
SEE AS WELL:
POPE BENEDICT XVI'S HOMILY AND PRAYER TO OUR LADY OF LORETO
HERE
LITANY OF LORETO: ORIGIN AND REASONS WHY WE PRAY IT IN THE HOLY ROSARY HERE
POPE FRANCIS ON OUR LADY OF LORETO HERE.
Stay updated: subscribe by email for free TO OUR NEW WEBSITE www.catholicsstrivingforholiness.org (PUT YOUR EMAIL IN THE SUBSCRIBE WIDGET).
We are also in www.fb.com/Catholicsstrivingforholiness. Kindly help more people in their Christian life by liking our page and inviting your family, friends and relatives to do so as well. Thanks in advance and God bless you and your loved ones! Fr. Rolly Arjonillo