DAILY GOSPEL AND COMMENTARY: LITTLE THINGS. "MULTIPLICATION OF LOAVES AND FISH" Jn 6:1-15.
Friday, 2nd week of Easter
---
DAILY GOSPEL AND COMMENTARY: LITTLE THINGS. "MULTIPLICATION OF LOAVES AND FISH" Jn 6:1-15.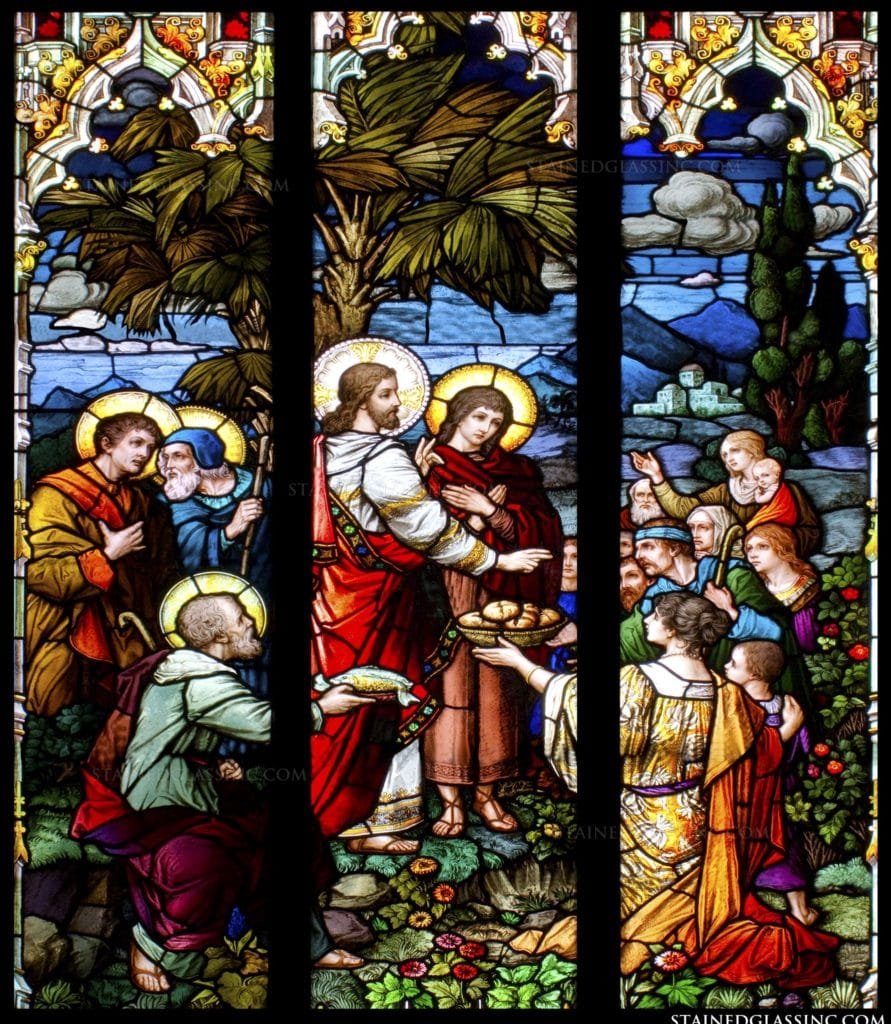 READING I
Acts 5:34–42
A Pharisee in the Sanhedrin named Gamaliel, a teacher of the law, respected by all the people, stood up, ordered the Apostles to be put outside for a short time, and said to the Sanhedrin, "Fellow children of Israel, be careful what you are about to do to these men. Some time ago, Theudas appeared, claiming to be someone important, and about four hundred men joined him, but he was killed, and all those who were loyal to him were disbanded and came to nothing. After him came Judas the Galilean at the time of the census. He also drew people after him, but he too perished and all who were loyal to him were scattered. So now I tell you, have nothing to do with these men, and let them go. For if this endeavor or this activity is of human origin, it will destroy itself. But if it comes from God, you will not be able to destroy them; you may even find yourselves fighting against God." They were persuaded by him. After recalling the Apostles, they had them flogged, ordered them to stop speaking in the name of Jesus, and dismissed them. So they left the presence of the Sanhedrin, rejoicing that they had been found worthy to suffer dishonor for the sake of the name. And all day long, both at the temple and in their homes, they did not stop teaching and proclaiming the Christ, Jesus.

RESPONSORIAL PSALM
R. One thing I seek: to dwell in the house of the Lord.
Or: Alleluia.
The Lord is my light and my salvation;
whom should I fear?
The Lord is my life's refuge;
of whom should I be afraid?
R. One thing I seek: to dwell in the house of the Lord.
Or: Alleluia.
One thing I ask of the Lord
this I seek:
To dwell in the house of the Lord
all the days of my life,
That I may gaze on the loveliness of the Lord
and contemplate his temple.
R. One thing I seek: to dwell in the house of the Lord.
Or: Alleluia.
I believe that I shall see the bounty of the Lord
in the land of the living.
Wait for the Lord with courage;
be stouthearted, and wait for the Lord.
R. One thing I seek: to dwell in the house of the Lord.
Or: Alleluia.

ALLELUIA
Non in solo pane vivit homo, sed in omni verbo quod procédit de ore Dei.
Man does not live on bread alone, but on every word that comes from the mouth of God.
GOSPEL OF FRIDAY,
2ND WEEK OF EASTER
Jn 6:1-15
Jesus went across the Sea of Galilee. A large crowd followed him, because they saw the signs he was performing on the sick. Jesus went up on the mountain, and there he sat down with his disciples. The Jewish feast of Passover was near. When Jesus raised his eyes and saw that a large crowd was coming to him, he said to Philip, "Where can we buy enough food for them to eat?" He said this to test him, because he himself knew what he was going to do. Philip answered him, "Two hundred days' wages worth of food would not be enough for each of them to have a little." One of his disciples, Andrew, the brother of Simon Peter, said to him, "There is a boy here who has five barley loaves and two fish; but what good are these for so many?" Jesus said, "Have the people recline." Now there was a great deal of grass in that place. So the men reclined, about five thousand in number. Then Jesus took the loaves, gave thanks, and distributed them to those who were reclining, and also as much of the fish as they wanted. When they had had their fill, he said to his disciples, "Gather the fragments left over, so that nothing will be wasted." So they collected them, and filled twelve wicker baskets with fragments from the five barley loaves that had been more than they could eat. When the people saw the sign he had done, they said, "This is truly the Prophet, the one who is to come into the world." Since Jesus knew that they were going to come and carry him off to make him king, he withdrew again to the mountain alone.
GOSPEL COMMENTARY
Today's Gospel reminds us once more to be convinced that GOD PROVIDES.
Jesus is sensitive not only to our spiritual but also to the material needs. Out of His merciful love and compassion, He takes the initiative to satisfy the hunger of the multitude who have followed to listen to His teachings.
At the same time, OUR LORD WANTS US TO TRUST HIM in everything.
He wants us to generously put all the resources we have on hand, though inadequate they may seem, as in this case (with just five loaves and two fish) and leave the rest to His Providence for HE COULD TURN OUR MEAGER AND INSUFFICIENT RESOURCES INTO SOMETHING ABUNDANT AND PRODUCTIVE WAY BEYOND OUR IMAGINATION.
"We must, then, have faith and not be dispirited. We must not be stopped by any kind of human calculation. To overcome the obstacles we have to throw ourselves into the task so that the very effort we make will open up new paths" St. Josemaria, "Christ is Passing By", 160).
Lastly, it is worth mentioning that THE MIRACLE WAS CARRIED OUT WITH THE GENEROSITY OF A LITTLE BOY WHO HAD FIVE LOAVES AND TWO FISH.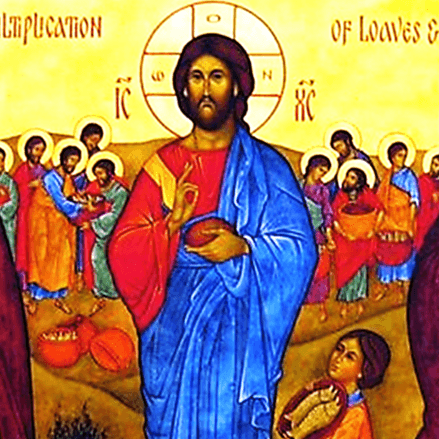 Let us remember that all great things begin small. From the human viewpoint, the resources at hand were absolutely insufficient. But God has the power to turn them, as we said, in something exceedingly abundant! And it all started with just that: something little: the generosity of a boy with just five loaves of bread and two fish made it possible for Our Lord to feed more than five thousand men, and in excess, showing to us the magnanimity of Our Lord, and at the same time, the necessity to make good use of the leftovers so that nothing will be wasted.
We cannot overlook the great value of little things in all the facets of daily life: in our relationship with God, family and social life, our professional work,…in our entire Christian life and vocation to holiness. His master said to him, 'Well done, good and faithful servant; you have been faithful over a little, I will set you over much; enter into the joy of your master.' (Mt 25:21-23).
Dear friends: HOLINESS IS MADE UP OF THE LITTLE THINGS EACH DAY CARRIED OUT WITH GENEROSITY AND LOVE. Our Lord doesn't not expect from each one of us great acts of heroism but rather, the heroism in the little things of our daily life done out of love.
As St. Josemaria said:
"Do everything for Love. Thus there will be no little things: everything will be big. Perseverance in little things for Love is heroism. A little act, done for Love, is worth so much!
Do you really want to be a saint? Carry out the little duty of each moment: do what you ought and concentrate on what you are doing. For 'great' holiness consists in carrying out the 'little duties' of each moment. And "great souls pay much attention to little things." St. Josemaria, The Way, nn. 813-818.
Let us ask the help of Our Lady and St. Joseph that we may seek, find and love God in the noble little things of each day.
Stay safe and God bless!
Fr. Rolly Arjonillo
---
VIDEO REFLECTION
TOPIC: DO YOU STRUGGLE TO BELIEVE THAT NOTHING IS IMPOSSIBLE WITH GOD?
In today's gospel reading, a huge crowd met Jesus on the shore of a remote village called Bethsaida Julius. This was where the miracle of the feeding of five thousand occured. Other than the Resurrection, this is the only miracle appearing in all four Gospels. Today, we reflect on two different attitudes: that of Philip and that of Andrew.
Stay updated: subscribe by email for free TO OUR NEW WEBSITE www.catholicsstrivingforholiness.org (PUT YOUR EMAIL IN THE SUBSCRIBE WIDGET).
We are also in www.fb.com/Catholicsstrivingforholiness. Kindly help more people in their Christian life by liking our page and inviting your family, friends and relatives to do so as well. Thanks in advance and God bless you and your loved ones! Fr. Rolly Arjonillo