DAILY GOSPEL COMMENTARY: "REPAY TO CAESAR…"(Mk 12:13-17).
Tuesday, 9th week of Ordinary Time
DAILY GOSPEL COMMENTARY:
"Repay to Caesar…"
(Mk 12:13-17).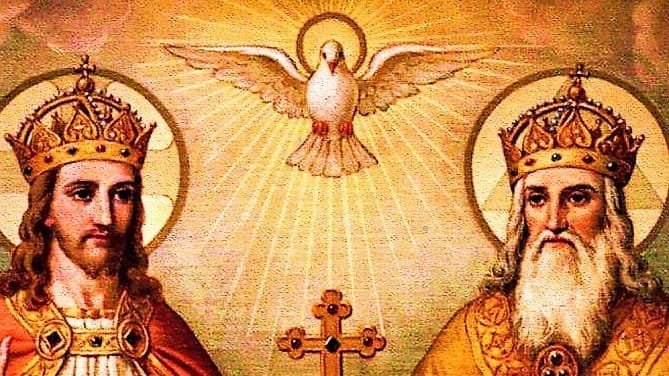 Gospel of Tuesday, 9th week of Ordinary Time

.
(Mk 12:13-17).
Some Pharisees and Herodians were sent to Jesus to ensnare him in his speech. They came and said to him, "Teacher, we know that you are a truthful man and that you are not concerned with anyone's opinion. You do not regard a person's status but teach the way of God in accordance with the truth. Is it lawful to pay the census tax to Caesar or not? Should we pay or should we not pay?" Knowing their hypocrisy he said to them, "Why are you testing me? Bring me a denarius to look at." They brought one to him and he said to them, "Whose image and inscription is this?" They replied to him, "Caesar's." So Jesus said to them, "Repay to Caesar what belongs to Caesar and to God what belongs to God." They were utterly amazed at him.
GOSPEL COMMENTARY
Our Lord's answer to the trick question posed to him by the Pharisees and Herodians, "Repay to Caesar what belongs to Caesar and to God what belongs to God" confounded them that they. fail to grasp its meaning. It is also faithful to Jesus'preaching about the Kingdom of God: give Caesar what is his due, but no more, because God must assuredly be given what he has a right to.
What has Caesar a right to receive?

Taxes, which are necessary for legitimate state expenses. It also englobes the obedience to all civil laws which are in accordance to God's teachings.
However, one does not have the obligation to follow laws which are immoral, for example, laws which go against the dignity and life of the unborn, of the elderly, the sick; the indissolubility of marriage, etc.

What must God be given? Obviously, obedience to all his commandments — which implies personal love and commitment.
Jesus' reply goes beyond the human horizons of his temptors, far beyond the simple yes and no they wanted to draw out of him.

Furthermore, his words show that he recognized civil authority and its rights, but he made it quite clear that the superior rights of God must be respected (cf. Vatican II, Dignitatis humanae, 11), and pointed out that it is part of God's will that we faithfully fulfil our civic duties (cf. Rom 13:1-7).
Let us not forget that all that we have and all that we are come from God. As such, in all the earthly realities, we must seek, find, love and give glory to God.
The problem which has pervaded since the beginning of the world is man's denial of God and his subsequent search and substitution of God with his own self or what is worldly, thereby falling into idolatry.
Let us reject this treacherous and idolatrous attitude which not only denies and offends God but also dehumanizes man: "Without the Creator, the creature vanishes (Gaudium et spes, n. 36)." Through our faithful daily struggle, let us give God glory, honor, and thanksgiving in all that we do.
"God created everything for man, but man in turn was created to serve and love God and to offer all creation back to him. Catechism 358."
VIDEO COMMENTARY ON TODAY'S GOSPEL
TOPIC 1: DO YOU HAVE ANOTHER AGENDA IN SERVING GOD?
In today's gospel reading, the Pharisees and the Herodians connive to put down Jesus, hoping to condemn Him. The Pharisees believed that religion should be dominant over government. They despised Roman authority and taxation.
The Herodians were followers of Herod, who, himself, supported the ruling Romans and their gods. They believed that government was more important than religion. They subscribed to paying taxes to Ceasar rather than to God.
While their goals and values were completely opposite, their hatred for Jesus served as the unifying factor for them to collaborate.We reflect today on our motivations for serving God.
TOPIC 2: ARE YOU A HYPOCRITE?
"Is it lawful to pay the census tax to Caesar or not?" This was a trick question asked by religious leaders to Jesus.
On the final week of his stay in Jerusalem before crucifixion, Jesus was the target of some questioning by religious leaders – the Pharisees and the Herodians. The Pharisees hated the Romans while the Herodians were supporters of the Romans. They have what we call an "unholy alliance." They followed the old adage, "my enemy's enemy is my friend."
If Jesus said, "Don't pay taxes," he will be arrested by the Romans. If he said, "pay taxes," he will lose the his popularity and the support of the people who have followed him and have started to believe. But he showed cunning and wisdom, outwitting them by saying, ""Repay to Caesar what belongs to Caesar and to God what belongs to God."
David Dykes, an author and preacher, says that our responsibility to government should be to PRAY, PAY, and OBEY.
PRAY. Do you pray for your government leaders?
PAY. Do you pay the right taxes?
OBEY. Do you follow the rules and regulations that are imposed on us for our own safety and well-being?
Stay updated: subscribe by email for free TO OUR NEW WEBSITE www.catholicsstrivingforholiness.org (PUT YOUR EMAIL IN THE SUBSCRIBE WIDGET).
We are also in www.fb.com/Catholicsstrivingforholiness. Kindly help more people in their Christian life by liking our page and inviting your family, friends and relatives to do so as well. Thanks in advance and God bless you and your loved ones! Fr. Rolly Arjonillo