August 22: QUEENSHIP OF THE BLESSED VIRGIN MARY.
August 22:
QUEENSHIP OF THE BLESSED VIRGIN MARY
Today we celebrate the joyous memorial of the Queenship of the Blessed Virgin Mary, Our Mother. It was instituted by Pope Pius XII in 1954 based on the fact that that Mary is intimately associated with the Redemption carried out by her Son, Our Lord Jesus Christ. For this reason, she also participates in the glorious and universal kingdom of Christ. It is a truth which has been affirmed since antiquity by the piety of the faithful, and taught by the Magisterium of the Church
(cf Pius XII, Encyclical, Ad caeli Reginam, 11 October 1954).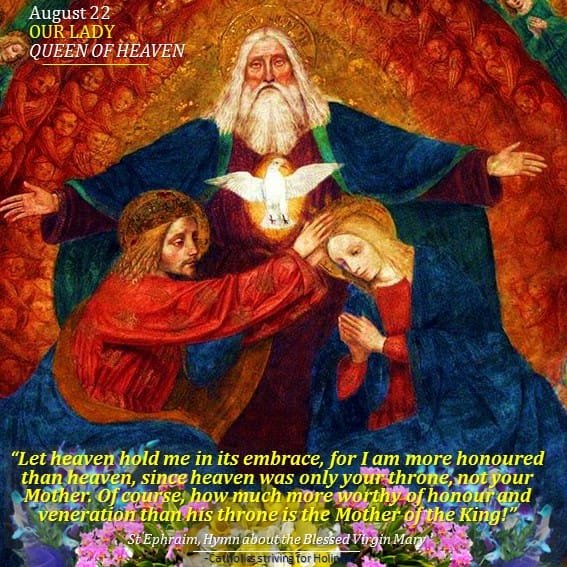 1. MARY IS THE QUEEN OF HEAVEN AND EARTH
As St. John Paul II wrote in his Encyclical, Redemptoris Mater:
"The Mother of Christ is glorified as 'Queen of the Universe': She who called herself the 'handmaid of the Lord' at the Annunciation remained faithful to what this name expresses throughout her earthly life. In this she confirmed that she was a true 'disciple' of Christ, who strongly emphasized that his mission was one of service: The Son of Man 'came not to be served, but to serve, and to give his life as a ransom for many' (Matt 20:28). In this way Mary became the first of those who, 'serving Christ also in others, with humility and patience lead their brothers and sisters to' that King to serve whom is to reign' (Lumen gentium, 36), and she fully achieves that 'state of royal freedom' proper to Christ's disciples: To serve Christ is to reign with Him… Her 'glory in serving' is completely compatible with her royal exaltation. Taken up into heaven; she does not cease her service for the sake of our salvation.
(John Paul II, Redemptoris Mater, 25 March 1987)."
2. THE CORONATION OF MARY AS QUEEN OF HEAVEN, THE LOGICAL CONSEQUENCE OF HER IMMACULATE CONCEPTION AND ASSUMPTION, IS THE GLORIFICATION OF HER CONTINUOUS 'FIAT' DURING HER ENTIRE LIFE, HER FAITHFUL AND LOVING UNION WITH AND SERVICE TO THE TRIUNE GOD, PARTICIPATING WITH THE GLORY AND REGALITY OF HER SON, JESUS CHRIST, KING OF THE UNIVERSE.
It is the logical consequence of the dogma of the Assumption which we celebrated last week. Our Lady departed for heaven in her final glorification to be crowned by the Blessed Trinity as Queen of all Creation:
"The immaculate Virgin, preserved fire from all guilt of original sin; on the completion of her earthly sojourn, was taken up body and soul into heavenly glory, and exalted by the Lord as Queen of the universe, that she might be the more fully conformed to her Son; the 'Lord of Lords' (Rev 19:16), and the conqueror of sin and death
(Second Vatican Council, Lumen gentium, 59)."
Though not the source of grace, she is the channel through which grace is distributed to everyone.
Dear friends, let us greet our Mother with loving words, glances and affection and thank her for all she has done to keep us close to the Most Blessed Trinity. Our Lady's Queenship extends over heaven, earth and purgatory. She is a true Mother to all of us who never hesitates to do what is necessary for the good of her children. Let us have recourse to Mary in all our needs, as St. Bernard said:
"If temptation storms or you fall upon the rocks of tribulation, look to the star: Call upon Mary! If you are tossed by the waves of pride or ambition, detraction or envy, look to the star, call upon Mary. If anger or avarice or the desires of the flesh dash against the ship o f your soul, turn your eyes to Mary. If troubled by the enormity of your crimes, ashamed of your guilty conscience, terrified by dread of the judgment, you begin to sink into the gulf of sadness or the abyss of despair, think of Mary. In dangers, in anguish, in doubt, think of Mary, call upon Mary. Let her name be even on your lips, ever in your heart; and the better to obtain the help of her prayers, imitate the example of her life
(Homily on the Holy Name of Mary)."
Queen of Heaven and Earth, our Mother, you are also the Queen of our life, pray for us, Oh Holy Mother of God, that we may be made worthy of the promises of Christ!
SEE AS WELL: AUGUST 22: OUR LADY, MOTHER AND QUEEN. DIVINE OFFICE 2ND READING in https://catholicsstrivingforholiness.org/august-22-our-lady-mother-and-queen-divine-office-2nd-reading/
-Fr. Rolly Arjonillo, priest of Opus Dei. CATHOLICS STRIVING FOR HOLINESS. We are also in Facebook: www.facebook.com/CatholicsstrivingforHoliness
Hope you like our page and invite your friends as well to do so in order to help more people.
SEE AS WELL: AUG. 22. QUEENSHIP OF MARY MASS PRAYERS AND READINGS in https://catholicsstrivingforholiness.org/august-22-queenship-of-the-blessed-virgin-mary-mass-prayers-and-readings/
Stay updated: subscribe by email for free TO OUR NEW WEBSITE www.catholicsstrivingforholiness.org (PUT YOUR EMAIL IN THE SUBSCRIBE WIDGET).
We are also in www.fb.com/Catholicsstrivingforholiness. Kindly help more people in their Christian life by liking our page and inviting your family, friends and relatives to do so as well. Thanks in advance and God bless you and your loved ones! Fr. Rolly Arjonillo