ASH WEDNESDAY: WHY THE ASHES? WHAT DOES THE IMPOSITION OF ASHES MEAN?
ASH WEDNESDAY: WHY THE ASHES? WHAT DOES THE IMPOSITION OF ASHES MEAN?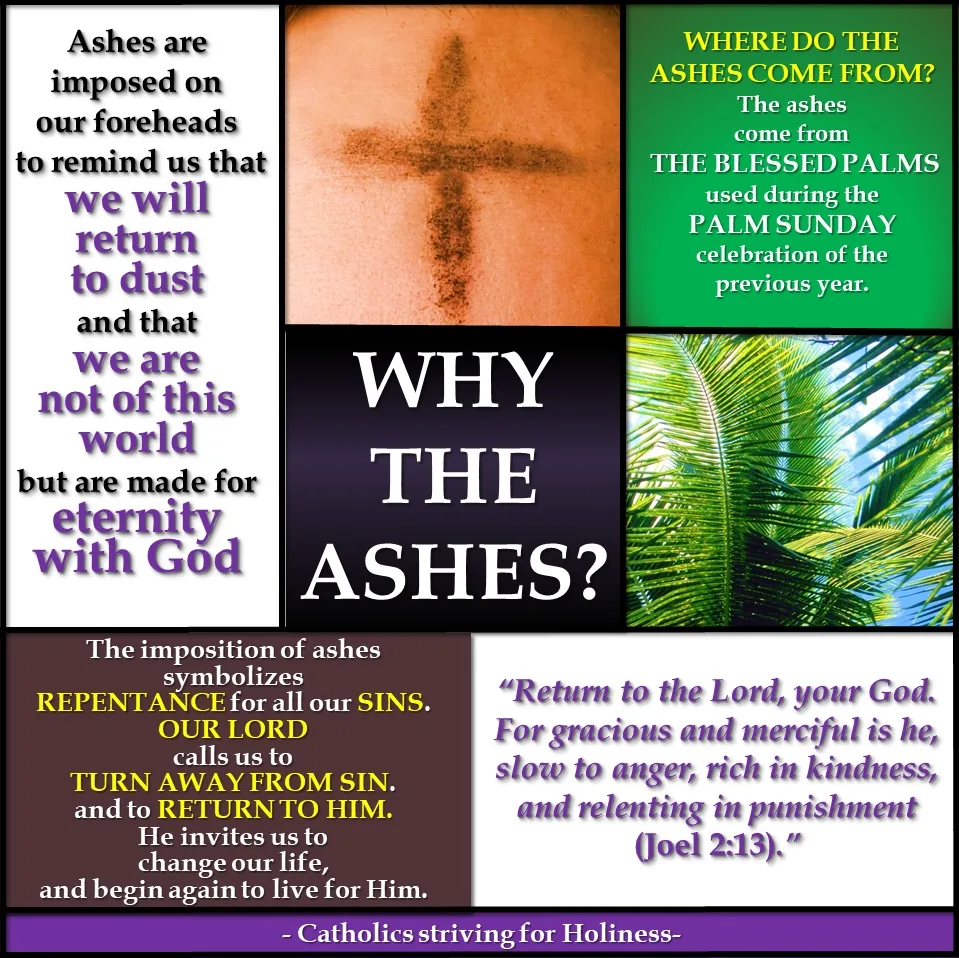 1. THE ASHES SYMBOLIZE REPENTANCE FROM OUR SINS:
"Then I turned to the Lord God, to seek an answer by prayer and supplication with fasting and sackcloth and ashes. I prayed to the Lord my God and made confession, saying, Ah, Lord, great and awesome God, keeping covenant and steadfast love with those who love you and keep your commandments, we have sinned and done wrong, acted wickedly and rebelled, turning aside from your commandments and ordinances (Daniel 9:3-5)."
The Jews in the Old Testament (Esther 4:1, Job 42:6, Jonah 3:5-6) sprinkled themselves with ashes as a customary manifestation of mourning, mortality, conversion, contrition and repentance.
Our Lord Jesus Christ himself, aware of this Jewish custom, said to those who witnessed his miracles but refused to believe in Him and repent from their sins: "If the miracles worked in you had taken place in Tyre and Sidon, they would have reformed in sackcloth and ashes long ago (Mt 11:21)."
2. WITH THE IMPOSITION OF THE ASHES, THE FAITHFUL IS INVITED TO LIVE THE SEASON OF LENT AS A TIME OF CONVERSION, REPENTANCE AND JOYFUL PENANCE.
This is the symbolism behind the imposition of ashes following the Jewish culture of sprinkling ashes on one's head as a sign of penance, adopted by the Catholic liturgy upon commencing the Season of Lent.
It is an invitation to REPENTANCE and CONTRITION:

To "turn away from sin", "to change direction in the journey of life: not, however, by means of a small adjustment, but with a true and proper about turn. Conversion means swimming against the tide, where the 'tide' is the superficial lifestyle, inconsistent and deceptive, that often sweeps us long, overwhelms us and makes us SLAVES TO EVIL or at any rate PRISONERS OF MORAL MEDIOCRITY. With conversion, on the other hand, we are aiming for the high standard of Christian living, we entrust ourselves to the living and personal gospel which is Jesus Christ. He is our final goal and the profound meaning of conversion, he is the path on which all are called to walk through life, letting themselves be illumined by his light and sustained by his power which moves our steps (Benedict XVI, General Audience, Feb. 17, 2010)."

It is a reminder of our MORTALITY and an invitation to CONVERSION

With the imposition of ashes, and the words "remember you are dust and to dust you shall return", Lent also reminds us of our FRAIL CONDITION, of our DEATH but with realism, wisdom and optimism "for those who die in Christ will also live with Him (Rm 6:8)." Hence, Lent is a time of RENEWAL, of GRACE, of a "MORE CONSCIOUS AND INTENSE IMMERSION IN CHRIST'S LIFE".

It is a time for a JOYFUL RENEWAL OF OUR COMMITMENT TO FOLLOW JESUS:

To letting ourselves be transformed by his Paschal Mystery, to overcoming evil and to doing good, in order to make our former self, linked to sin die and to give birth to our 'new nature', transformed by God's grace(Benedict XVI, General Audience, Feb. 17, 2010)," entrusting ourselves and being grateful as well to God's Mercy for giving us this wonderful occasion to "return to the Father's house".
LET US HEED GOD'S LOVING CALL TOWARDS CONVERSION AND REPENTANCE, first by going to the Sacrament of CONFESSION, and by dying unto ourselves and to the old man within us to BE BORN AND LIVE IN AND WITH CHRIST!
A Blessed and Fruitful Lent to all! Fr. Rolly Arjonillo
Stay updated: subscribe by email for free TO OUR NEW WEBSITE www.catholicsstrivingforholiness.org (PUT YOUR EMAIL IN THE SUBSCRIBE WIDGET).
We are also in www.fb.com/Catholicsstrivingforholiness. Kindly help more people in their Christian life by liking our page and inviting your family, friends and relatives to do so as well. Thanks in advance and God bless you and your loved ones! Fr. Rolly Arjonillo