WEDNESDAY DEVOTION TO OUR MOTHER OF PERPETUAL HELP AND ST. JOSEPH, MASTER OF INTERIOR LIFE.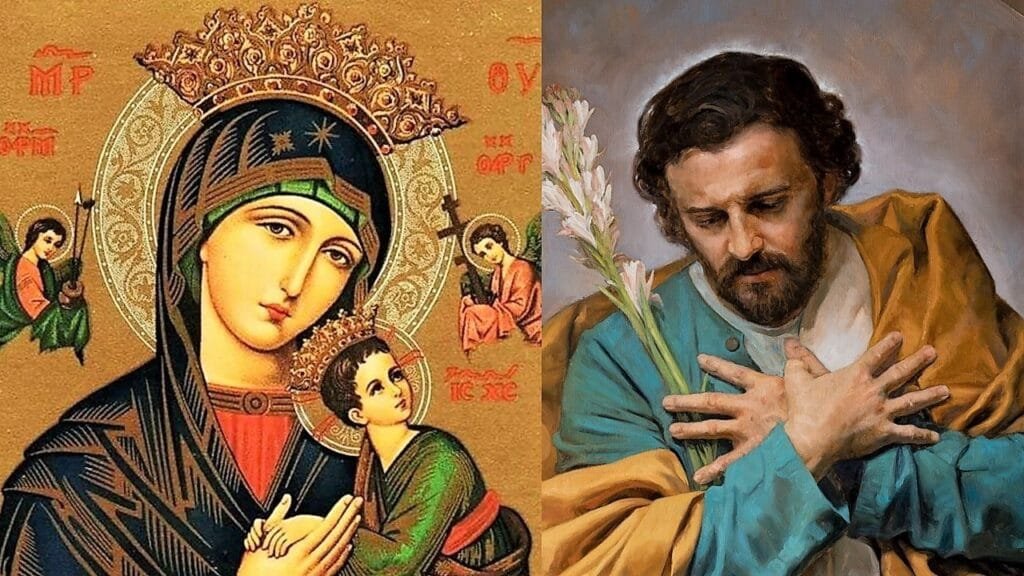 WEDNESDAY DEVOTION TO
OUR MOTHER OF PERPETUAL HELP AND
ST. JOSEPH, MASTER OF INTERIOR LIFE.
Dear brethren in Christ, today is Wednesday. As you notice, we try to foster a daily devotion, few but well-rooted, to keep our interior life well-nourished in piety and love of God.
In Manila (Philippines), Wednesday is devoted to Our Lady of Perpetual Help where thousands of devotees flock to the Redemptorist Church of Baclaran named after her advocation to seek Our Lady's maternal intercession.
SEE AS WELL: HOW TO INTERPRET THE SYMBOLS IN THE ICON OF MOTHER OF PERPETUAL HELP
On the other hand, I have learned from St. Josemaria, founder of Opus Dei, to dedicate this day as well to St. Joseph, the foster father of Our Lord, spouse of Mother Mary, and Patron of the Universal Church.
SEE AS WELL: PRAYERS TO ST. JOSEPH
Below you have the prayers to Mother Mary and St. Joseph if you wish to have this Wednesday devotion. A great day ahead and God bless!
Fr. Rolly Arjonillo
Oh Mother of Perpetual Help, grant that I may ever invoke your powerful name, the protection of the living and the salvation of the dying. Purest Mary, let your name henceforth be ever on my lips. Delay not, Blessed Lady, to rescue me whenever I call on you. In my temptations, in my needs, I will never cease to call on you, ever repeating your sacred name, Mary, Mary.
What a consolation, what sweetness, what confidence fills my soul when I utter your sacred name or even only think of you! I thank the Lord for having given you so sweet, so powerful, so lovely a name. But I will not be content with merely uttering your name. Let my love for you prompt me ever to hail you Mother of Perpetual Help
Mother of Perpetual Help, pray for me and grant me the favor I confidently ask of you. (Then say three Hail Marys).
PRAYER TO ST. JOSEPH, PATRON OF THE UNIVERSAL CHURCH
Dear Saint Joseph,
accept the offering I make to you.
Be my father, protector,
and guide in the way of salvation.
Obtain for me purity of heart
and a love for the spiritual life.
After your example,
let all my actions be directed
to the greater glory of God,
in union with the Divine Heart of Jesus,
the Immaculate Heart of Mary,
and your own paternal heart.
Finally, pray for me that I may share
in the peace and joy of your holy death.
Amen.
CSFH PHOTO.
DAILY PRAYER TO ST. JOSEPH RECITED BY POPE FRANCIS (General Audience Feb. 2, 2022).
 "I would like to conclude this catechesis with a prayer to Saint Joseph to which I am particularly attached and which I have recited every day for more than 40 years. It is a prayer that I found in a prayer book of the Sisters of Jesus and Mary, from the 1700's, the end of the 18th century. It is very beautiful, but more than a prayer it is a challenge, to this friend, to this father, to this our guardian, who is Saint Joseph. It would be wonderful if you could learn this prayer and repeat it. I will read it."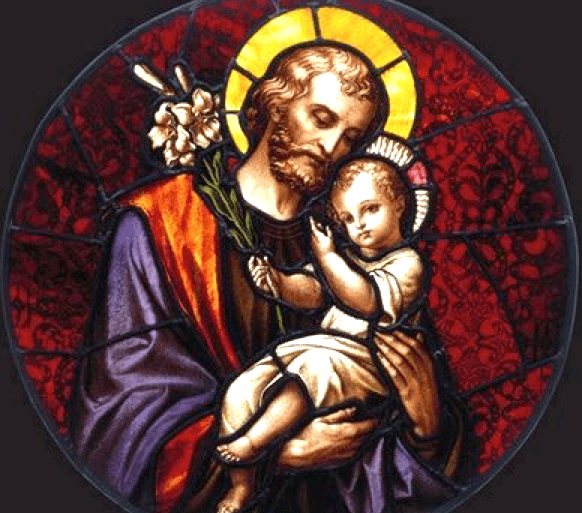 Glorious Patriarch Saint Joseph,
whose power makes the impossible possible,
come to my aid in these times of anguish and difficulty.
Take under your protection
the serious and troubling situations that I commend to you,
that they may have a happy outcome.

My beloved father, all my trust is in you.
Let it not be said that I invoked you in vain,
and since you can do everything with Jesus and Mary,
show me that your goodness is as great as your power.
"And it ends with a challenge, this is to challenge Saint Joseph: "since you can do everything with Jesus and Mary, show me that your goodness is as great as your power". I have entrusted myself to Saint Joseph  with this prayer every day for more than 40 years: it's an old prayer."
Stay updated: subscribe by email for free TO OUR NEW WEBSITE www.catholicsstrivingforholiness.org (PUT YOUR EMAIL IN THE SUBSCRIBE WIDGET).
We are also in www.fb.com/Catholicsstrivingforholiness. Kindly help more people in their Christian life by liking our page and inviting your family, friends and relatives to do so as well. Thanks in advance and God bless you and your loved ones! Fr. Rolly Arjonillo