HOMILY / REFLECTION 5th SUNDAY OF EASTER B: "I AM THE TRUE VINE, YOU ARE THE BRANCHES."
HOMILY / REFLECTION 5th SUNDAY OF EASTER B:


"I AM THE TRUE VINE, YOU ARE THE BRANCHES."
5th SUNDAY OF EASTER (B): "I AM THE TRUE VINE, YOU ARE THE BRANCHES."
Being a Christian is equivalent to being called to bear fruits of holiness. And to bear these fruits we have to be like the branches attached to the vine. Christ is the true vine (Gospel). And we will be united to him by keeping his commandment, which is to believe by faith in his name and loving one another as he commanded us (2nd reading). By the grace that is given to us in the sacraments, especially in the Eucharist, Christ remains in us and we in him. Through the Eucharistic sacrifice, God makes us partakers of his divinity (Prayer over the offerings). Without it we can do nothing. It is his words that should always guide our lives
Today's 5th Sunday of Easter Year B Gospel presents Christ as the true vine and we, Christians, as the branches:
"I am the vine, you are the branches. He who abides in me, and I in him, he it is that bears much fruit, for apart from me you can do nothing."

(Jn 15:5).
What is the fruit referred to by Our Lord? The fruit referred to by Our Lord is "the holiness of a life made fruitful by [our] union with Christ (Catechism of the Catholic Church, n. 2074)."
Our Lord asks from each one of us abundant fruits of holiness and apostolate. But this will only be possible if we are united with Christ: Our Lord Himself said: "for apart from me you can do nothing (Jn 15:5)."
LOVE, IN ORDER TO BE FRUITFUL, REQUIRES UNION WITH THE BELOVED. IF WE REALLY WANT TO GROW IN LOVE WITH OUR LORD, WE NEED TO UNITE OURSELVES WITH HIM THROUGH FAITH AND GRACE. HOW AND THROUGH WHAT MEANS?
Daily conversation with Our Lord (mental PRAYER) during which we get to know Our Lord better and thus grow in our friendship and love for Him. Remember, one cannot love someone whom he does not know. We need to deal frequently with Our Lord in order to grow in our friendship and love for Him.
Frequent reception of the Sacraments of CONFESSION to make sure that we have our Lord in our soul, that is, we are in the state of grace;
Frequent reception of the Sacrament of the HOLY EUCHARIST in which we receive not only grace but the Author of grace Himself;
Maintaining PRESENCE OF GOD throughout the day through acts of love, of petition, of thanksgiving…and this while we carry out our ordinary activities whether at home, at school or at work;
A loving and filial devotion to Our Lady and St. Joseph who were the people who knew and love most and best Our Lord Jesus Christ;
Daily struggle to make Our Lord happy in our thoughts, words, desires and deeds… practicing the VIRTUES and fulfilling His COMMANDMENTS out of love (see 2nd reading).
Moreover, A CHRISTIAN WHO REALLY LOVES CHRIST, WANTS WHAT HE WANTS. AND WHAT DOES CHRIST WANT? SOULS! ALL CHRISTIANS ARE CALLED TO HOLINESS AND APOSTOLATE. You and I are instruments of Our Lord to bring souls closer to Him not only through our prayers, but also through our words, our good example and real friendship with the people He has placed beside us, with all the naturalness and while fulfilling our human obligations in the ordinary conditions of our life.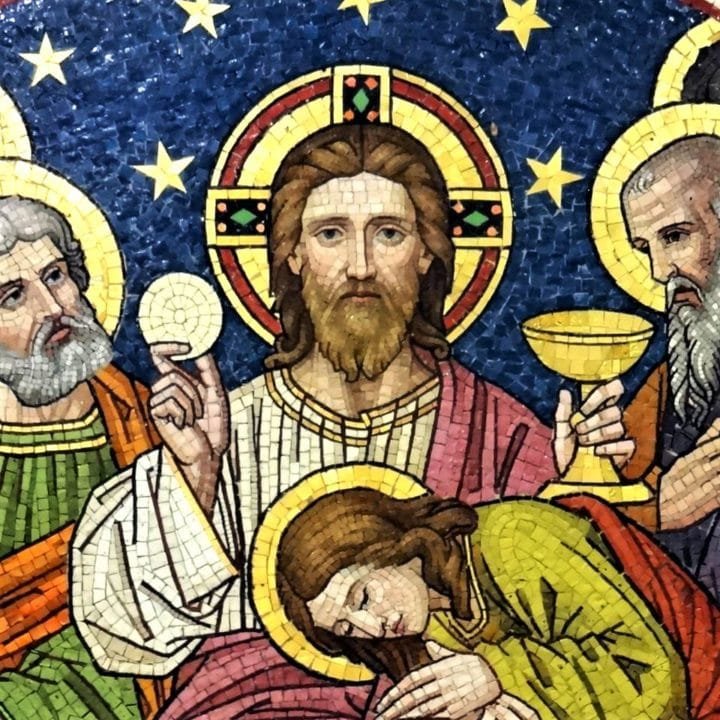 Dear friends: Without prayer and sacraments, it is impossible to grow in holiness. Without them, it would be very difficult to progress in our spiritual life, in our love for God and for others. Without union with Christ, our life would be barren, void, futile and meaningless.
Let us then struggle daily ─out of love and for love─ to put into practice the means to be more united with Christ, especially in the Eucharist: "BE A EUCHARISTIC SOUL! IF THE CENTRE AROUND WHICH YOUR THOUGHTS AND HOPES TURN IS THE TABERNACLE, THEN, MY CHILD, HOW ABUNDANT THE FRUITS OF YOUR SANCTITY AND APOSTOLATE WILL BE (St. Josemaria, Forge, n. 835)!"
Let us ask the help of Our Lady and St. Joseph to help us each day to be more united ─IN LOVE!─ with Jesus and bear abundant fruits of holiness and apostolate for His honor and glory.
Fr. Rolly A.
Stay updated: subscribe by email for free TO OUR NEW WEBSITE www.catholicsstrivingforholiness.org (PUT YOUR EMAIL IN THE SUBSCRIBE WIDGET).
We are also in www.fb.com/Catholicsstrivingforholiness. Kindly help more people in their Christian life by liking our page and inviting your family, friends and relatives to do so as well. Thanks in advance and God bless you and your loved ones! Fr. Rolly Arjonillo