WHY PRAY FOR THE DEAD?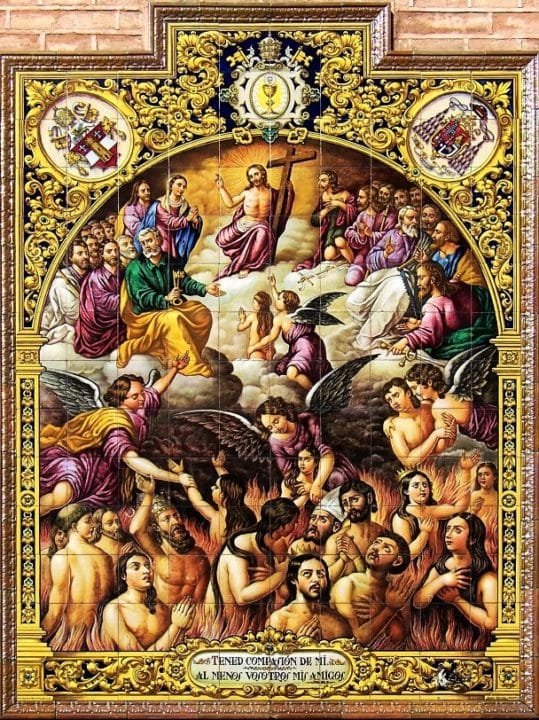 Our Mother Church teaches us to live the communion of saints by praying for each other, whether alive or deceased, in particular for the faithful departed who are in purgatory At the same time, those who have already gone to heaven are praying and interceding for us who are still in pilgrimage here on earth.
As the Compendium of the Catechism teaches in number 195, the term communion of saints refers to : "the communion between holy persons (sancti); that is, between those who by grace are united to the dead and risen Christ. Some are pilgrims on the earth; others, having passed from this life, are undergoing purification and are helped also by our prayers. Others already enjoy the glory of God and intercede for us. All of these together form in Christ one family, the Church, to the praise and glory of the Trinity.
The existence of purgatory -a Catholic dogma- has a Biblical basis. This is the reason why the Catholic Church encourages her faithful to pray for the dead. The Catechism of the Catholic Church n. 958 teaches:
Communion with the dead. "In full consciousness of this communion of the whole Mystical Body of Jesus Christ, the Church in its pilgrim members, from the very earliest days of the Christian religion, has honored with great respect the memory of the dead; and 'because it is a holy and a wholesome thought to pray for the dead that they may be loosed from their sins' she offers her suffrages for them."500 Our prayer for them is capable not only of helping them, but also of making their intercession for us effective.

Catechism of the Catholic Church n. 958
OUT OF LOVE, JUSTICE AND SOLIDARITY, we pray for the souls of the dead undergoing purification in purgatory so that God Almighty, in His merciful and compassionate love, may remit all the temporal punishment of their sins, and admit them into His Glorious Kingdom and enjoy forever His vision and company together with all the Angels and Saints.

SEE AS WELL:
HOW TO HELP THE FAITHFUL DEPARTED DURING THIS MONTH OF NOVEMBER IN
https://catholicsstrivingforholiness.org/november-2-commemoration-of-all-the-faithful-departed-all-souls-day-on-indulgences/
RESPONSORY PRAYER FOR THE DEAD in
https://catholicsstrivingforholiness.org/responsory-for-the-dead-with-prayers-for-persons-parents-and-all-faithful-departed/
NOVENA PRAYER FOR THE DEAD in https://catholicsstrivingforholiness.org/novena-prayer-for-the-dead/
Stay updated: subscribe by email for free TO OUR NEW WEBSITE www.catholicsstrivingforholiness.org (PUT YOUR EMAIL IN THE SUBSCRIBE WIDGET).
We are also in www.fb.com/Catholicsstrivingforholiness. Kindly help more people in their Christian life by liking our page and inviting your family, friends and relatives to do so as well. Thanks in advance and God bless you and your loved ones! Fr. Rolly Arjonillo