Monday devotion: PRAY FOR THE HOLY SOULS IN PURGATORY.
Monday devotion:
PRAY FOR THE HOLY SOULS IN PURGATORY.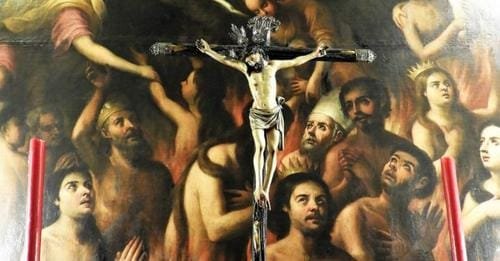 Monday devotion: PRAY FOR THE HOLY SOULS IN PURGATORY
Praying for the dead is one of the spiritual acts of mercy. It would do a lot of good and help a lot of souls if we pray daily for all those who are suffering, not only in this world, but also in purgatory.
St. Josemaria taught his spiritual children to dedicate Monday for the Holy Souls in Purgatory. During his life, he called them "good friends", praying for them and also asking their help, since they are already in the antesala of heaven. He wrote:
"The holy souls in purgatory. Out of charity, out of justice, and out of excusable selfishness—they have such power with God!—remember them often in your sacrifices and in your prayers. May you be able to say when you speak of them, "My good friends the souls in purgatory" (The Way, 571)."
"At the beginning I felt the company of the souls in purgatory very strongly. I felt them as if they were tugging me by the cassock, asking me to pray for them and to ask them for their intercession. Since then, due to the great services they have done for me, I like to preach about and foster in souls this reality: my good friends the souls in purgatory (from The Way: Critical-Historical Edition, edited by Pedro Rodriguez, p. 740)."
How could we help them? There are many ways to help the Holy Souls in Purgatory, some of which are:
Dear friends, as a Monday devotion, let us help and pray daily for the Holy Souls in Purgatory. The best prayer is offering the Holy Mass for the eternal repose of their souls. This way, we are united not only with our brethren in heaven and earth, but also with those in Purgatory. Let us also ask their help by praying to them, for with their sufferings, they can intercede for us before God.
As Pope Francis wrote in Amoris Laetitia n. 277 :
One way of maintaining fellowship with our loved ones is to pray for them. The Bible tells us that "to pray for the dead" is "holy and pious" (2 Macc 12:44-45). "Our prayer for them is capable not only of helping them, but also of making their intercession for us effective."
Grant them eternal rest, O Lord,
and let your perpetual light shine upon them.
May they rest in peace, Amen.
May their souls and all of your faithful departed, rest in peace, Amen.
VIDEO COMMENTARY
TOPIC: Is there purgatory?
We, Catholics, profess our faith in the "the resurrection of the dead and the life of the world to come." (Nicene Creed). When we view a deceased body at a wake, we are reminded of this simple but profound statement in the Creed.
If you recall in episode 51 of the Comments from the Chair, the Sadducees do not believe the resurrection of the dead and the resurrection of Christ. In today's gospel, Jesus tells the Sadducees that there is resurrection after we die.
So where do we go after we die?
Those who die in God's grace and friendship and are perfectly purified go to heaven.
For those who die in mortal sin without repenting, they are to remain separated from God forever in Hell. Our unity with God is premised on our loving Him and our neighbor – which are our foundations in our call to holiness. "We know that we have passed from death to life because we love one another. Whoever does not love abides in death. All who hate a brother or sister are murderers, and you know that murderers do not have eternal life abiding in them." (1 John 3:14-15)
And these will go away into eternal punishment, but the righteous into eternal life." (Matthew 25:46)
But we, Catholics believe that there is also purgatory – a place between heaven and hell where souls are purified, cleansed, and punished for lesser sins.
SEE AS WELL:
PRAYERS FOR THE HOLY SOULS IN PURGATORY. PADRE PIO AND THE OLD MAN IN HIS ROOM in https://catholicsstrivingforholiness.org/prayers-for-the-holy-souls-in-purgatory-a-spiritual-work-of-mercy-st-padre-pio-and-the-old-man-in-his-room-video-summary-and-text/
LOOKING FOR THE BIBLICAL BASIS OF PURGATORY? Here are some 25 Biblical Passages in https://catholicsstrivingforholiness.org/looking-for-the-biblical-basis-of-purgatory-here-are-some-25-biblical-passages/
THE HOLY SOULS IN PURGATORY (1). On Sin and Temporal Punishment in https://catholicsstrivingforholiness.org/the-holy-souls-in-purgatory-1-on-sin-and-temporal-punishment/
THE HOLY SOULS IN PURGATORY (2): ON GOD'S LOVE AND THE SOULS' SUFFERINGS https://catholicsstrivingforholiness.org/the-holy-souls-in-purgatory-2-on-gods-love-and-the-souls-sufferings/
Stay updated: subscribe by email for free TO OUR NEW WEBSITE www.catholicsstrivingforholiness.org (PUT YOUR EMAIL IN THE SUBSCRIBE WIDGET).
We are also in www.fb.com/Catholicsstrivingforholiness. Kindly help more people in their Christian life by liking our page and inviting your family, friends and relatives to do so as well. Thanks in advance and God bless you and your loved ones! Fr. Rolly Arjonillo