WEDNESDAY DEVOTION: PRAYERS TO ST. JOSEPH.
PRAYERS TO ST. JOSEPH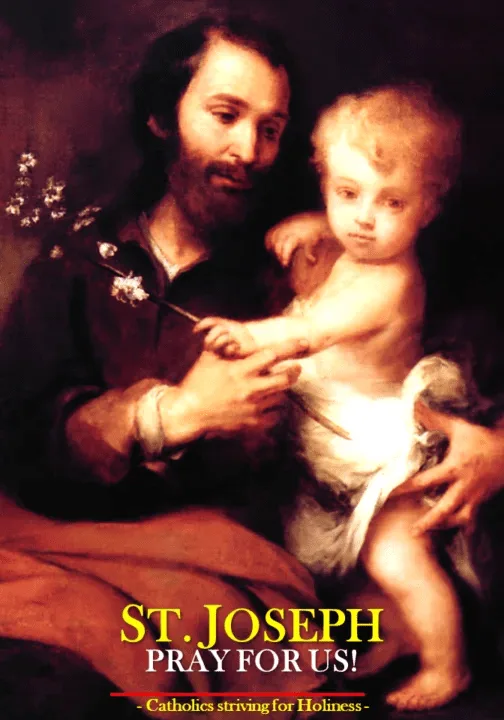 O GLORIOUS ST. JOSEPH
O glorious St. Joseph, faithful follower of Jesus Christ, to you we raise our hearts and hands to implore your powerful intercession in obtaining from the benign heart of Jesus all the help and graces necessary for our spiritual and temporal welfare, particularly for the grace of a happy death and the special favor we now request. (mention your request)
O guardian of the Word Incarnate, we feel animated with confidence that your prayers on our behalf will be graciously heard before the throne of God.O glorious St. Joseph, through the love you bear to Jesus Christ and for the glory of His name, hear our prayers and obtain our petitions Amen.
PRAYER OF ST. JOHN XXIII TO ST. JOSEPH FOR FATHERS
St. Joseph, guardian of Jesus and chaste husband of Mary,
you passed your life in loving fulfillment of duty.
You supported the holy family of Nazareth with the work of your hands.
Kindly protect all the fathers who trustingly come to you.
You know their aspirations, their hardships, their hopes.
They look to you because they know you will understand and protect them. You too knew trial, labor and weariness.
But amid the worries of material life your soul was full of deep peace and sang out in true joy through intimacy with God's Son entrusted to you and with Mary, his tender Mother. Assure those you protect that they do not labor alone. Teach them to find Jesus near them and to watch over him faithfully as you have done.
St. John XXIII
PRAYER OF THE UNEMPLOYED TO ST. JOSEPH
OSt. Joseph, we pray to you for those who are out of work, for those who want to earn their living or support their families
You who are the patron of workers grant that unemployment may vanish from our ranks; that all those who are ready to work may put their strength and abilities in serving their fellowmen and earn a just salary.
You are the patron of families; do not let those who have children to support and raise lack the necessary means. Have pity on our brothers and sisters held down in unemployment and poverty because of sickness or social disorders.
Help our political leaders and captains of industry find new and just solutions. May each and every one have the joy of contributing, according to his abilities, to the common prosperity by an honorable livelihood.
Grant that we may all share together in the abundant goods God has given us and that we may help underprivileged countries. Amen.
POPE FRANCIS' PRAYER FOR THE YEAR OF ST. JOSEPH
Hail, Guardian of the Redeemer,
Spouse of the Blessed Virgin Mary.
To you God entrusted his only Son;
in you Mary placed her trust;
with you Christ became man.
Blessed Joseph, to us too,
show yourself a father
and guide us in the path of life.
Obtain for us grace, mercy, and courage,
and defend us from every evil. Amen.
Stay updated: subscribe by email for free TO OUR NEW WEBSITE www.catholicsstrivingforholiness.org (PUT YOUR EMAIL IN THE SUBSCRIBE WIDGET).
We are also in www.fb.com/Catholicsstrivingforholiness. Kindly help more people in their Christian life by liking our page and inviting your family, friends and relatives to do so as well. Thanks in advance and God bless you and your loved ones! Fr. Rolly Arjonillo