SOLEMNITY OF THE SACRED HEART OF JESUS. Meaning of the Solemnity.
SOLEMNITY OF THE SACRED HEART OF JESUS.
Meaning of the Solemnity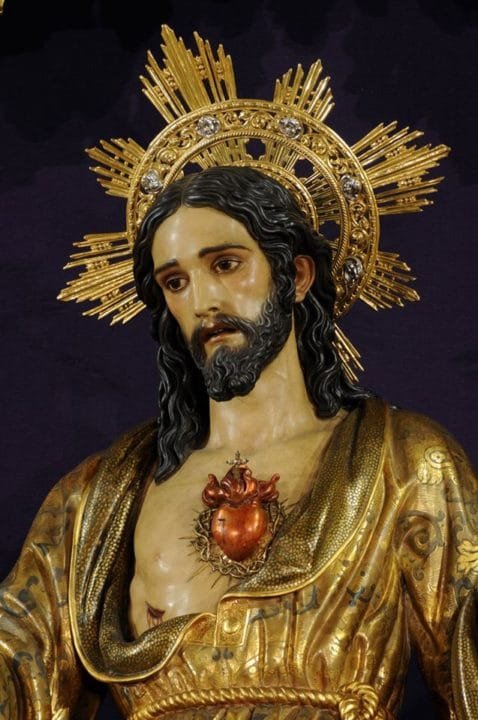 This coming Friday, we will be celebrating the Solemnity of the Sacred Heart of Jesus. Perhaps, the immediate question which follows is:
WHAT IS THE SOLEMNITY OF
THE SACRED HEART OF JESUS ALL ABOUT?
The Solemnity commemorates Jesus' immense love for us all with a human. As the CATECHISM OF THE CATHOLIC CHURCH teaches:
"Jesus knew and loved us each and all during his life, his agony and his Passion, and gave himself up for each one of us: 'The Son of God. . . loved me and gave himself for me.' HE HAS LOVED US ALL WITH A HUMAN HEART. FOR THIS REASON, THE SACRED HEART OF JESUS, PIERCED BY OUR SINS AND FOR OUR SALVATION, 'IS QUITE RIGHTLY CONSIDERED THE CHIEF SIGN AND SYMBOL OF THAT. . . LOVE WITH WHICH THE DIVINE REDEEMER CONTINUALLY LOVES THE ETERNAL FATHER AND ALL HUMAN BEINGS WITHOUT EXCEPTION (n. 478)."
"The prayer of the Church venerates and honors the Heart of Jesus just as it invokes his most holy name. IT ADORES THE INCARNATE WORD AND HIS HEART WHICH, OUT OF LOVE FOR MEN, HE ALLOWED TO BE PIERCED BY OUR SINS (n. 2669)."
With the abovementioned ideas, the solemnity consists in the ADORATION of the HEART of Our Lord Jesus, which is the CHIEF SIGN and SYMBOL of his CONTINUOUS, NEVER-ENDING AND MERCIFUL LOVE for ALL OF US, PIERCED BY OUR SINS AND FOR OUR SALVATION, acknowledging His continuous love for all of us by corresponding with love and at the same time offering acts of reparation for the offenses committed by the humanity against His Most Sacred Heart.
Hence, our preparation for this Friday's solemnity can be summed up into 2 words: LOVE and REPARATION
Let us thank Our Lord for His immense love for us not only with mere words but with concrete deeds of love and affection. And since love seeks union with the beloved, let us seek union with Jesus, dedicating sometime of DAILY CONVERSATION WITH HIM IN MENTAL PRAYER and RECEIVING HIM FREQUENTLY IN THE HOLY COMMUNION with the proper dispositions, asking Him that we want to REPAY LOVE WITH LOVE.
AVOID DURING THESE DAYS WHATEVER THOUGHT, WORD OR ACTION which might OFFEND the Sacred Heart of Jesus.
Let us also learn how to OFFER SACRIFICES IN REPARATION NOT ONLY FOR OUR SINS BUT ALSO THE SINS OF MANKIND. Small, constant and daily sacrifices, like:

BITING OUR TONGUE when we have nothing good to say, OFFERING UP CHEERFULLY AN ILLNESS, a headache, a tootache,..or an UNEXPECTED CHANGE OF PLANS, instead of complaining;
Making life pleasant for the others with small acts of service, done for love of God;
Living the virtue of order in our workplace, bedroom, etc. and so on.
Through the intercession of Our Immaculate Mother and St. Joseph, let us pray:
O God, who in the Heart of your Son, wounded by our sins, bestow on us in mercy the boundless treasures of your love, grant, we pray, that in paying him the homage of our devotion we may also offer worthy reparation. (Opening prayer, Mass of the Solemnity)
For today' Mass prayers and readings click on
Solemnity of the Most Sacred Heart of Jesus
Stay updated: subscribe by email for free TO OUR NEW WEBSITE www.catholicsstrivingforholiness.org (PUT YOUR EMAIL IN THE SUBSCRIBE WIDGET).
We are also in www.fb.com/Catholicsstrivingforholiness. Kindly help more people in their Christian life by liking our page and inviting your family, friends and relatives to do so as well. Thanks in advance and God bless you and your loved ones! Fr. Rolly Arjonillo