PREPARATION FOR SACRED HEART OF JESUS AND IMMACULATE HEART OF MARY. EXPIATION AND REPARATION FOR OUR SINS AND THOSE OF OTHERS.
PREPARATION FOR SACRED HEART OF JESUS AND IMMACULATE HEART OF MARY: EXPIATION AND REPARATION FOR OUR SINS AND THOSE OF OTHERS.
In our previous post, we mentioned that the Devotion to the Sacred Heart of Jesus can be summed up into 2 ideas: LOVE and REPARATION.
We are now going to deal with the necessity of EXPIATION or REPARATION for our sins and those of mankind, especially those committed against the Blessed Sacrament as requested by Our Lord to St. Margarita de Alacoque and in preparation for Sacred Heart solemnity. But first:
WHAT IS EXPIATION OR REPARATION?
TO "EXPIATE" IS TO "MAKE SATISFACTION FOR". This satisfaction is also called "penance". Our Lord Jesus Christ wishes that we have this spirit of penance not only after the sacrament of Confession but all throughout our life since Christian life involves carrying His Cross daily.
In order to understand this better, we should recall that our sins offend God and our neighbor. Human logic and understanding of justice requires then to do what is possible in order to repair the harm done (for example, restore the reputation of someone slandered, return stolen money or goods, pay compensation for injuries caused). One has to MAKE AMENDS for the offenses one has made even after having asked forgiveness. (Cfr. Catechism of the Catholic Church, n. 1459)
Moreover, ALTHOUGH THE SACRAMENTAL ABSOLUTION TAKES AWAY SIN, IT DOES NOT REMEDY THE DISORDERS CAUSED BY SIN. The absolution restores friendship with God "but TEMPORAL PUNISHMENT OF SIN REMAINS. (Catechism, n. 1473)"
HOW DO WE EXPIATE, REPAIR FOR OUR SINS AND THOSE OF OTHERS
We "should strive by WORKS OF MERCY AND CHARITY, as well as by PRAYER and THE VARIOUS PRACTICES OF PENANCE, to put off completely the "old man" and to put on the 'new man' (Catechism, n. 1473)"
WHAT ARE THE VARIOUS PRACTICES OF PENANCE?
All throughout the day we can make SMALL DAILY SACRIFICES OR MORTIFICATIONS like:
• Offering to Our Lord with joy one's tiredness, illness, traffic, heat, cold, headache, toothache…
• Smiling even if we don't want to,
• Being nice to a person whom we might not like
• Eating more of what we don't like, less of what we like
• Biting our tongue so as not to say things which can hurt other people
• Making acts of service even if we are exhausted,
• Offering hours of study and work well-done according to our capacity
• Making life pleasant for others, living the virtue of order
• And a lot more…!!!
WHAT ARE THE EFFECTS OF OUR DAILY SACRIFICES AS EXPIATION OR REPARATION FOR SINS?
Among the many effects of these small sacrifices all throughout the day always done out of love for God are, they:
• PURIFY our soul of the temporal punishment left by our sins;
• Help us acquire VIRTUES which are indispensable for holiness;
• Lead us to have more DOMINION of OURSELVES (self-control), and thus make us FREE from the slavery of our disordered passions like laziness, pride or sensuality etc.;
• Contribute to A PEACEFUL AND JOYFUL atmosphere around us;
• Make us CO-REDEEMERS WITH OUR LORD upon participating in His Passion, identifying ourselves with Him, who expiated with His Death, the sins of humanity;
• Make us LIVE COMMUNION OF SAINTS upon praying and offering sacrifices for others, alive or dead;
• Above all, they make us MORE PRAYERFUL AND SPIRITUAL leaving behind what is mundane and carnal; and thus, GROW IN OUR INTIMACY WITH GOD and DEMONSTRATE OUR LOVE FOR OUR LORD as well in a concrete manner, who loved us with a love which knows how to suffer and sacrifice itself for the good of souls.
Dear friends, the "CHRISTIAN VOCATION IS ONE OF SACRIFICE, PENANCE, EXPIATION. WE MUST MAKE REPARATION FOR OUR SINS — FOR THE MANY TIMES WE TURNED OUR FACE ASIDE SO AS TO AVOID THE GAZE OF GOD — AND ALL THE SINS OF MANKIND. We must try to imitate Christ, 'always carrying about in our body the dying of Christ,' his abnegation, his suffering on the cross, 'so that the life also of Jesus may be made manifest in our bodies.' OUR WAY IS ONE OF IMMOLATION AND, IN THIS DENIAL, WE FIND GAUDIUM CUM PACE, BOTH JOY AND PEACE (St. Josemaria, "Christ is Passing By," n. 9)."
Let us then ask Our Lady so that we may bear the sufferings we encounter during our daily life with joy and as reparation for our sins and those of mankind and that we be souls willing to sacrifice ourselves out of love for God and those around us.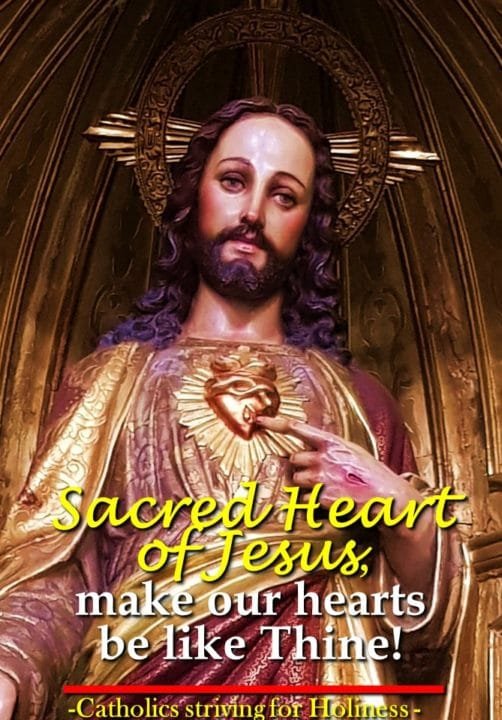 PHOTO SOURCE: http://www.catholictradition.org/Two-Hearts/scoeur7.jpg
For today' Mass prayers and readings click on
Solemnity of the Most Sacred Heart of Jesus
Stay updated: subscribe by email for free TO OUR NEW WEBSITE www.catholicsstrivingforholiness.org (PUT YOUR EMAIL IN THE SUBSCRIBE WIDGET).
We are also in www.fb.com/Catholicsstrivingforholiness. Kindly help more people in their Christian life by liking our page and inviting your family, friends and relatives to do so as well. Thanks in advance and God bless you and your loved ones! Fr. Rolly Arjonillo