Sept 8: THE NATIVITY OF THE BLESSED VIRGIN MARY. Happy Birthday, Dearest Mother Mary! Best with sound.
Sept 8:
THE NATIVITY OF THE BLESSED VIRGIN MARY.
Happy Birthday, Dearest Mother Mary!
Best with sound.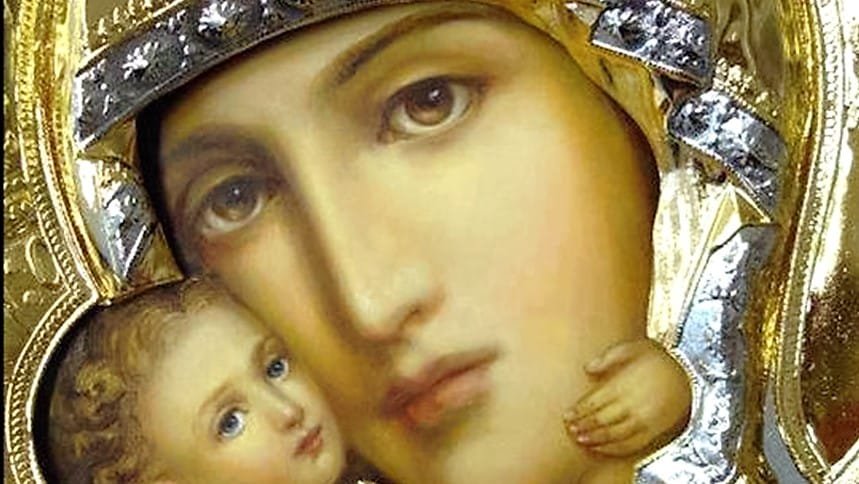 After having prepared ourselves during these days to offer details of affection to Our Lady, we have finally reached the feast of her Nativity, during which the entire Church joyfully celebrates the beginning of the Redemption of the entire humanity when, after a long period of waiting, she who was to be the Mother of our Savior was born.
The Blessed Virgin Mary occupies a unique role and place in the history of salvation. The Most Blessed Trinity has reserved for Mary the highest mission ever extolled to any creature. Through her generous "fiat" (Be it done!) to God's will, salvation has come into the world. For this reason, heaven and earth rejoice at her birth.
Although the Sacred Scripture does not give an account of Mary's birth, the Protoevangelium of James, written at the early years of the 2nd century, though not canonical, provides and reflects the development of Christian piety which maintained that St. Anne and St. Joachim (believed to be a wealthy member of the Twelve Tribes of Israel), grieved by their childlessness, prayed to God for a child. Their prayers were granted together with the promise that the child will commence God's plan of salvation for the world.
Today's feast may have originated somewhere in Syria or Palestine in the beginning of the sixth century when, after the Council of Ephesus, the devotion to the Mother of God was greatly intensified, especially in Syria. Her birth on the month of September may have been influenced by the fact that during this month, the Eastern Church begins its liturgical year.
Dear friends, "Let us celebrate with joy the Nativity of the Blessed Virgin Mary, for from her arose the sun of justice, Christ our God (Entrance Antiphon)." How? How do children celebrate the birthday of our mother? With a lot of diligent preparation moved by our great love and affection for her, we give our mothers presents which we think would make her happy: prayers for her, flowers, simple gifts which we could afford, details of affection, loving words…
Let us then think in our personal prayer what makes Our Lady happy convinced that mothers always want their children to call on her and be close with her; convinced that her utmost concern is that we, her children, may always be united with her Son Our Lord Jesus Christ. And let's do them out of our filial love, devotion and affection to our Mother in heaven.
Let us thank
the Most Blessed Trinity for giving us the
Blessed Virgin Mary as the Mother of Our Lord Jesus Christ and as our mother!
"Impart to your servants, we pray, O Lord, the gift of heavenly grace, that the feast of the Nativity of the Blessed Virgin may bring deeper peace to those for whom the birth of her Son was the dawning of salvation (Opening prayer, Mass proper)."
Let us thank Our Lady for her selfless, generous and total love and self-giving in carrying out God's Will thus cooperating in the redemption of the human race.
Blessed Virgin Mary, Mother of God,
Queen of peace and Help of Christians,
our sincere, filial love and gratitude for being
a mother to all of us! Heed our pleas for those who are suffering, for world peace and the conversion of sinners, as we fly to your patronage, convinced that your Immaculate Heart, as you have said, will triumph in the end.
HAPPY BIRTHDAY MOTHER MARY!
PREPARE AND PRESERVE THE WAY WHICH LEADS US TO YOUR SON, JESUS CHRIST!
A BIG, STRONG HUG AND KISS!
WE LOVE YOU VERY MUCH, MA!
-Fr. Rolly Arjonillo, priest of Opus Dei. CATHOLICS STRIVING FOR HOLINESS FB page and website. Hope you like our page and invite your friends as well to do so in order to help more people.
AUDIO SOURCE: "Ave Regina Coelorum (Hail Queen of Heaven)", Zefiron Marian Antiphons in archive.org (License Attribution-Noncommercial 3.0
Stay updated: subscribe by email for free TO OUR NEW WEBSITE www.catholicsstrivingforholiness.org (PUT YOUR EMAIL IN THE SUBSCRIBE WIDGET).
We are also in www.fb.com/Catholicsstrivingforholiness. Kindly help more people in their Christian life by liking our page and inviting your family, friends and relatives to do so as well. Thanks in advance and God bless you and your loved ones! Fr. Rolly Arjonillo