SAFEGUARD YOUR CATHOLIC FAITH! AVOID ACTIVITIES ORGANIZED BY SECTS.
SAFEGUARD YOUR
CATHOLIC FAITH!
AVOID ACTIVITIES
ORGANIZED BY SECTS.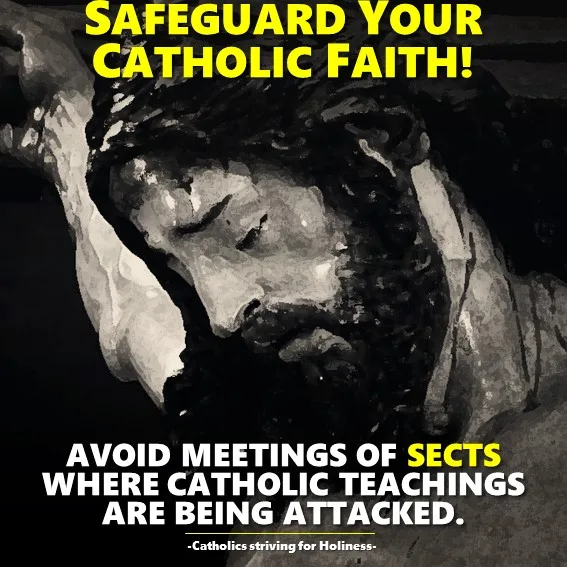 Dear brethren in Christ, as God's minister, I would like to encourage you to protect, defend and safeguard your Catholic faith.
We have to be prudent so as not to expose ourselves to danger and this applies as well to our Faith. As Catholics, the best defense is offense. How?
-We must try to grow in our DOCTRINAL FORMATION. There is a need to grow more in our understanding of our faith. That is why it is important to read the Holy Bible and the Catechism of the Catholic Church.
-This must also be accompanied by SPIRITUAL FORMATION, through prayer, frequent reception of Sacraments, and spiritual direction.
-At the same time, the necessity of DAILY STRUGGLE to live the CHRISTIAN VIRTUES is indispensable.
Nevertheless, we must not forget the importance of PRUDENCE. In the same manner as we avoid anything that would put us into danger, we must also avoid meetings and non-denominational Bible studies organized by sects and other Christian denominations especially when we know that the Catholic doctrine is being put to question, attacked or insulted.
This measure of prudence includes AVOIDING TV CHANNELS/PROGRAMS or RADIO PROGRAMS owned by SECTS which feature non-Catholic interpretation of the Holy Scriptures.
At first, you wouldn't notice it, as when a pot is put on a stove, but later on, it becomes hotter and begins to boil, and it's when they have put you into their pockets and you've ceased to become a Catholic.
We do not want this to happen so we must courteously say "no" to the proselytizing advances of our non-Catholic brethren. It is always better to attend CATHOLIC BIBLE STUDIES organized by your diocese, parish or other Catholic Church recognized and approved organizations like Couples for Christ etc. And turn to Catholic TV or radio programs like EWTN etc. (Note: I am not being paid by endorsing the above examples 😀 )

Let us pray daily for the fidelity of all Catholics to the One True Church founded by Our Lord Jesus Christ, the Catholic Church. Mother of the Church, Help of Christians, pray for us!
Have a great week ahead, friends! God bless! Fr. Rolly A.
SEE AS WELL:
TOP 10 REASONS WHY THE CATHOLIC CHURCH IS THE ONE, TRUE CHURCH FOUNDED BY OUR LORD JESUS CHRIST in https://catholicsstrivingforholiness.org/top-10-reasons-why-the-catholic-church-is-the-one-true-church-founded-by-jesus-christ-other-christian-groups-derive-their-elements-of-truth-from-the-fullness-of-the-catholic-church/
21 REASONS WHY THE "SCRIPTURES ALONE (SOLA SCRIPTURA)" IS UNBIBLICAL, MAN-MADE, ERRONEOUS AND MUST BE REJECTED in https://catholicsstrivingforholiness.org/twenty-one-reasons-to-reject-sola-scriptura-j-peters/
THE CATHOLIC CHURCH FOUNDED BY CHRIST HAS ALL THE NECESSARY MEANS FOR SALVATION. WHY SETTLE FOR LESS OR NONE BY JOINING OTHER GROUPS OR SECTS? in https://catholicsstrivingforholiness.org/the-catholic-church-the-true-church-founded-by-christ-why-settle-for-less-be-faithful-beware-of-the-false-prophets-and-sects/