IS THERE A PROBLEM IF CATHOLICS ATTEND PRAYER MEETINGS & "NON-DENOMINATIONAL" BIBLE STUDIES ORGANIZED BY SECTS? YES, THERE IS.
IS THERE A PROBLEM IF CATHOLICS ATTEND PRAYER MEETINGS & "NON-DENOMINATIONAL" BIBLE STUDIES ORGANIZED BY SECTS?
YES, THERE IS.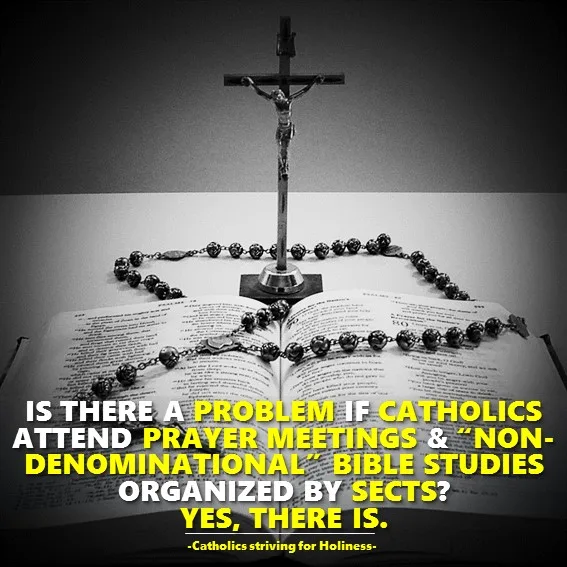 In a previous post regarding PRUDENCE in SAFEGUARDING OUR CATHOLIC FAITH by AVOIDING MEETINGS organized by SECTS where CATHOLIC TEACHINGS are being ATTACKED, a Catholic wrote a MISLEADING  AND ERRONEOUS COMMENT which could lead to GRAVE CONSEQUENCES:
"There is no problem attending meetings and Bible studies organized by Protestant sects in view of the directive of Vatican II's Decree in Ecumenism but,'the laity must not only be WELL-GROUNDED WITH THE CATHOLIC FAITH BUT ALSO WITH THE FAITH, DOCTRINE, PSYCHOLOGY AND OUTLOOK OF OUR SEPARATED BRETHREN AND A GENUINE DIALOGUE WITH THEM'. The laity must attend Catholic Bible Study sessions and Catechism classes for him/her to be prepared, as Saint Peter said, 'Always be ready to give an explanation to anyone who asks you for a reason for your hope with gentleness and reverence…' (1 Peter 3:15-16)."
HENCE, SO AS TO CLARIFY THE CORRECT CATHOLIC POSITION, below you have  MY REPLY which INCLUDES THE EXACT AND CORRECT QUOTE and CONTEXT of Vatican II's Decree on Ecumenism, Unitatis Redintegratio.
THERE IS NO PROBLEM, UNTIL THERE IS A PROBLEM. AND IN FACT THERE WERE, ARE AND WILL BE PROBLEMS as demonstrated by the fact that many Catholics were lost to sects and other denominations and a lot are in the process of losing their Catholic faith.
It's a MEASURE OF PRUDENCE and plain common sense to AVOID EXPOSING one's faith to dangers present in non-denominational Bible studies organized by sects where the premises of their Bible interpretation are very much different from the Catholic Church's premises.
Besides, THEIR MEETINGS ARE NEVER A SUBSTITUTE FOR THE HOLY MASS AND CATHOLICS SHOULD NOT RECEIVE COMMUNION IN THOSE PRAYER MEETINGS AS PRESCRIBED BY CANON LAW.
There are a lot of BIBLE STUDIES ORGANIZED BY CATHOLICS AND IT'S PLAIN COMMON SENSE  (again) FOR CATHOLICS TO ATTEND THEM RATHER THAN THOSE ORGANIZED BY SECTS or other denominations.
Furthermore, you wrongly cited the CONTEXT and the WORDS of the above text you took from Vatican Council II, Decree on Ecumenism, Unitatis Redintegratio. The text you cited refers to the PRAYERS "FOR UNITY" held on SPECIAL CIRCUMSTANCES and MEETINGS FOR THEOLOGICAL DIALOGUE between Catholics "WHO ALREADY HAVE THE PROPER GROUNDING" and non-Catholics and NOT THE WEEKLY PRAYER MEETINGS and BIBLE STUDIES TO WHICH THE POST REFERS TO. PREVIOUSLY it says: "Yet worship in common (communicatio in sacris) is not to be considered as a means to be used indiscriminately for the restoration of Christian unity. "
FOR THE GOOD OF THE READERS, and to CLARIFY POSSIBLE ERRONEOUS INTERPRETATIONS AND CONSEQUENCES OF YOUR COMMENT, the complete paragraphs taken from the Vatican website are as follows (BOLD AND CAPS MINE):
"All the faithful should remember that the more effort they make to live holier lives according to the Gospel, the better will they further Christian unity and put it into practice. For the closer their union with the Father, the Word, and the Spirit, the more deeply and easily will they be able to grow in mutual brotherly love.This change of heart and holiness of life, along with public and private prayer for the unity of Christians, should be regarded as the soul of the whole ecumenical movement, and merits the name, "spiritual ecumenism."It is a recognized custom for Catholics to have frequent recourse to that prayer for the unity of the Church which the Saviour Himself on the eve of His death so fervently appealed to His Father: "That they may all be one".(32)In CERTAIN SPECIAL CIRCUMSTANCES , such as the prescribed prayers "for unity," and during ecumenical gatherings, it is ALLOWABLE, indeed DESIRABLE that Catholics should join in prayer with their separated brethren. Such prayers in common are certainly an effective means of obtaining the grace of unity, and they are a true expression of the ties which still bind Catholics to their separated brethren. "For where two or three are gathered together in my name, there am I in the midst of them".(33)YET WORSHIP IN COMMON (communicatio in sacris) is NOT to be considered as a MEANS to be used INDISCRIMINATELY for the restoration of Christian unity. There are two main principles governing the practice of such common worship: first, the bearing witness to the unity of the Church, and second, the sharing in the means of grace. Witness to the unity of the Church very GENERALLY FORBIDS COMMON WORSHIP TO CHRISTIANS , but the grace to be had from it sometimes commends this practice. The course to be adopted, with due regard to all the circumstances of time, place, and persons, IS TO BE DECIDED BY THE LOCAL EPISCOPAL AUTHORITY is, unless otherwise provided for by the Bishops' Conference according to its statutes, or by the HOLY SEE9. We must get to know the outlook of our separated brethren. To achieve this purpose, STUDY IS OF NECESSITY REQUIRED, and this must be pursued with a sense of realism and good will. CATHOLICS, WHO ALREADY HAVE A PROPER GROUNDING, NEED TO ACQUIRE A MORE ADEQUATE UNDERSTANDING OF THE RESPECTIVE DOCTRINES OF OUR SEPARATED BRETHREN, THEIR HISTORY, THEIR SPIRITUAL AND LITURGICAL LIFE, THEIR RELIGIOUS PSYCHOLOGY AND GENERAL BACKGROUND. MOST VALUABLE FOR THIS PURPOSE ARE MEETINGS OF THE TWO SIDES – ESPECIALLY FOR DISCUSSION OF THEOLOGICAL PROBLEMS – WHERE EACH CAN DEAL WITH THE OTHER ON AN EQUAL FOOTING – PROVIDED THAT THOSE WHO TAKE PART IN THEM ARE TRULY COMPETENT AND HAVE THE APPROVAL OF THE BISHOPS. From such DIALOGUE will emerge still more clearly what the situation of the Catholic Church really is. In this way too the outlook of our separated brethren will be better understood, and our own belief more aptly explained." Unitatis Redintegratio, nn. 7-9.
Dear brethren in Christ, this measure of prudence of avoiding prayer meetings and bible studies organized by sects DOES NOT IN ANY WAY MEAN:
avoidance of dealing with our non-Catholic brethren,
nor does it encourage forming Catholic "ghettos",
nor a discriminating judgment against non-Catholics
nor an intellectual imprisonment on the part of the Catholics.
What would a mother do if she sees her child walking towards a cliff where he will surely fall into the abyss? What would you do if you were the mother or the father of that child? Run after the child to remove him from danger and impending death!
It's not just plain common sense, nor just of prudence, but also a matter of theological Faith and Love as well to SAFEGUARD OUR CATHOLIC FAITH: TO AVOID EXPOSING IT TO DANGERS WHERE OTHERS HAVE ALREADY FALLEN.
Needless to say that we must all employ the means to have a deeper and profound understanding of our Catholic Faith from Catholic sources, for the more we know and understand our faith, the more we will love it, and thus love God for as St. Augustine said: nihil volitum nisi cognitum, that is, one cannot love that which one does not know.
God bless you and your family! Fr. Rolly A.
SEE AS WELL:
SAFEGUARD YOUR CATHOLIC FAITH!  AVOID ACTIVITIES ORGANIZED BY SECTS in https://catholicsstrivingforholiness.org/safeguard-your-faith-avoid-activities-organized-by-sects/
21 REASONS WHY THE "SCRIPTURES ALONE (SOLA SCRIPTURA)" IS UNBIBLICAL, MAN-MADE, ERRONEOUS AND MUST BE REJECTED in https://catholicsstrivingforholiness.org/twenty-one-reasons-to-reject-sola-scriptura-j-peters/
TOP 10 REASONS WHY THE CATHOLIC CHURCH IS THE ONE, TRUE CHURCH FOUNDED BY OUR LORD JESUS CHRIST in https://catholicsstrivingforholiness.org/top-10-reasons-why-the-catholic-church-is-the-one-true-church-founded-by-jesus-christ-other-christian-groups-derive-their-elements-of-truth-from-the-fullness-of-the-catholic-church/
THE CATHOLIC CHURCH FOUNDED BY CHRIST HAS ALL THE NECESSARY MEANS FOR SALVATION. WHY SETTLE FOR LESS OR NONE BY JOINING OTHER GROUPS OR SECTS? in https://catholicsstrivingforholiness.org/the-catholic-church-the-true-church-founded-by-christ-why-settle-for-less-be-faithful-beware-of-the-false-prophets-and-sects/
ORIGINAL PHOTO SOURCE: https://upload.wikimedia.org/wikipedia/commons/3/31/Thebible33.jpg
Below you have a beautiful comment/testimony of another reader which I copied and pasted as it was written:
"I very well agree Catholic striving for Holiness because it happens to some of my friends who are Catholics and they convert to Born Again and some are they say Fellowship. They organize Bible study my friend of mine was invited that time and she told me that they explained very well and then in the end they attacked the Catholic faith and my friend have a little know how in the Catholic Bible and one question that she gain that nobody answer her is ,who is the founder of your church?then she told them for me I know who is the founder of our Catholic Church our Lord Jesus Christ who save us from our sin by giving fully His life to redeem us. And that time she never go again because before her Im the one they invited but I give excuses but my friend give it a try but before that I told her but she wants to experience so next time we meet she told me you're right. The only thing the fact that you accept their invitation but when we invite them to them no one accept just like they're scared to even step in the Church. I know the reason they dont accept is that Catholic Church is the real and true Church that our Lord Jesus the founder of the Catholic Church. I told my friend instead of going to their Bible study why not in Catholic Bible study now in some parishes in Singapore are conducting Bible study and thank God for the generous facilitator for giving their generous time to share their knowledge.now my friend when she meet those people instead of joining she encourage them to go back to their old Catholic faith. I'm so grateful to Catholic striving for Holiness for so many help and inspiration and knowledge to share to others. I want to be faithful to God and to my faith who gave me so much strength to overcome all my trials in life. Thats why I strive hard to live a holy life so I can help others who are the same fate of mine. To live Holy is what God wanted to us living happily and in harmony, full of love and peace. For me my faith and trust in God and let His will live in me and trust His providence and strive to live holy maybe the world will be like that we dream of, for our generation to come LOVE AND PEACE."