PRAY TO YOUR GUARDIAN ANGEL MANY TIMES DURING THE DAY!
PRAY TO YOUR GUARDIAN ANGEL MANY TIMES DURING THE DAY!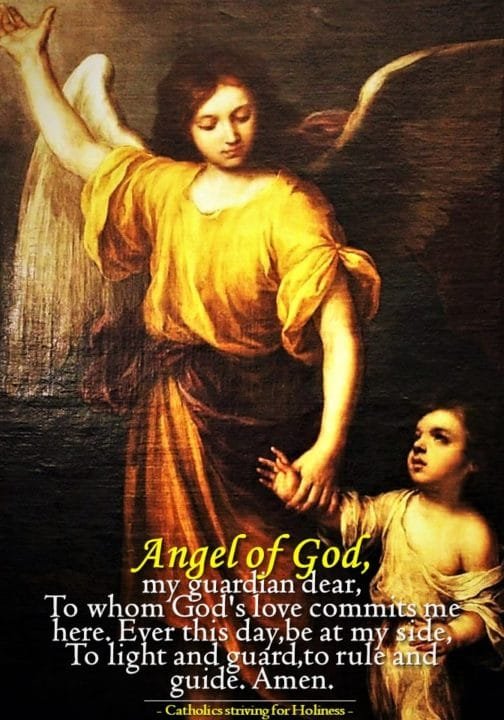 As a sign of His Loving Providence, God gave to each one of us a Guardian Angel to protect, guide and help us in our daily battles. Let us thank God for this and have a frequent recourse to our Guardian Angel by asking his help in our daily ordinary activities…when we travel, during temptations, when we want to find a parking space, etc…Guardian Angel, thank you for being with us always and for all the help and favors you have interceded on our behalf to God!
The Catechism of the Catholic Church n. 336 teaches that:
"From its beginning until death, human life is surrounded by their watchful care and intercession. 'Beside each believer stands an angel as protector and shepherd leading him to life.' Already here on earth the Christian life shares by faith in the blessed company of angels and men united in God."
We also read in the Gospel of St. Matthew 4:11, how the "angels came and ministered to" Jesus after during his 40-day sojourn in the desert. St. Josemaria comments:
"Let us look for a moment at this appearance of angels in Jesus' life, for it will help us to better understand their role — their angelic mission — in all human life. Christian tradition describes the guardian angels as powerful friends, placed by God alongside each one of us, to accompany us on our way. And that is why he invites us to make friends with them and get them to help us.
In suggesting that we meditate on these passages of the life of Christ, the Church reminds us that during Lent, when we recognize our sins, our wretchedness and our need for purification, there is also room for joy. Lent is a time for both bravery and joy; we have to fill ourselves with courage, for the grace of God will not fail us. God will be at our side and will send his angels to be our traveling companions, our prudent advisers along the way, our cooperators in all that we take on. The angels "will hold you up with their hands lest you should chance to trip on a stone," as the psalm says.
We must learn to speak to the angels. Turn to them now, tell your guardian angel that these spiritual waters of Lent will not flow off your soul but will go deep, because you are sorry. Ask them to take up to the Lord your good will, which, by the grace of God, has grown out of your wretchedness like a lily grown on a dunghill. Holy angels, our guardians: "defend us in battle so that we do not perish at the final judgment (Christ is Passing By, n. 63)."
Let us invoke daily our Guardian Angel to defend us in our daily battles against the wickedness of the enemy and help us choose the option which pleases God most!
Have a great week ahead! God bless you and your family! Fr. Rolly Arjonillo
SEE AS WELL: A BEAUTIFUL PRAYER TO THE GUARDIAN ANGEL HERE.
Stay updated: subscribe by email for free TO OUR NEW WEBSITE www.catholicsstrivingforholiness.org (PUT YOUR EMAIL IN THE SUBSCRIBE WIDGET).
We are also in www.fb.com/Catholicsstrivingforholiness. Kindly help more people in their Christian life by liking our page and inviting your family, friends and relatives to do so as well. Thanks in advance and God bless you and your loved ones! Fr. Rolly Arjonillo