POPE FRANCIS' REFLECTION ON THE 26TH SUNDAY IN ORDINARY TIME YEAR A ON THE PARABLE OF THE TWO SONS.
POPE FRANCIS' REFLECTION ON THE 26TH SUNDAY IN ORDINARY TIME YEAR A ON THE PARABLE OF THE TWO SONS.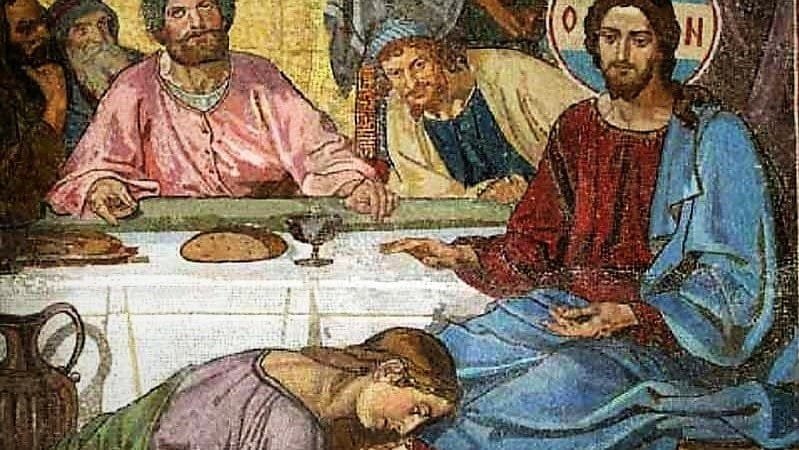 ANGELUS
Saint Peter's Square
26th Sunday in Ordinary Time Year A, 1st October 2023
________________________________________
Dear brothers and sisters,
Today, the Gospel speaks about two sons. Their father asks them to go to work in the vineyard (cf. Mt 21:28-32). One of them responds "yes", right away, but then does not go. The other, says "no", but then repents and goes.
What is there to say about the behaviour of these two? What quickly comes to mind is that going to work in the vineyard requires sacrifice, and sacrifice costs. This doesn't come naturally, even with the beauty of knowing they are sons and heirs. But the problem here is not so much connected that they resist going to work in the vineyard, as much as their sincerity, or lack thereof, with their father and with themselves. Even though neither of the sons behaves impeccably, one lies, while the other makes a mistake but remains sincere.
Let us look at the son who says "yes", but then does not go. He does not want to do the father's will, but neither does he want to get into a discussion or talk about it. Thus, he hides behind a "yes", behind a false willingness that hides his laziness and he saves face for the time being. He is a hypocrite. He gets by without conflict, but he cheats and deceives his father, disrespecting him in a way that is worse than had he responded with a blunt "no". The problem with someone who behaves like this is that he or she is not a sinner, but is corrupt because they lie with no difficulty to cover up and disguise their disobedience without welcoming any honest dialogue or feedback.
The other son, instead, who said "no" but then went, is sincere. He is not perfect, but sincere. Certainly, it would have been nice to hear him say "yes" right away. That did not happen, but at least he shows his reluctance clearly and, in a certain sense, courageously. That is, he takes responsibility for his behaviour and acts out in the open. Then, with this basic honesty, he ends up questioning himself until he understands he has made a mistake and retraces his steps. He is a sinner, we could say, but he is not corrupt. Pay close attention to this: this son is a sinner, but he is not corrupt. And there is always the hope of redemption for a sinner; for the corrupt, instead, it is much more difficult. In fact, the corrupt person's false "yesses", elegant but hypocritical façades and habitual false pretenses, are like a thick "rubber wall", behind which to take cover from qualms of conscience. And these hypocrites do so much evil! Brothers and sisters, sinners yes – all of us are – corrupt no! Sinners yes, corrupt no!
Let us look at ourselves now and, in the light of all this, ask ourselves some questions. When faced with the difficulty to live an honest and generous life, to dedicate myself to the will of the Father, am I willing to say "yes" each day, even if it costs? And when I fail, am I sincere before God about my difficulties, my failings, my weaknesses? And when I say "no", do I turn around after? Do we speak with the Lord about this? When I make a mistake, am I willing to repent and retrace my steps? Or do I pretend everything is okay and go through life wearing a mask, concerning myself only about appearing good and righteous? Finally, am I a sinner, like everyone, or is there something corrupt in me? Do not forget: sinners yes, corrupt no.
May Mary, mirror of holiness, help us be sincere Christians.
Source: https://www.vatican.va/content/francesco/en/angelus/2023/documents/20231001-angelus.html
Copyright © Dicastero per la Comunicazione – Libreria Editrice Vaticana
---
ANGELUS ADDRESS
26th Sunday in Ordinary Time Year A, 27 September 2020
---
Dear brothers and sisters, good morning!
In my land we say: "A good face in bad weather". With this "good face" I tell you: good morning!
With His preaching on the Kingdom of God, Jesus opposes a religiosity that does not involve human life, that does not question the conscience and its responsibility in the face of good and evil. This is also demonstrated by the parable of the two sons, which is offered to us in the Gospel of Matthew (cf. 21:28-32). To the father's invitation to go and work in the vineyard, the first son impulsively responds "no, I'm not going", but then he repents and goes; instead the second son, who immediately replies "yes, yes dad", does not actually do so; he doesn't go. Obedience does not consist of saying "yes" or "no", but always of acting, of cultivating the vineyard, of bringing about the Kingdom of God, in doing good. With this simple example, Jesus wants to go beyond a religion understood only as external and habitual practice, which does not affect people's lives and attitudes, a superficial religiosity, merely "ritual", in the ugly sense of the word.
The exponents of this "façade" of religiosity, of which Jesus disapproves, in that time were "the chief priests and the elders of the people" (Mt 21:23), who, according to the Lord's admonition, will be preceded in the Kingdom of God by "tax collectors and prostitutes" (see v. 31). Jesus tells them: "the tax collectors, meaning the sinners, and the harlots go into the kingdom of God before you". This affirmation must not induce us to think that those who do not follow God's commandments, those who do not follow morality, saying "In any case, those who go to Church are worse than us", do well. No, this is not Jesus' teaching. Jesus does not indicate publicans and prostitutes as models of life, but as "privileged of Grace". And I would like to underscore this word, "grace". Grace. Because conversion is always a grace. A grace that God offers to anyone who opens up and converts to Him. Indeed, these people, listening to his preaching, repented and changed their lives. Let us think of Matthew, for example. Saint Matthew, who was a publican, a traitor to his homeland.In today's Gospel, the one who makes the best impression is the first brother, not because he said "no" to his father, but because after his "no" he converted to "yes", he repented. God is patient with each of us: He does not tire, He does not desist after our "no"; He leaves us free even to distance ourselves from Him and to make mistakes. Thinking about God's patience is wonderful! How the Lord always waits for us; He is always beside us to help us; but He respects our freedom. And He anxiously awaits our "yes", so as to welcome us anew in His fatherly arms and to fill us with His boundless mercy. Faith in God asks us to renew every day the choice of good over evil, the choice of the truth rather than lies, the choice of love for our neighbour over selfishness. Those who convert to this choice, after having experienced sin, will find the first places in the Kingdom of heaven, where there is greater joy for a single sinner who converts than for ninety-nine righteous people (see Lk 15: 7).
But conversion, changing the heart, is a process, a process that purifies us from moral encrustations. And at times it is a painful process, because there is no path of holiness without some sacrifice and without a spiritual battle. Battling for good; battling so as not to fall into temptation; doing for our part what we can, to arrive at living in the peace and joy of the Beatitudes. Today's Gospel passage calls into question the way of living a Christian life, which is not made up of dreams and beautiful aspirations, but of concrete commitments, in order to open ourselves ever more to God's will and to love for our brothers and sisters. But this, even the smallest concrete commitment, cannot be made without grace. Conversion is a grace we must always ask for: "Lord, give me the grace to improve. Give me the grace to be a good Christian".
May Mary Most Holy help us to be docile to the action of the Holy Spirit. He is the One who melts the hardness of hearts and disposes them to repentance, so we may obtain the life and salvation promised by Jesus.
SOURCE: http://w2.vatican.va/content/francesco/en/angelus/2020/documents/papa-francesco_angelus_20200927.html
EMPHASIS MINE.
Stay updated: subscribe by email for free TO OUR NEW WEBSITE www.catholicsstrivingforholiness.org (PUT YOUR EMAIL IN THE SUBSCRIBE WIDGET).
We are also in www.fb.com/Catholicsstrivingforholiness. Kindly help more people in their Christian life by liking our page and inviting your family, friends and relatives to do so as well. Thanks in advance and God bless you and your loved ones! Fr. Rolly Arjonillo