POPE FRANCIS' PRAYER TO THE IMMACULATE CONCEPTION OF MARY
POPE FRANCIS' PRAYER TO THE IMMACULATE CONCEPTION OF MARY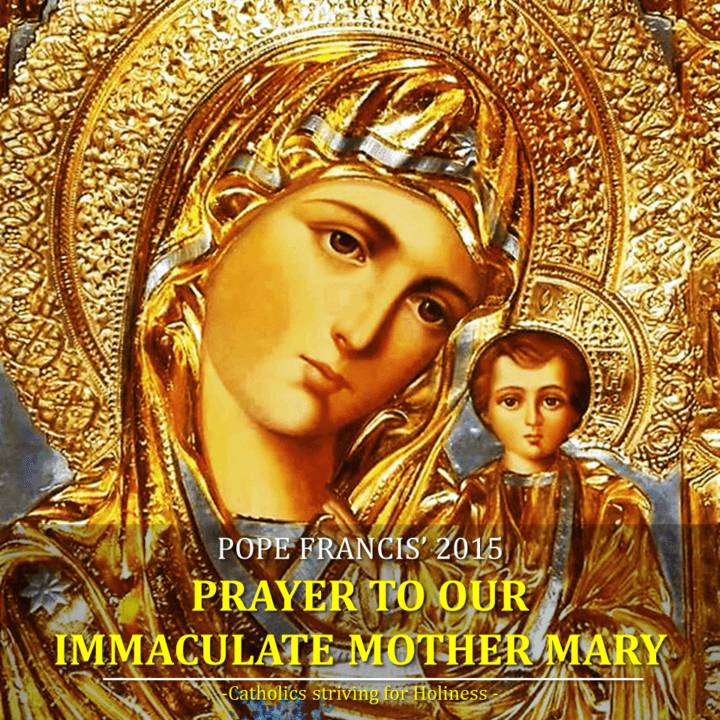 This is Pope Francis' beautiful prayer said during the offering of flowers and coronation of the Immaculate Conception statue at Piazza Spagna in Rome on Dec. 8, 2015 which we could pray as well to Our Lady during today's solemnity.
Virgin Mother,
On this day, the feast of your Immaculate Conception,
I pay homage to you in faith and love
On behalf of God's holy people who live in this city and diocese.
I come before you in the name of families, with their joys and troubles;
On behalf of children and young people, exposed to life's challenges;
On behalf of the elderly, laden with age and years of experience;
I come especially
On behalf of the sick, the imprisoned,
And those who struggle.
As a leader I also come here for the sake of all those
Who have come from far-away lands in search of peace and work.
There is space for everyone beneath your cloak,
Because you are the Mother of Mercy.
Your heart is full of tenderness towards all your children:
The tenderness of God, who, by you, became incarnate
And became our brother, Jesus,
Saviour of every man and every woman.
Looking at you, Our Immaculate Mother,
We see the victory of divine mercy
Over sin and all its consequences;
And hope for a better life is reignited within us,
Free from slavery, rancor and fear.
Here, today, in the heart of Rome, we hear your motherly voice
Calling all of us to walk towards that door,
Which represents Christ.
You say to everyone: "Come, come closer, faithful ones;
Enter and receive the gift of mercy;
Do not be afraid, do not be ashamed:
The Father awaits you with open arms.
He will forgive and welcome you into his house.
Come, all those in search of peace and joy".
We thank you, Immaculate Mother,
Because you do not make us walk along this path alone;
You guide us,
You are near us and help us through every difficulty.
May God bless you, now and forever. Amen.
POPE FRANCIS' PRAYER TO THE IMMACULATE CONCEPTION VIDEO
SEE AS WELL:
---
WATCH. BEST WITH SOUND.
***
Please do us the kind favor to like our Facebook page and share our posts so we could reach and help more people.
Thanks and God bless!
Fr. Rolly Arjonillo, Catholics striving for holiness.
AUDIO CREDIT AND SOURCE: Thomas Tallis – Videte Miraculum by The Tudor Consort is licensed under a Attribution License in http://freemusicarchive.org/music/The_Tudor_Consort/~/03_Videte_Miraculum_-_Tallis
PHOTO SOURCE: Photos downloaded from pinterest. com. Unfortunately, I wasn't able to save their original sources. Will add sources once I have them. No copyright infringement intended. Photos used for didactic and non-commercial purposes.
Stay updated: subscribe by email for free TO OUR NEW WEBSITE www.catholicsstrivingforholiness.org (PUT YOUR EMAIL IN THE SUBSCRIBE WIDGET).
We are also in www.fb.com/Catholicsstrivingforholiness. Kindly help more people in their Christian life by liking our page and inviting your family, friends and relatives to do so as well. Thanks in advance and God bless you and your loved ones! Fr. Rolly Arjonillo