DEC. 8: IMMACULATE CONCEPTION OF MARY GOSPEL, COMMENTARY AND REFLECTION.
DEC. 8: IMMACULATE CONCEPTION OF MARY GOSPEL, COMMENTARY AND REFLECTION.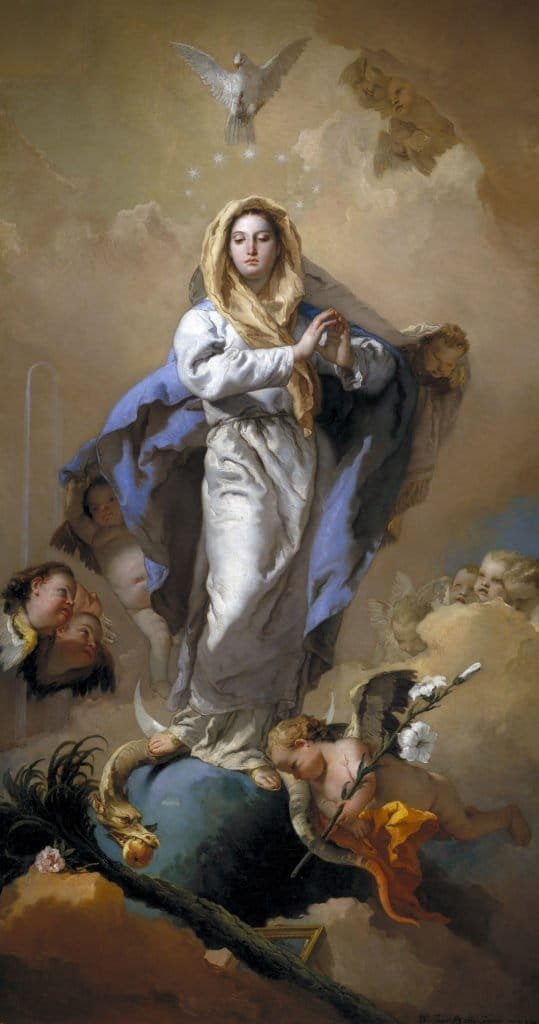 Gospel of the Solemnity of the Immaculate Conception
(Lk 1:26–38)."
"The angel Gabriel was sent from God to a town of Galilee called Nazareth, to a virgin betrothed to a man named Joseph, of the house of David, and the virgin's name was Mary. And coming to her, he said, 'Hail, full of grace! The Lord is with you.' But she was greatly troubled at what was said and pondered what sort of greeting this might be. Then the angel said to her, 'Do not be afraid, Mary, for you have found favor with God. Behold, you will conceive in your womb and bear a son, and you shall name him Jesus. He will be great and will be called Son of the Most High, and the Lord God will give him the throne of David his father, and he will rule over the house of Jacob forever, and of his Kingdom there will be no end.' But Mary said to the angel, 'How can this be, since I have no relations with a man?' And the angel said to her in reply, 'The Holy Spirit will come upon you, and the power of the Most High will overshadow you. Therefore the child to be born will be called holy, the Son of God. And behold, Elizabeth, your relative, has also conceived a son in her old age, and this is the sixth month for her who was called barren; for nothing will be impossible for God.' Mary said, 'Behold, I am the handmaid of the Lord. May it be done to me according to your word.' Then the angel departed from her (Lk 1:26–38)."
GOSPEL COMMENTARY

FROM POPE FRANCIS

Dear friends, Happy Solemnity of the Immaculate Conception of the Blessed Virgin Mary!

In the Gospel of today's Mass, we contemplate our Lady who was "enriched from the first instant of her conception with the splendour of an entirely unique holiness; . . . the virgin of Nazareth is hailed by the heralding angel, by divine command, as 'full of grace' (cf. Lk 1:28), and to the heavenly messenger she replies, 'Behold the handmaid of the Lord, be it done unto me according to thy word' (Lk 1:38).

In His 2018 Angelus Address on today's solemnity, Pope Francis said the following inspiring words (emphasis mine):

"Today the Word of God presents us with an alternative. In the first reading there is the man who, at the origin, says no to God, and in the Gospel there is Mary who, at the Annunciation, says yes to God. In both readings it is God who seeks mankind. But in the first case God goes to Adam, after the sin, and asks him: "Where are you?" (Gen 3:9), and Adam responds: "I hid myself" (v. 10). In the second case, however, God goes to Mary, without sin, who responds: "Behold, I am the handmaid of the Lord" (Lk 1:38). Here I am is the opposite of I hid myself. Here I am opens one to God, while sin closes, isolates, causes one to be alone with oneself.

Here I am is the key phrase for life. It marks the passage from a horizontal life, centred on oneself and one's own needs, to a vertical life, ascending toward God. Here I am is being available to the Lord; it is the cure for selfishness, the antidote to a dissatisfied life, which is always lacking something. Here I am is the remedy against the aging of sin; it is the therapy for staying young within. Here I am is believing that God counts more than my 'me'. It is choosing to bet on the Lord, docile to his surprises. This is why saying here I am to him is the highest praise we can offer him. Why not begin our days with a 'here I am, Lord'? It would be beautiful to say each morning: "Here I am, Lord, today let your will be done in me". We will say it in praying the Angelus, but we can repeat it now, together. Here I am, Lord, today let your will be done in me!

Mary adds: "Let it be to me according to your word". She does not say "let it be done as I want", but "as You will". She does not place any limitations on God. She does not think: "I will dedicate myself partly to him, I will deal with it and then I will do what I want". No, Mary does not love the Lord when she feels like it, off and on. She lives by entrusting herself to God in all things and for all things. This is the secret of life. One who trusts God in everything can do everything. However, the Lord, dear brothers and sisters, suffers when we respond to him as Adam did: "I was afraid, and I hid myself". God is Father, the most tender of fathers, and desires his children's trust.

How often, instead, do we mistrust him; we mistrust God! We think that he might send us some trial, deprive us of freedom, abandon us. But this is a great mistake; it is the temptation of the origins, the temptation of the devil: weaving mistrust in God. Mary overcomes this first temptation with her here I am. And today we look at the beauty of Our Lady, born and lived without sin, ever docile and transparent to God.

This does not mean that life was easy for her, no. Being with God does not magically resolve problems. The conclusion of today's Gospel passage recalls it: "the angel departed from her" (v. 38). He departed: it is a strong verb. The Angel left the Virgin alone in a difficult situation. She knew the special way in which she would become the Mother of God — the Angel had said so — but the Angel had not explained it to others, only to her. And problems began immediately: let us imagine the irregular situation according to law, to Saint Joseph's torment, the life plan tossed aside, what the people would have said…. But faced with problems, Mary places her trust in God. She is left by the Angel, but believes that God remains with her, in her. And she trusts. She trusts in God. She is certain that with the Lord, even if in an unexpected way, everything will be fine. This is the wise approach: not to live depending on problems — when one ends, another appears! — but by trusting God and entrusting every day to him: here I am! "Here I am" is the phrase. "Here I am" is the prayer. Let us ask the Immaculate for the grace to live this way."

Truly let us ask God through the intercession of Mary, Mother Immaculate, to have this constant disposition renewed daily: Behold the handmaid of the Lord, be it done unto me according to Thy Word.

VIDEO COMMENTARY
TOPIC: WHY SHOULD THE IMMACULATE CONCEPTION OF THE BLESSED Virgin MARY MATTER TO YOU?

1st Reading Genesis 3:9-15, 20
Responsorial Psalm Psalms 98:1, 2-3AB, 3CD-4
2nd Reading Ephesians 1:3-6, 11-12
Alleluia Luke 1:28
Gospel Luke 1:26-38

The doctrine of the Immaculate Conception is one of the most difficult hurdles for non-Catholics. It is about our Blessed Mother being born without the stain of original sin. Today's feast reminds us that our Blessed Mother should serve as our inspiration of self-giving.

She is also our intercessor. While Jesus is the direct mediator to God (1 Timothy 2:5), don't we always ask people to pray for us? If so, all the more we should ask our Mother and the saints to intercede for us (James 5:16, 2 Thessalonians 3:1, Romans 15:30, Revelations 8:3-4).
VIDEO COMMENTARY
Topic: DOES THE FEAST OF THE SOLEMNITY OF THE IMMACULATE CONCEPTION ON DEC 8 MEAN THAT JESUS WAS CONCEIVED ON THIS DAY AND BORN SEVENTEEN DAYS LATER?
We celebrate today the Feast of the Solemnity of the Immaculate Conception of the Blessed Virgin Mary. It is often mistaken to be the Blessed Mother's virgin birth of Jesus or the Incarnation of Jesus Christ itself. To refresh, the incarnation of Jesus is the conception of Jesus in the womb of our Blessed Mother, Jesus being of divine nature and becoming human through her. This feast is all about commemorating Mary's having been conceived by Anna, her mother, in a state free from sin because she will become the mother of Jesus. God exempted her from the original sin that we all inherited from Adam and Eve. This is based partly on the words of the angel Gabriel to Mary in Luke 1:28, "Hail, full of grace."
---
SEE AS WELL:
IMMACULATE CONCEPTION MASS PRAYERS AND READINGS HERE.
REFLECTION HOMILY ON THE IMMACULATE CONCEPTION HERE.
POPE FRANCIS' REFLECTION ON THE IMMACULATE CONCEPTION HERE.
---
Stay updated: subscribe by email for free TO OUR NEW WEBSITE www.catholicsstrivingforholiness.org (PUT YOUR EMAIL IN THE SUBSCRIBE WIDGET).
We are also in www.fb.com/Catholicsstrivingforholiness. Kindly help more people in their Christian life by liking our page and inviting your family, friends and relatives to do so as well. Thanks in advance and God bless you and your loved ones! Fr. Rolly Arjonillo