Oct. 2: FEAST OF THE HOLY GUARDIAN ANGELS. AV insight summary and text.
Oct. 2:
FEAST OF THE HOLY GUARDIAN ANGELS
Love your Guardian Angel and ask his help daily!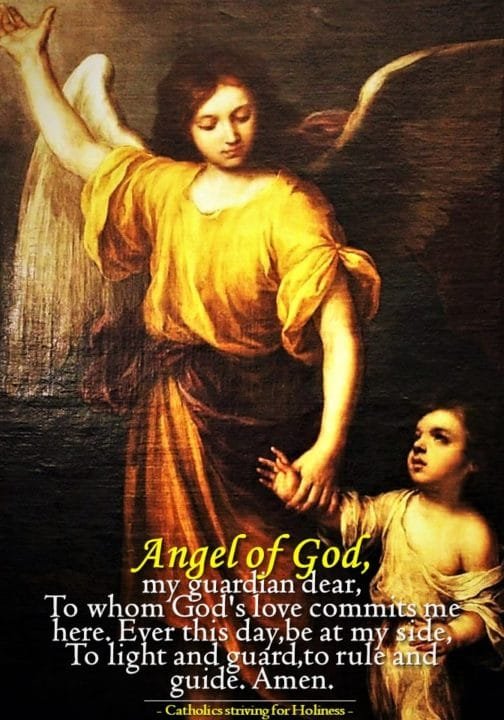 "Angels of the Lord, bless the Lord, praise and exalt him above all forever!"
As we pray in the Entrance Antiphon of today's Mass when the entire Church, basing Herself on the Sacred Scriptures, celebrates the memorial/feast (in some places) of the Holy Guardian Angels. Our Mother Church believes that God, out of His Loving Providence, has given each person his own Guardian Angel.
The HOLY GUARDIAN ANGELS, tangible proof of God's love for us, are GOD'S SERVANTS and MESSENGERS whose MISSION is:
to TAKE CARE OF OUR MATERIAL AND SPIRITUAL NECESSITIES;
to PROTECT us from harm;
to SHOW us God's will and HELP us fulfill it;
and, to GUIDE us along the right path which leads us to heaven.
The Holy Bible is full of narrations involving the special intervention of angels. A few examples are as follows: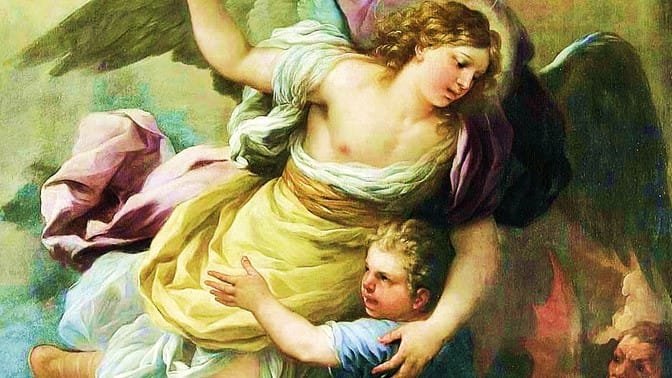 Faith in the mission of the angels to protect individual persons is led Israel to exclaim when he blessed his grandchildren, the sons of Joseph: "May the angel who redeemed me from all evil bless them (Gen 48:16)."
The First Reading of the Mass recalls what Our Lord told Moses: "Behold, I send an angel before you, to guard you on the way and to bring you to the place which I have prepared (Ex 23:20-23)." These our words which God directs to each one of us as well.
The New Testament encourages us to have recourse to our Guardian Angel and imitate the naturalness with which the first Christians dealt with the angels. Remember how the Angels came down and helped Our Lord after his temptations in the desert? Or how St. Peter and St. Paul miraculously left the prison with the help of the Angels…?
Dear friends, DO WE HAVE DAILY RECOURSE AND ASK THE HELP OF OUR FRIEND-PROTECTOR, OUR OWN GUARDIAN ANGEL? DO WE DAILY SAY TO HIM THE PRAYER WE HAVE LEARNED AS A CHILD?
Angel of God, my Guardian dear, to whom His love commits me here, ever this day (or night) be at my side, to light and guard, to rule and guide. Amen.
St. Josemaria said:
"You seemed amazed because your guardian angel has done so many obvious favours for you. But you shouldn't be: That's why Our Lord has placed him at your side (The Way, 565)."
DO WE TREAT HIM WITH RESPECT AND FAMILIARITY AT THE SAME TIME?
I have always advised the young and not so young alike, learning from the pious example of St. Josemaria, founder of Opus Dei (today we celebrate as well its foundation day) and St. Pio of Pietrelcina (Padre Pio) as well, TO GIVE THEIR GUARDIAN ANGEL HIS OWN NAME -AS LONG AS IT IS DONE WITH AFFECTION (as we fondly call our loved ones with nicknames) AND RESPECT AND NOT A SIGN OF AUTHORITY OR SUPERIORITY OVER THEM FOR THEY ARE FAR SUPERIOR TO US IN MANY WAYS- so that they could easily deal with Him with more friendship, familiarity and naturalness.
WITH THE AFOREMENTIONED IDEAS IN MIND –and in my humble opinion- YOU MAY GIVE YOURS A NAME AS WELL, IF YOU WANT TO as long as it's a beautiful Christian name, a sign of affection, respect and friendship and if you think that it will facilitate a more personal dealing with him. But again, if you do it with the intention to show your AUTHORITY OR SUPERIORITY over him as if he were below you, then it is not right to do so and on this regard, naming the Angels is "discouraged" by the Church to avoid possible deviations on popular piety (Cf. Directory on Popular Piety n. 217). AND DON'T FORGET ASK HIS HELP DAILY IN ALL YOUR MATERIAL AND SPIRITUAL NEEDS!
God our Father, in your loving providence send your angels to watch over us. Hear our prayers and defend us always through their protection. Let us share your life with them forever
(Opening Prayer, Mass proper).
FOR THE MASS PRAYERS AND READINGS OF THE GUARDIAN ANGELS, CLICK ON THE LINK https://catholicsstrivingforholiness.org/oct-2-the-guardian-angels-mass-prayers-and-readings/
Stay updated: subscribe by email for free TO OUR NEW WEBSITE www.catholicsstrivingforholiness.org (PUT YOUR EMAIL IN THE SUBSCRIBE WIDGET).
We are also in www.fb.com/Catholicsstrivingforholiness. Kindly help more people in their Christian life by liking our page and inviting your family, friends and relatives to do so as well. Thanks in advance and God bless you and your loved ones! Fr. Rolly Arjonillo
AUDIO CREDIT, "Cantate Domino" (Josh Elberdin) by the Philippine Madrigal Singers sung in Tovo Sant'Agata, Italy, 2014/6/16 La Fabbrica del Canto, recorded and uploaded by Tin Chen in https://www.youtube.com/watch?v=HHBLesPJ6DE.
The Philippine Madrigal Singers is a world-renowned choir which throughout these decades has garnered top prizes in the most prestigious international choral competitions. Recently, it won the Grand Prix prize at the 2016 Arezzo International Choral Competition, giving them the right to participate in the prestigious European Grand Prix -which they have already won twice in 1997 and 2007 being the first choir to achieve such feat-, to be held in Tolosa, Spain next year.
Its choirmaster is Mark Anthony Carpio, a world-renowned choirmaster and personal friend as well. He gave me permission to use the track for this video. Thanks a lot, Mark! And more power to all of the Philippine Madrigal Singers!
PHOTO SOURCE: Bartolomé Esteban Murillo, Ángel de la Guarda, in http://3.bp.blogspot.com/-Oik1staZC_k/UzL_QO5ATfI/AAAAAAAACjc/7L2fD3MUtVE/s1600/angelguarda_murillo_1665_catedral_sevilla_ret.jpg
Stay updated: subscribe by email for free TO OUR NEW WEBSITE www.catholicsstrivingforholiness.org (PUT YOUR EMAIL IN THE SUBSCRIBE WIDGET).
We are also in www.fb.com/Catholicsstrivingforholiness. Kindly help more people in their Christian life by liking our page and inviting your family, friends and relatives to do so as well. Thanks in advance and God bless you and your loved ones! Fr. Rolly Arjonillo