MOCKED FOR LIVING YOUR CATHOLIC FAITH? Read this.
MOCKED FOR LIVING YOUR CATHOLIC FAITH?
Read this.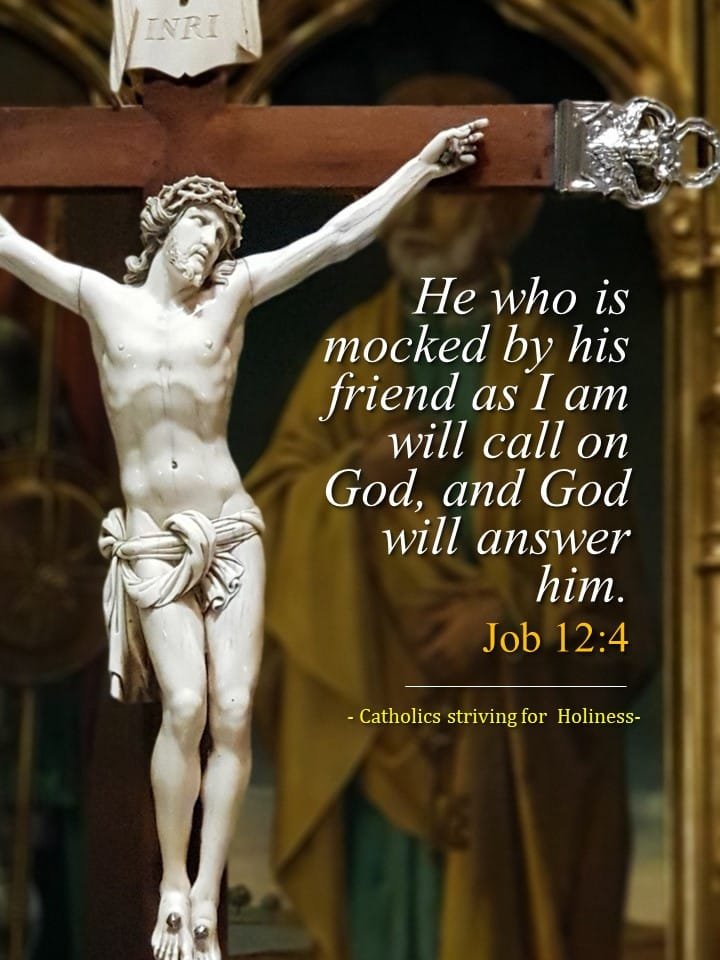 The interior witness
by Pope St Gregory the Great (The Moral Reflections on Job)
He who is mocked by his friend as I am will call on God, and God will answer him. Often the frail mind, when it gains a good reputation among people for the good actions it has performed, dissipates itself in outward delights, thus putting to one side what it inwardly desires and sprawling happily in the luxury of hearing good things said about it. It is not becoming blessed that makes it happy, but being called blessed by other people. As it longs for the applause, so it abandons the very thing it was beginning to be. What made it deserving of praise in God ended up separating this weak soul from God.
  Sometimes, on the other hand, the soul perseveres in good works with constancy, and yet is buffeted by derision; it does great things but receives only abuse for them. In the end he who might have come out of himself, given praise, is thrown back into himself by insults. Thus he establishes himself more firmly in God, since outside there is no rest for him. All his hope is fixed in his creator and amongst external ridicule and abuse he wants only the good opinion of the interior witness. The further he is pushed out of human favour, the closer a neighbour he becomes to God. He pours himself out in prayer and, under attack from without, is refined with a more perfect purity so as to enter more deeply into all that is interior.
  So it is well said that He who is mocked by his friend as I am will call on God, and God will answer him. The good may be reproached by the wicked, yet they are showing them whom to seek as witness of their actions. While the soul is strengthening itself in prayer, it is uniting itself within itself in the hearing of the Most High by the very act which severs it from the approval of those around it.  But that "mocked by his friend as I am" is important. Some people are indeed downcast at the ridicule of their fellow-men, but not as Job was: they are not the kind of men to be heard by the ears of God. When the ridicule they receive comes from their sin and not their virtue, they will get no virtuous merit from that derision.
  For the righteous man's simplicity is laughed to scorn. It is the wisdom of this world to conceal one's feelings behind pretence and veil one's meaning with words, to show things that are false to be true and to show what is true to be fallacious.
  It is the wisdom of the righteous, on the other hand, to have no pretence, to use words to mean and not to hide meaning, to love the truth as it is and to avoid falsehood; to do good free of charge and to bear evil more gladly than to do evil; to treat a bad reputation resulting from faithfulness and truth as a reward and not a curse. But this simplicity of the righteous is laughed at, because the virtue of purity is considered to be folly by the wise of this world. Whatever is done in innocence seems to them to have been done in foolishness, and whatever act is commended by faithfulness seems nothing but weakness in the sight of worldly wisdom.
Stay updated: subscribe by email for free TO OUR NEW WEBSITE www.catholicsstrivingforholiness.org (PUT YOUR EMAIL IN THE SUBSCRIBE WIDGET).
We are also in www.fb.com/Catholicsstrivingforholiness. Kindly help more people in their Christian life by liking our page and inviting your family, friends and relatives to do so as well. Thanks in advance and God bless you and your loved ones! Fr. Rolly Arjonillo