DAILY GOSPEL COMMENTARY: JESUS' AUTHORITY (Mk 11:27-33).
Saturday in the 8th week of Ordinary Time
DAILY GOSPEL COMMENTARY:
JESUS' AUTHORITY (Mk 11:27-33).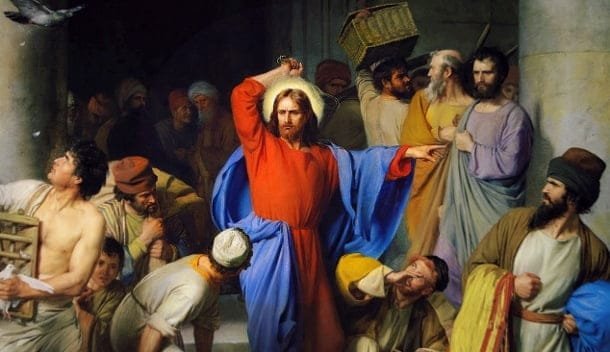 GOSPEL
Mk 11:27-33
[They came to Jerusalem, and on entering the temple area he began to drive out those selling and buying there. He overturned the tables of the money changers and the seats of those who were selling doves. He did not permit anyone to carry anything through the temple area. Then he taught them saying, "Is it not written: My house shall be called a house of prayer for all peoples? But you have made it a den of thieves."]
Jesus and his disciples returned once more to Jerusalem. As he was walking in the temple area, the chief priests, the scribes, and the elders approached him and said to him, "By what authority are you doing these things? Or who gave you this authority to do them?" Jesus said to them, "I shall ask you one question. Answer me, and I will tell you by what authority I do these things.  Was John's baptism of heavenly or of human origin? Answer me." They discussed this among themselves and said, "If we say, 'Of heavenly origin,' he will say, 'Then why did you not believe him?' But shall we say, 'Of human origin'?"– they feared the crowd, for they all thought John really was a prophet. So they said to Jesus in reply, "We do not know." Then Jesus said to them, "Neither shall I tell you by what authority I do these things."
Commentary from the Navarre Bible, St. Mark, (with permission)
27-33 Those who put this question to Jesus are the same people as, some days earlier, sought to destroy him (cf. Mk 11:18). They represent the official Judaism of the period (cf. note on Mt 2:4).

Jesus had already given proofs and signs of being the Messiah, in his miracles and preaching; and St John the Baptist had borne witness about who Jesus was.
This is why, before replying our Lord asks them to recognize the truth proclaimed by the Precursor. But they do not want to accept this truth; nor do they want to reject it publicly, out of fear of the people. Since they are not ready to admit their mistake, any further explanation Jesus might offer would serve no purpose.
---
With what authority are you doing this? Jesus answers this question from the religious leaders of Israel with an analogous question regarding John the Baptist. The salvific action of Jesus is not admitted, because authority does not come from the hierarchy of Israel. Jesus' argumentation reveals the irrationality of such a position, leading his opponents to absurdity. Indeed, if the Jews recognized, when asked by Jesus, that John's baptism was from God, then they showed themselves to be sinners. they had rejected; But if they said that it belonged to men, the people would jump on them, since they highly esteemed John the Baptist. Faced with this dilemma, they opt for silence: "we don't know." But in this shameful retreat, they remain closed to the truth. And the truth is that God's saving action is not at the mercy of human authority. It is from God and manifests as He chooses, and to Him we must obey and submit.
VIDEO COMMENTARY TOPIC: DO YOU SIN WHEN YOU GET ANGRY?1
In today's gospel reading, Jesus is challenged by the Jewish leaders because they are unhappy with His teachings and the way He does them. They ask Him where His authority comes from but when they could not answer His question, He does not answer theirs. But He spoke the truth. His authority came from His Father, for He is the Son of God.
The recent incident where Jesus drove out the merchants from the temple was, perhaps, the last straw for the Jewish leaders, as Jesus disrupted their regular source of commissions. For some time now, they have grown jealous of Jesus' growing popularity. They ignored the miracles that Jesus performed. They were more concerned about their stature and their dwindling authority over the people. The incident at the temple made them reach their boiling point.
We reflect today on what drives one's anger and we differentiate that with righteous anger.
Stay updated: subscribe by email for free TO OUR NEW WEBSITE www.catholicsstrivingforholiness.org (PUT YOUR EMAIL IN THE SUBSCRIBE WIDGET).
We are also in www.fb.com/Catholicsstrivingforholiness. Kindly help more people in their Christian life by liking our page and inviting your family, friends and relatives to do so as well. Thanks in advance and God bless you and your loved ones! Fr. Rolly Arjonillo