May 1: ST. JOSEPH THE WORKER. Work as a path to holiness.
MAY 1: ST. JOSEPH THE WORKER.
DON'T FORGET THAT YOUR WORK AND DAILY ORDINARY ACTIVITIES ARE A PATH TO HOLINESS!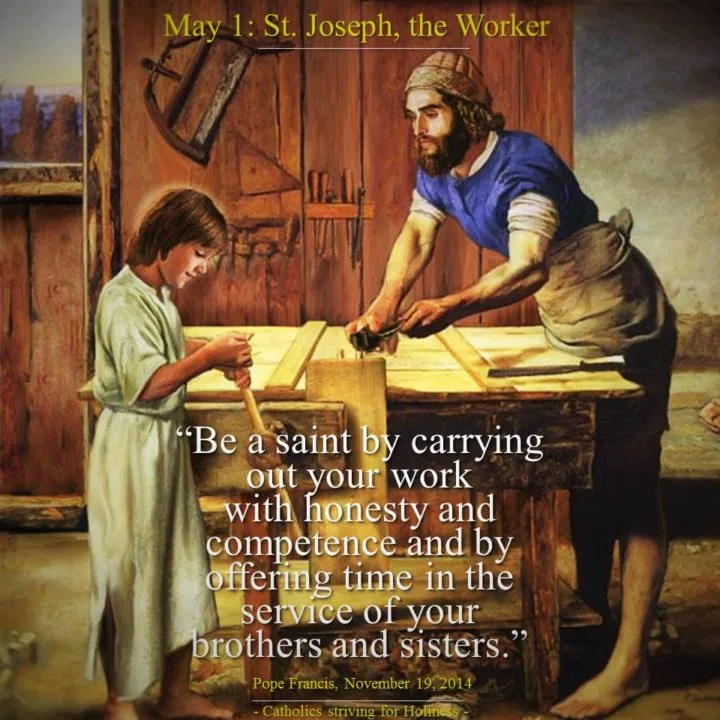 As we celebrate May 1's feast, St. Joseph the Worker during which the entire world celebrates the human activity of work, let us remind ourselves that WORK HAS A DIVINE, SANCITFYING VALUE AS WELL, FOR WORK AND OTHER ORDINARY TASKS OF OUR DAILY LIFE ARE A PATH TOWARDS HOLINESS, TOWARDS SANCTITY.
As Pope Francis said:
"We are all called to become saints…BE A SAINT BY CARRYING OUT YOUR WORK WITH HONESTY AND COMPETENCE AND BY OFFERING TIME IN THE SERVICE OF YOUR BROTHERS AND SISTERS. "But, father, I work in a factory; I work as an accountant, only with numbers; you can't be a saint there…". "Yes, yes you can! There, where you work, you can become a saint. God gives you the grace to become holy. God communicates himself to you". ALWAYS, IN EVERY PLACE, ONE CAN BECOME A SAINT, THAT IS, ONE CAN OPEN ONESELF UP TO THIS GRACE, WHICH WORKS INSIDE US AND LEADS US TO HOLINESS.
WHEN THE LORD INVITES US TO BECOME SAINTS, he doesn't call us to something heavy, sad… quite the contrary! IT'S AN INVITATION TO SHARE IN HIS JOY, TO LIVE AND TO OFFER WITH JOY EVERY MOMENT OF OUR LIFE, BY MAKING IT BECOME AT THE SAME TIME A GIFT OF LOVE FOR THE PEOPLE AROUND US. IF WE UNDERSTAND THIS, EVERYTHING CHANGES AND TAKES ON NEW MEANING, A BEAUTIFUL MEANING, A MEANING THAT BEGINS WITH LITTLE EVERYDAY THINGS (General Audience, November 19, 2014)."
Let us ask the intercession of St. Joseph so that like him, we may seek, find and love God in our work and ordinary duties of each day by working well to the best of our capabilities, living the virtues and offering it to Our Lord.
St. Joseph, pray for us, for all the workers in the world and for those who are seeking for a job.
HAPPY FEAST OF ST. JOSEPH THE WORKER!
Cordially inviting you to like and follow www.facebook.com/Catholicsstrivingforholiness and share our posts to help more people in their Catholic faith and love. Thanks and God bless! Fr. Rolly Arjonillo.
VIDEO REFLECTION
TOPIC: WHAT DOES ST. JOSEPH TEACH YOU ABOUT MARRIAGE AND RELATIONSHIPS?
1st Reading Gn 1:26B-2:3
Responsorial Psalm Ps 90:2, 3-4, 12-13, 14 and 16
Alleluia Ps 68:20
Gospel Mt 13:54-58
Today we. celebrate the Memorial of St. Joseph, Patron Saint of the Workers. He is also the patron of the Church, of fathers and carpenters, and of the dying. Pope Francis also declared this year – from Dec. 8, 2021 to Dec. 8, 2022 – as the year of St. Joseph, coinciding with the 150th year since Pope Pius IX's declaration of St. Joseph as the Patron of the Universal Church.
Many things could be said of Joseph, who never spoke a word in the bible. But today's short reflection centers on his role, rather, on his body of work as a husband and as a father to Jesus.
SEE AS WELL (CLICK ON THE COLOURED LINKS)
FOUR HELPFUL​ TIPS TO CONVERT EVERY NOBLE ACTIVITY INTO PRAYER AND AS MEANS TO SEEK, LOVE AND SERVE GOD, AND ALL SOULS
HOLINESS IN DAILY TASKS DONE OUT OF LOVE:
POPE FRANCIS ON THE UNJUST STEWARD. NO TO BRIBERY, KICKBACKS AND CORRUPTION. DON'T GIVE DIRTY BREAD TO YOUR FAMILY.
ORIGINAL PHOTO SOURCE: https://catholic4lifeblog.files.wordpress.com/2015/03/novena-to-st-joseph-third-day-jesus-was-subject-to-them-joseph-the-worker-michael_adams.jpg
10-MINUTE MEDITATION PODCAST FOR YOUR MENTAL PRAYER
Stay updated: subscribe by email for free TO OUR NEW WEBSITE www.catholicsstrivingforholiness.org (PUT YOUR EMAIL IN THE SUBSCRIBE WIDGET).
We are also in www.fb.com/Catholicsstrivingforholiness. Kindly help more people in their Christian life by liking our page and inviting your family, friends and relatives to do so as well. Thanks in advance and God bless you and your loved ones! Fr. Rolly Arjonillo