May 1: ST. JOSEPH THE WORKER. What must I do to convert my work as a path to God?
May 1: ST. JOSEPH THE WORKER.
What must I do so that my work would lead me to God?
Today, May 1, we celebrate the memorial of St. Joseph, the Worker, which is the day when labor is honored in many countries.
In the Gospel, Jesus was called "the son of the carpenter". This feast reminds us that honest work, no matter how seemingly menial or ordinary ─as long as it is noble─, can be sanctified, that is, can be a path to holiness.
What did Jesus do during his 30 years of hidden life?
He lived in a family, living an ordinary life just like the rest. He worked, and HE WORKED WELL (cf. Mk 7:37)! He learned from St. Joseph the trade of carpentry, the craftsmanship, the amiable and just way to deal with their clients. All these: for what purpose? Jesus wanted to show us that the ordinary realities of daily life (family life, work, study, social relations, friendship, rest etc.) were redeemed by Him and thus were converted by Him into paths towards holiness!
Let's look at St. Joseph. St. Joseph worked in order to sustain Mary and Jesus, the Holy Family of Nazareth. HE WORKED FOR JESUS, WITH LOVE AND FOR LOVE. AND WE TOO CAN DO THE SAME: WORK FOR JESUS, with love and for love, and thus converting ordinary daily work and activities as paths towards holiness, into opportunities to unite ourselves with Him, to serve Him and give Him glory while we serve other men.
You may ask: how can I be holy through my work? Here are some practical tips:
Exert effort to work WELL according to your capabilities;
Practice the VIRTUES of diligence, fortitude, order, justice, patience, charity…offering as well the tiredness and effort which come along with it;
Then, OFFER your work well-done to Jesus;
And while doing so, ask Jesus for AN APOSTOLIC INTENTION: for the Pope, for the conversion of sinners, for the holy souls in purgatory, for your family, for vocations, for the persecuted Christians, for those who are suffering….and so on.
With these tips, WORK, STUDY, FAMILY LIFE, REST, SPORTS or whatever NOBLE THING you are doing, can be converted into PRAYER and thus, a PATH TO HOLINESS.
Dear friends, as St. Josemaria once said:
"Understand this well: there is something holy, something divine hidden in the most ordinary situations, and it is up to each one of you to discover it"

(St. Josemaria, Homily 'Passionately loving the world).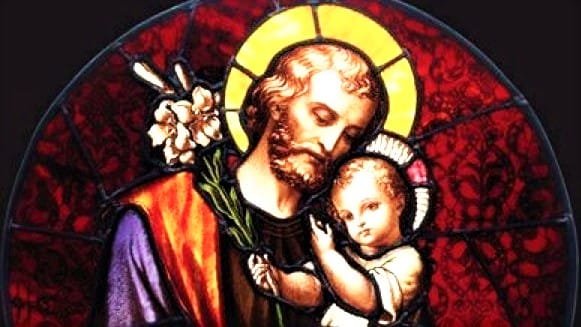 Let us then ask God, through the intercession of St. Joseph, that we may learn to work for Jesus…live for Jesus as He did, with love and for love, thus converting all our work and other ordinary daily activities into an encounter with Christ!
Let us also pray for those who are desperately in need of a job, that they may find one as soon as possible.
And lastly, as we begin the month of May, the month of Our Lady, let us ask Jesus through St. Joseph so that during this month, we may be able to show our filial love and affection to our Mother, Blessed Virgin Mary.
Have a great week ahead, friends! God bless you and your loved ones!
PHOTO SOURCE: "Father and Son," by Corbert Gauthier in www.jesus-story.net
10-MINUTE MEDITATION PODCAST FOR YOUR MENTAL PRAYER
Stay updated: subscribe by email for free TO OUR NEW WEBSITE www.catholicsstrivingforholiness.org (PUT YOUR EMAIL IN THE SUBSCRIBE WIDGET).
We are also in www.fb.com/Catholicsstrivingforholiness. Kindly help more people in their Christian life by liking our page and inviting your family, friends and relatives to do so as well. Thanks in advance and God bless you and your loved ones! Fr. Rolly Arjonillo