LOVING GOD REQUIRES DAILY INTERIOR STRUGGLE.
LOVING GOD REQUIRES DAILY INTERIOR STRUGGLE.
"Whoever wishes to come after me must deny himself, take up his cross and follow me."

Mk 8:34
We all want to follow Christ and love God with deeds. This requires a daily interior struggle to overcome ourselves, saying NO many times to things incompatible with God's will. For this, God's grace and our constant resolve to fulfill His Will and begin again are necessary. We must strive so that divine grace and our human freedom go on the same direction as we journey in this fleeting life on earth. As St. Josemaria said,
"I want to talk to you about time, that passes so swiftly… For us Christians the fleetingness of our journey through life should instead be a spur to help us make better use of our time. It should never be a motive for fearing Our Lord, and much less for looking upon death as a disastrous and final end.
When I reflect on this, how well I understand St Paul's exclamation when he writes to the Corinthians, tempus breve est, time is short. How short indeed is the time of our passing through this world! For the true Christian these words ring deep down in his heart as a reproach to his lack of generosity, and as a constant invitation to be loyal. Brief indeed is our time for loving, for giving, for making atonement. It would be very wrong, therefore, for us to waste it, or to cast this treasure irresponsibly overboard. We mustn't squander this period of the world's history which God has entrusted to each one of us.
Friends of God, 39"
"Time is our treasure, the 'money' with which to buy eternity.
Furrow, 882."
IF WE ARE TO MAKE GOOD USE OF OUR TIME HERE ON EARTH IN ORDER TO REACH ETERNITY, THEN, WE SHOULD BEGIN DAILY TO STRUGGLE AGAINST OURSELVES IN ORDER TO GROW IN OUR LOVE FOR GOD. HOW?
BY MAKING JESUS HAPPY EACH TIME WE SAY "NO" TO OURSELVES, TO THE "OLD MAN" WE CARRY WITHIN US, (that is, to our disordered passions of pride, sensuality, greed, vanity, anger, envy and laziness), AND THUS, WITH GOD'S GRACE, ADVANCE IN THIS PATH OF LOVE AND HOLINESS TO WHICH GOD HAS CALLED US.
LACK OF DAILY STRUGGLE IN OVERCOMING ONE'S DEFECTS WILL NEVER RESULT TO SELF-IMPROVEMENT, BOTH FROM THE HUMAN AND SPIRITUAL VIEWPOINTS.
To illustrate the necessity of daily interior struggle against one's self, Fr. Fernandez-Carvajal, in his book, "Overcoming Lukewarmness" (Scepter), recounts the story of Merlin, King Arthur and his fight against a dwarf:
There is a legend that when Arthur was crowned king, Merlin told him, 'Tomorrow you will meet a dwarf who will challenge you to combat. 'Kill him.'
It happened just that way, and Arthur defeated the dwarf. The dwarf begged for mercy, and Arthur released him. Next day Merlin told him, 'If you don't kill the dwarf, he will destroy you.' Again Arthur met the dwarf, but HE HAD GROWN AN INCH. Arthur defeated him again and spared his life. TEN TIMES this happened, and EACH TIME THE DWARF GREW. By the eleventh day, he was a TERRIBLE GIANT who leapT upon Arthur from a tree, killed his horse, and almost killed him until he managed to crack his skull with a spade. Merlin, passing by, found the king covered with blood and sorry at not having listened to him earlier.
IN SPIRITUAL LIFE, NO ENEMY IS SMALL AND NONE CAN BE PERMITTED TO SURVIVE. 'Little by little the enemy takes over everything, because we did not resist at the beginning. And the lazier we are in resisting, the weaker we become every day and stronger the enemy.' Don't give this enemy the advantage. (Thomas Kempis, "Imitation of Christ" 1,13,5)."
AS A RESULT OF ORIGINAL SIN, WE, TOO, HAVE A LOT OF "DWARVES" TO FIGHT AGAINST: the "dwarf" of laziness, of pride, of envy, of sensuality, of greed, of gluttony, of back-biting, of hatred…and so on. IF WE DON'T SAY NO AND "KILL" EVERY MANIFESTATION OF OUR INTERIOR DWARVES, THEY WOULD JUST KEEP ON GROWING AND TURN INTO TERRIBLE GIANTS, that is, would eventually become BAD HABITS or EVIL VICES which will be more difficult to uproot once they have established themselves in us. This is the reason why Our Lord Jesus Christ taught us: "If anyone wishes to come after me, LET HIM DENY HIMSELF… (Matthew 16:24; Mark 8:34; Luke 9:23)."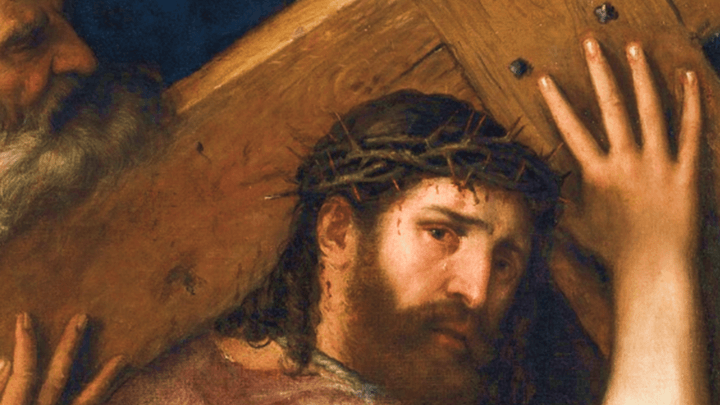 TO DENY ONESELF IS TO SAY "NO" TO ONESELF MANY TIMES DURING THE DAY: SAY "NO" TO OUR DWARVES, EVIL INCLINATIONS, OR USING THE PAULINE TERMINOLOGY, THE "OLD MAN" WE HAVE IN US: this is what daily interior struggle and what Christian life are all about: to say NO to ourselves ("kill the dwarf") which is actually saying YES to Christ and out of our love for Him. Only by saying NO to ourself can we at the same time do what is good, and eventually acquire virtues (good habits), love God with deeds, follow and identify ourselves with Christ and thereby grow in holiness with God's indispensable grace.
Dear friends, IT WOULDN'T BE EASY, BUT IT IS WORTHWHILE, JUST AS TAKING UP ONE'S CROSS AND FOLLOWING CHRIST NECESSARILY DEMANDS SUSTAINED EFFORT OF SELF-DENIAL, INTERIOR STRUGGLE AGAINST OURSELVES, FOR LOVE OF GOD WOULD SOON LEAD US TO HOLINESS. And if one day we fail to do so, don't worry, just get up and begin once again, day in, day out, till the rest of our life, always, for love of God. "THIS IS OUR DESTINY ON EARTH: TO STRUGGLE, FOR LOVE, UNTIL THE LAST MOMENT. DEO GRATIAS – THANK GOD! (St. Josemaria)"
Stay updated: subscribe by email for free TO OUR NEW WEBSITE www.catholicsstrivingforholiness.org (PUT YOUR EMAIL IN THE SUBSCRIBE WIDGET).
We are also in www.fb.com/Catholicsstrivingforholiness. Kindly help more people in their Christian life by liking our page and inviting your family, friends and relatives to do so as well. Thanks in advance and God bless you and your loved ones! Fr. Rolly Arjonillo