JUNE 29: SOLEMNITY OF STS. PETER AND PAUL. Summary vid + full text.
JUNE 29: SOLEMNITY OF STS. PETER AND PAUL
Summary vid + full text.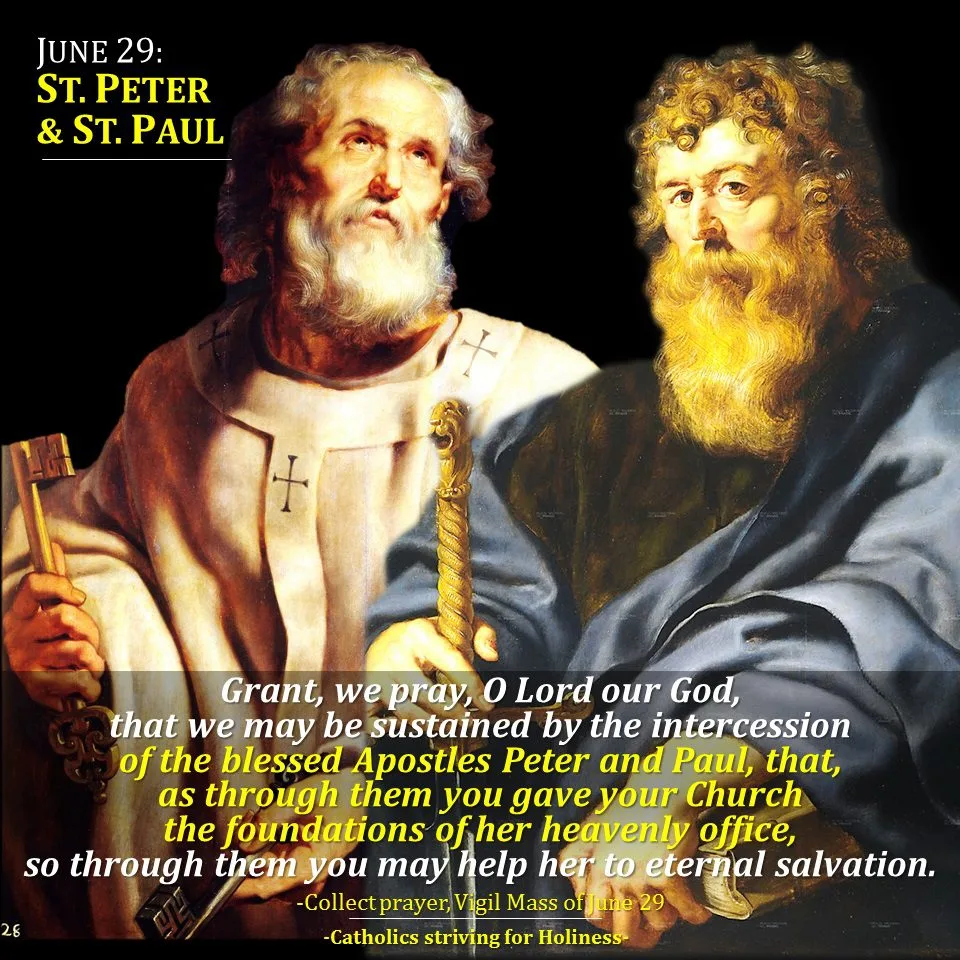 THESE ARE THE ONES WHO, LIVING IN THE FLESH, PLANTED THE CHURCH WITH THEIR BLOOD; THEY DRANK THE CHALICE OF THE LORD AND BECAME THE FRIENDS OF GOD (Entrance Antiphon, Mass during the day of June 29)."
Today, we celebrate the solemnity of Sts. Peter and Paul, the principal pillars of the Church founded by Our Lord Jesus Christ.
Peter was chosen by Our Lord as:
the rock over whom He founded His Church, being His first Vicar (FIRST POPE) on earth and endowing him with the powers of the keys of the Kingdom of Heaven (cf. Mt 16:13-19);
entrusting him the role of Shepherd to pasture and look over His flock (cf. Jn 21:15-17) making him, as well as his successors, the visible sign of unity and communion of His Church in faith and charity.
Paul, on the other hand, was chosen by Our Lord, to be the instrument to preach bring Christ's name to all peoples (Acts 9:15), ─a task which was already given by Our Lord to the Apostles, prior His Ascension to heaven (cf. Mt 28:19), thereby intending the universality, i.e., catholic character of the Church─, but was carried out in an impressive way by the great apostolic zeal of St. Paul, considered as the greatest missionary of all times, the APOSTLE OF GENTILES.
What do St. Peter and St. Paul have in common?
They are among the GREATEST SAINTS who were WEAK, COMMITTED SINS, EVEN GRAVE SINS AT THAT: Peter, denying Our Lord thrice…Paul, persecutor and assassin of the first Christians.
But GOD CHOSE THEM TO BE HIS INSTRUMENTS, and THEY ALLOWED GOD TO WORK IN THEIR SOUL, in their life. THEY KNEW HOW TO BE HUMBLE; they changed their ways; HAVE FALLEN ONCE MORE; AND, UNTIRINGLY STOOD UP AND FULFILLED GOD'S WILL AND STRUGGLED TILL THE END FOR LOVE OF GOD… reaching their goal with God's grace and their loving correspondence, and thus becoming the principal pillars of the Roman Catholic Church.
Dear brethren: As we celebrate today's solemnity in thanksgiving to the Blessed Trinity for the generous and heroic self-giving of St. Peter and St. Paul, let us remind ourselves that, You and I…we too are sinners…are called by God to holiness and apostolate, IN SPITE OF OUR ERRORS, OUR PAST, RIGHT THERE WHERE GOD HAS PLACED US… So?
Let us move on then rejecting despair and discouragement, filling ourselves with hope in our daily journey towards holiness out of love for God, and entrusting ourselves to God's patience and mercy convinced that "Many great things depend — don't forget it — on whether you and i live our lives as God wants (St. Josemaria, The Way, n. 255)."
Grant, we pray, O Lord our God, that we may be sustained by the intercession of the blessed Apostles Peter and Paul, that, as through them you gave your Church the foundations of her heavenly office, so through them you may help her to eternal salvation
(Collect prayer, Vigil Mass of June 29)
Mater Ecclesiae, Regina Apostolorum, ora pro nobis!
PHOTO SOURCES: https://upload.wikimedia.org/wikipedia/commons/2/2d/Pope-peter_pprubens.jpg
St. Paul by Reubens.
Stay updated: subscribe by email for free TO OUR NEW WEBSITE www.catholicsstrivingforholiness.org (PUT YOUR EMAIL IN THE SUBSCRIBE WIDGET).
We are also in www.fb.com/Catholicsstrivingforholiness. Kindly help more people in their Christian life by liking our page and inviting your family, friends and relatives to do so as well. Thanks in advance and God bless you and your loved ones! Fr. Rolly Arjonillo