June 27: FEAST OF OUR MOTHER OF PERPETUAL HELP.
JUNE 27: HAPPY FEAST OF MOTHER OF PERPETUAL HELP!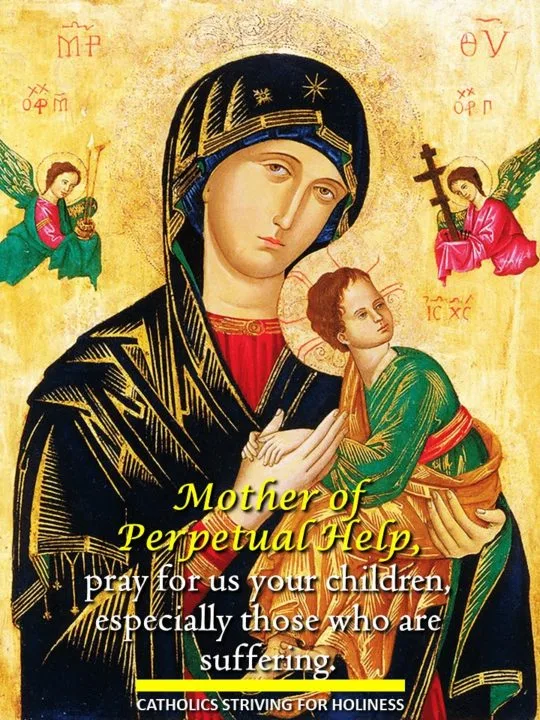 SHORT HISTORY
The icon originated from the Keras Kardiotissas Monastery and has been in Rome since 1499. Today it is permanently enshrined in the Church of Saint Alphonsus, where the official Novena to Our Mother of Perpetual Help text is prayed weekly. On 23 June 1867, Pope Pius IX granted the image its Canonical Coronation along with its present title. The Redemptorist priests are the only religious order currently entrusted by the Holy See to protect and propagate a Marian religious work of art. In the Eastern Orthodox Church iconography, the image is known as the "Virgin Theotokos of the Passion" due to the instruments of the Passion of Jesus Christ present on the image. The feast day of the image is celebrated on June 27, with novena devotions held every Wednesday. Under Pope Pius XII's Pontificate, the image was designated as the national Patroness of the Republic of Haiti and Almoradi, Spain. In addition, Pope John Paul II issued a canonical coronation for a similar image in Jaworzno, Poland in 16 June 1999[1]. Due to the propagation of the Redemptorist Priests since 1865, the image has become very popular among Roman Catholics. Modern reproductions are oftentimes displayed in residential homes, commercial establishments, and public transportation. (SOURCE: WIKIPEDIA)
PRAYER
Obtain for me, also, dearest Mother of Perpetual Help, the grace that I may imitate thee and become more like to thee in the practice of the virtues of humility, purity, submission to the will of God, and charity. Be my protectress in life, guard and guide me in dangers, direct me in difficulties, lead me in the way of perfection, and assist me in the hour of my death, that I may come to Jesus, and with thee enjoy Him, bless Him, and love Him eternally in Heaven. AMEN.
OR
"Mother of Perpetual Help, your very name inspires confidence. We come before your holy picture in praise and thanksgiving to God seeking your intercession with Jesus, your son for all the needs of our lives today. We celebrate your holy motherhood as we proclaim Jesus Christ our Lord and Redeemer.
You answered when called to be mother of our Lord. Obtain for us the grace to be alive to our baptismal call and especially to embrace the gospel of life and to respect all life on earth.
You wondered as your Son grew in wisdom, knowledge and grace. Intercede for us so that we may welcome the Word of God in our lives and be bearers of the good news to everyone.
You delighted as your Son healed the sick. Intercede for our sick that they may receive good health and that they in their turn may be healers to others.
You enjoyed peace as your Son comforted the afflicted. Intercede for all who suffer so that they may know that we carry their burdens with them and in this way we keep the law of Christ.
You rejoiced as your Son forgave sins. Obtain for us the forgiveness of our sins and lead us to unbind others and set them free.
You suffered at the wounds your Son endured for our salvation. Help us to bind up the broken hearted and to give hope to the down trodden.
You exulted in your Son's resurrection. Obtain for us the grace to persevere in His way all the days of our life and be granted a place in heaven.
You are the first of all the disciples and saints. We trust in your motherly love and care. Obtain for us all the graces we need to fulfill God's plan each day in our lives. Amen."
PRAYER SOURCE: http://www.redemptorists.net/olph.cfm
HAPPY FEAST OF OUR MOTHER OF PERPETUAL HELP!