JUNE 26: HAPPY FEASTDAY OF ST. JOSEMARIA!
JUNE 26: HAPPY FEASTDAY OF ST. JOSEMARIA!
Today, a lot of people all over the world elevate their hearts to the Most Blessed Trinity in thanksgiving for the total self-giving and generosity of a one man in fulfilling God's will of proclaiming to the world that all faithful are called to holiness in the most ordinary situations of daily life.
God is calling you to serve Him in and from the ordinary, material and secular activities of human life. He waits for us every day, in the laboratory, in the operating theatre, in the army barracks, in the university chair, in the factory, in the workshop, in the fields, in the home and in all the immense panorama of work.
UNDERSTAND THIS WELL: THERE IS SOMETHING HOLY, SOMETHING DIVINE, HIDDEN IN THE MOST ORDINARY SITUATIONS, AND IT IS UP TO EACH ONE OF YOU TO DISCOVER IT.
-St. Josemaria, Conversations, n. 114
Somehow, when one thinks of "holiness", there is a tendency to excuse one's self, justifying perhaps that holiness is only reserved for quite a few important people who live in a world apart from normal sinners like us. However, as the then Cardinal Ratzinger, now Pope Emeritus Benedict XVI wrote:
"BEING HOLY DOES NOT MEAN BEING SUPERIOR TO OTHERS; indeed, A SAINT CAN BE VERY WEAK AND MAKE MANY BLUNDERS IN HIS LIFE. HOLINESS IS PROFOUND CONTACT WITH GOD, BEING A FRIEND OF GOD;
IT IS LETTING THE OTHER ACT, the One who really can guarantee that the world is good and happy.
If therefore St Josemaría speaks of the common vocation to holiness, it seems to me that he is basically drawing on his own personal experience, not of having done incredible things himself, BUT OF HAVING LET GOD WORK. Therefore a renewal, a force for good was born in the world even if human weaknesses will always remain.
TRULY WE ARE ALL ABLE, WE ARE ALL CALLED TO OPEN OURSELVES TO THIS FRIENDSHIP WITH GOD, NOT TO LET GO OF GOD'S HANDS, NOT TO GIVE UP, TURNING AND RETURNING TO THE LORD, SPEAKING TO HIM AS TO A FRIEND, KNOWING WELL THAT THE LORD REALLY IS THE TRUE FRIEND OF EVERYONE, EVEN OF THOSE WHO CANNOT DO GREAT THINGS ON THEIR OWN."

-Cardinal Joseph Ratzinger, then the Prefect of the Congregation for the Doctrine of the Faith, published in "L'Osservatore Romano," October 6, 2002.
Dear friends, while we thank Our Lord for the example and dedication of an important saint for our times, LET US ALSO RENEW OUR DESIRE TO STRIVE FOR HOLINESS, TO SEEK, FIND AND LOVE GOD IN LITTLE ORDINARY THINGS OF OUR DAILY LIFE, convinced that, IT IS THERE WHERE HE AWAITS US to CARRY OUT OUR DAILY TASKS FOR LOVE OF GOD. As St. Josemaria said
DO EVERYTHING FOR LOVE. THUS THERE WILL BE NO LITTLE THINGS: EVERYTHING WILL BE BIG…A LITTLE ACT, DONE FOR LOVE, IS WORTH SO MUCH! 'GREAT' HOLINESS CONSISTS IN CARRYING OUT THE 'LITTLE DUTIES' OF EACH MOMENT for Love!

-The Way, nn. 813, 814,817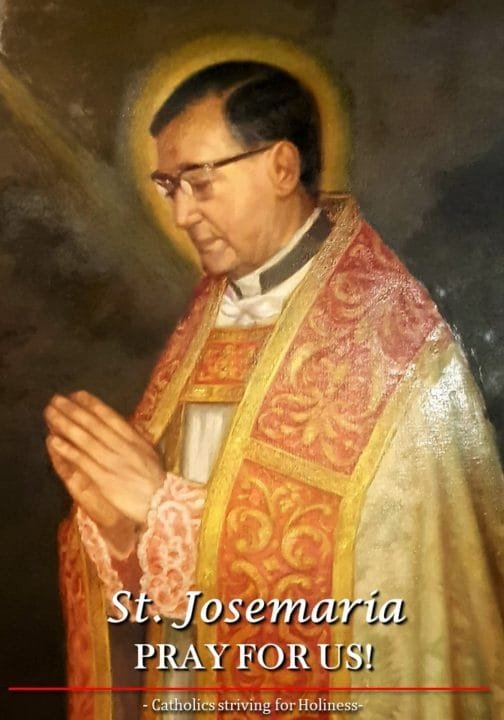 Contemplatives in the world
2nd reading in today's Office of readings.
From the homilies of St. Josemaría Escrivá de Balaguer, priest. (Hacia la santidad, ed. Palabra, Madrid 1973, pp. 7–9, 12–13, 20–21, 23–24, 32–33, 40–41, 52 / English translation excerpted from Friends of God, "Towards Holiness" (ch. 18), paragraphs 294, 296b, 301, 302a, 306b, 307b, 311a, and 316a; escrivaworks.org)
We are deeply moved, and our hearts profoundly shaken, when we listen attentively to that cry of St Paul: 'This is God's will for you, your sanctification.' Today, once again, I set myself this goal and I also remind you and all mankind: this is God's Will for us, that we be saints. In order to bring peace, genuine peace, to souls; in order to transform the earth and to seek God Our Lord in the world and through the things of the world, personal sanctity is indispensable. He calls each and every one to holiness; he asks each and every one to love him: young and old, single and married, healthy and sick, learned and unlearned, no matter where they work, or where they are. There is only one way to become more familiar with God, to increase our trust in him. We must come to know him through prayer; we must speak to him and show him, through a heart to heart conversation, that we love him.
First one brief aspiration, then another, and another… till our fervour seems insufficient, because words are too poor…: then this gives way to intimacy with God, looking at God without needing rest or feeling tired. We begin to live as captives, as prisoners. And while we carry out as perfectly as we can (with all our mistakes and limitations) the tasks allotted to us by our situation and duties, our soul longs to escape. It is drawn towards God like iron drawn by a magnet. One begins to love Jesus, in a more effective way, with the sweet and gentle surprise of his encounter.
But do not forget that being with Jesus means we shall most certainly come upon his Cross. When we abandon ourselves into God's hands, he frequently permits us to taste sorrow, loneliness, opposition, slander, defamation, ridicule, coming both from within and from outside. This is because he wants to mould us into his own image and likeness. He even tolerates that we be called lunatics and be taken for fools. When we really come to admire and love the most sacred Humanity of Jesus, we will discover each of his Wounds, one by one. When we undergo periods of passive purgation, that we find painful and hard to bear, periods when we shed sweet and bitter tears, which we do our best to hide, we will feel the need to enter into each one of his most Holy Wounds: to be purified and strengthened, rejoicing in his redeeming Blood.
Our heart now needs to distinguish and adore each one of the divine Persons. The soul is, as it were, making a discovery in the supernatural life. The soul spends time lovingly with the Father and the Son and the Holy Spirit, and readily submits to the work of the life-giving Paraclete, who gives himself to us with no merit on our part. Words are not needed, because the tongue cannot express itself. The intellect grows calm. One does not reason; one looks! And the soul breaks out once more into song, a new song, because it feels and knows it is under the loving gaze of God, all day long.
Along with this self-surrender, our apostolic zeal is enkindled and grows day by day; it also sets others on fire with its desire, because goodness is diffusive. It is not possible for our poor nature to be so close to God and not be fired with hunger to sow joy and peace throughout the world, to spread everywhere the redeeming waters that flow from Christ's open side, and to begin and end everything we do for Love.
May the Mother of God and our Mother protect us, so that each one of us may serve the Church in the fullness of faith, with the gifts of the Holy Spirit and with our contemplative life.Responsory (Eph 1: 4; 1 Pt 2: 21)
R/. God chose us in Christ, before the foundation of the world, *
To be holy and without blemish before him in love.
V/. Christ also suffered for you, leaving you an example that you should follow in his footsteps. *
To be holy and without blemish before him in love.Collect
O God,
who raised up your priest Saint Josemaría in the Church
to proclaim the universal call to holiness and the apostolate,
grant that by his intercession and example
we may, through our daily work,
be formed in the likeness of Jesus your Son
and serve the work of redemption with burning love.
(Through our Lord Jesus Christ…)
(Through Christ our Lord. Amen.)
WHO IS ST. JOSEMARIA? CLICK HERE.
FOR TODAY'S MASS PRAYERS AND READINGS, CLICK HERE
Stay updated: subscribe by email for free TO OUR NEW WEBSITE www.catholicsstrivingforholiness.org (PUT YOUR EMAIL IN THE SUBSCRIBE WIDGET).
We are also in www.fb.com/Catholicsstrivingforholiness. Kindly help more people in their Christian life by liking our page and inviting your family, friends and relatives to do so as well. Thanks in advance and God bless you and your loved ones! Fr. Rolly Arjonillo