June 26: WHO IS ST. JOSEMARIA?
June 26: WHO IS ST. JOSEMARIA?
On June 26 (or before), Masses all over the world will be celebrated in honor of St. Josemaria.
But who is St. Josemaria?
St. Josemaria is the founder of Opus Dei, a Personal Prelature of the Roman Catholic Church, that is, a recognised institution within the Catholic Church and blessed by Popes since its foundation in 1928.
I am greatly indebted to St. Josemaria since I wouldn't be who I am today if not for him and you will not be reading this neither if not for the heroic self-giving and dedication of this holy priest chosen by God to remind the world regarding the universal vocation to holiness, which in the previous centuries, was erroneously expected only from priest, monks and people pertaining to a religious order.
WITH THE BEGINNING OF THE WORK IN 1928, MY PREACHING HAS BEEN THAT HOLINESS IS NOT SOMETHING FOR THE PRIVILEGED FEW. We have said that ALL THE WAYS OF THE EARTH, ALL STATES OF LIFE, ALL THE PROFESSIONS, ALL HONEST TASKS CAN BE DIVINE….we tell EACH ONE–ALL WOMEN AND ALL MEN–THAT THERE WHERE YOU ARE YOU CAN ACQUIRE CHRISTIAN PERFECTION. (Saint Josémaría, Letter, Roma, March 19, 1954, cited by P. Rodriguez, "Vocación, trabajo, contemplación," pp. 93-94.)
EVERYDAY LIFE IS THE TRUE SETTING FOR YOUR LIVES AS CHRISTIANS. Your ordinary contact with God takes place where your fellow men, your yearnings, your work and your affections are. THERE YOU HAVE YOUR DAILY ENCOUNTER WITH CHRIST. IT IS IN THE MIDST OF THE MOST MATERIAL THINGS OF THE EARTH THAT WE MUST SANCTIFY OURSELVES, SERVING GOD AND ALL MANKIND. (St. Josemaria, "Passionately Loving the World," in "Conversations with Mons. Josemaria de Balaguer," n. 113.)
St. Josemaria, according to St. John Paul II, is the PATRON SAINT OF ORDINARY LIFE. All noble activities and situations here on earth is a path to holiness. In the audience he had with the faithful who had come to Rome for the canonization of the founder of Opus Dei, the then Pope, now saint said:
"St Josemaria was CHOSEN BY GOD TO PROCLAIM THE UNIVERSAL CALL TO HOLINESS and to show that EVERYDAY LIFE AND ORDINARY ACTIVITIES ARE A WAY OF SANCTIFICATION.
He could be called the PATRON SAINT OF ORDINARY LIFE.
The reason is his conviction that, for those who start from the viewpoint of faith, everything offers an opportunity for an encounter with God, everything becomes a stimulus for prayer. Seen in this way, daily life reveals unsuspected greatness.
Holiness really is within everyone's reach."
(St. John Paul II, Address, Oct.7, 2002, cited in http://www.josemariaescriva.info/article/decree-of-canonization)
Hence, June 26 is a wonderful occasion to thank St. Josemaria for all he had done to faithfully and generously correspond to God's will in spite of all the obstacles, calumnies and contradictions he faced during his life. His faithful fulfillment of God's Will to found Opus Dei has resulted to a bountiful harvest of fruits of holiness and apostolate among many people in the world. Thank God that through his teaching, many people have discovered the divine beauty of ordinary daily life as a path to holiness, a path towards a profound, intimate relationship with the Blessed Trinity who calls each and every one of us towards sanctity.
At the same time, we can ask his intercession for all he wants is that we may seek Christ, find Christ and love Christ in all the things that we do (cf. St. Josemaria, "The Way," n. 382). As the late Cardinal Jaime Sin, Archbishop of Manila said in his homily (Cathedral of Manila, January 9, 2002):
"More important than the many miraculous cures are the countless interior conversions attributed to his intercession. So many people were moved by Blessed Josemaría's message of discovering God in the circumstances of ordinary life. Blessed Josemaría is indeed a powerful intercessor before God. I encourage you to turn to him for your spiritual and material needs."

Cardinal Sin
COLLECT
O God, who raised up your priest Saint Josemaría in the Church to proclaim the universal call to holiness and the apostolate, grant that by his intercession and example we may, through our daily work, be formed in the likeness of Jesus your Son and serve the work of redemption with burning love. We ask this through our Lord Jesus Christ your Son, who lives and reigns with you and the Holy Spirit, one God, for ever and ever
FOR THE MASS PRAYERS AND READINGS FOR JUNE 26,
FEAST OF ST. JOSEMARIA, CLICK HERE
BELOW IS A BRIEF BIOGRAPHY OF ST. JOSEMARIA TAKEN FROM OPUSDEI.ORG:
Josemaría Escrivá was born in Barbastro, Spain on January 9, 1902. He was ordained on March 28, 1925. He studied civil law along with his ecclesiastical studies, and in 1927, he moved to Madrid to obtain a doctorate in law. While there, he worked hard with the poor and sick, and also with students, workers, and professionals.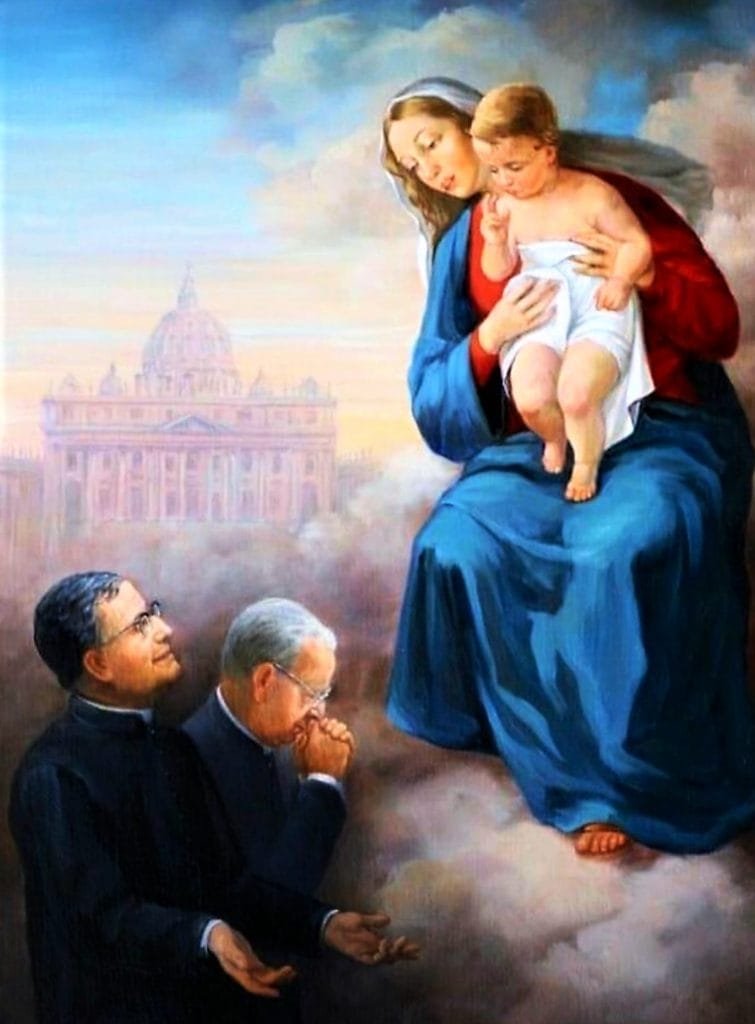 On October 2, 1928, he saw by divine inspiration, as the Pope's Apostolic Constitution Ut Sit affirmed, that God was asking him to spread the universal call to holiness, and that a new path would be opened up within the Church – Opus Dei – to spread this call throughout the world. History has borne out this vision: there are now around 90,000 people in Opus Dei and his spiritual message has reached millions.
His apostolic work was not limited to Opus Dei, however. He helped numerous people discern vocations to the priesthood and religious life, both active and contemplative. In 1943, he founded the Priestly Society of the Holy Cross, an association inseparably united to Opus Dei, to which belong thousands of diocesan priests around the world. And his Christian teachings on marriage have been especially influential, with countless people putting them into practice in their lives.
Escrivá was always a proponent of understanding and dialogue, and in 1950 he won the Holy See's approval to allow Opus Dei to appoint Cooperators, who could be Catholics, non-Catholic Christians or even non-believers.
Inspired by Escrivá's teaching and his promotion of the apostolic and social responsibility of Christians, the members and Cooperators of Opus Dei have started hundreds of evangelical works and social initiatives all over the world, especially among the poor and disadvantaged.
Willing to innovate, but always faithful to the Magisterium of the Church, Escrivá was described by Pope John Paul II as a precursor of the Second Vatican Council. He anticipated by thirty years many of the teachings that, after the great ecclesial assembly, became the patrimony of the whole People of God.
He is the author of books of spirituality which are read around the world. His best-known book is The Way, which has sold nearly four million copies in 43 languages.
Escrivá died in Rome on June 26, 1975. He was beatified on May 17, 1992, in St. Peter's Square. He was canonized by John Paul II in the same place on October 6, 2002, before a crowd of 350,000.
****
ARTICLE SOURCE: http://www.opusdei.org/en-us/article/biography-of-saint-josemaria-escriva/
PHOTO SOURCE: Armando Pareja (painter) in https://sjsm.files.wordpress.com/2010/06/san-jose-maria-escriva-ii.jpg
Stay updated: subscribe by email for free TO OUR NEW WEBSITE www.catholicsstrivingforholiness.org (PUT YOUR EMAIL IN THE SUBSCRIBE WIDGET).
We are also in www.fb.com/Catholicsstrivingforholiness. Kindly help more people in their Christian life by liking our page and inviting your family, friends and relatives to do so as well. Thanks in advance and God bless you and your loved ones! Fr. Rolly Arjonillo